The word Induction seems so formal. But imagine your plate full of creamy rich sauces, crazy-fattening foods, crisp veggies, and savory meats and cheeses…
What to eat / how to eat on Atkins
Printable, fold-up Atkins Induction food list
Warnings and foods to avoid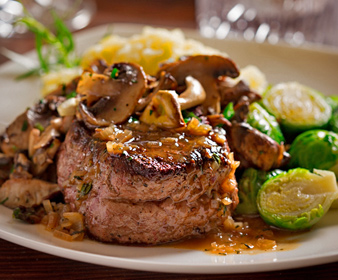 Buttery sauces, grilled meats and seafood, crunchy bacon, salads with avocado and full fat dressing are your everyday meals.
Common side dishes include veggies au gratin, fried cauliflower rice, zoodles, rich creamy casseroles or quiche.
How Much of Each?
During Induction, most of your calories will come from healthy fat. One third comes from protein and 10% (or less) from net carbs (sugar carbs).
How to Eat on Induction
Eat any item on the Atkins printable food list – limiting your net carbs to 20 grams or less per day.
Net carbs are total carbs minus the fiber grams.
Fiber carbs don't spike blood sugar or influence insulin in negative ways. Include plenty of foods high in fiber carbs on your Induction list.
Printable Induction List and Meal Plan
The Atkins Diet program offers a free, simple resource for planning your first week of Induction meals.
Using the official Induction meal plan is not a requirement for great results, but it does have easy, inexpensive ideas. The items on the Induction Foods list are your go-to items for the week.
Atkins Induction Food List
Here are the details of the items featured on the printable Atkins Induction low carb foods list.
You may eat any item on the Induction foods list as long as you don't eat more than 20 net carbs per day.
Meat, Fish, Poultry
Most fish, poultry and meat generally do not contain carbohydrates. The exceptions are processed bacon and deli meat, which often have added starch as binders.
Be sure to check the labels.
Enjoy cold-water fish and other low carb Induction foods containing omega 3 fatty acids.
Meats: Bacon, Beef, Ham, Lamb, Pork, Veal, Venison
Fish: Flounder, Herring, Salmon, Sardines, Sole, Tuna, Trout
Shellfish: Clams, Crab, Mussels, Oysters, Shrimp, Squid
Fowl: Cornish Hen, Chicken, Duck, Goose, Pheasant, Quail, Turkey
Eggs
Eggs are a staple of any Atkins Induction food list. Add mushrooms, onions and peppers with imported cheeses to an omelet.
Tip: Add low carb spices for zest (some spices increase fat loss) and serve with a side of chunky bacon-feta-tomato salad.
All Eggs: Deviled, Fried, Hard-boiled, Omelets, Poached, Scrambled or Soft-boiled
Cheese
Most cheeses have less than 1 gm of carbs per ounce, but be sure to check the label. We are allowed 3 to 4 ounces of most cheeses every day during Atkins Induction, including cream cheese.
The exceptions: Cottage Cheese, Farmer's Cheese and other fresh/raw cheeses. These cheeses do not apply to the 3 to 4 ounce rule because they only have trace amounts of carbs.
Type, Serving Size, Net Carbs
Cow, Sheep and Goat, 1 oz, 0.3
Vegetables
12 to 15 net carbs each day should come from low carb vegetables.
Choose the lowest carb veggies from the Atkins list, and you'll be surprised how much you can eat.
Lowest Carb Veggies for Atkins Induction
Vegetable, Serving Size/Prep, Net Carbs
Alfalfa Sprouts, 1 cup/raw, 0.4
Chicory Greens, ½ cup/raw, 0.6
Lettuce Iceberg, ½ cup, 0.1
Radicchio, ½ cup/raw, 0.7
Romaine Lettuce, ½ cup, 0.2
Lower Carb Veggies for Atkins Induction
These vegetables are slightly higher in carbohydrates than the lowest carb veggies above, but if you measure carefully, it's simple to add them to your diet.
Vegetable, Serving Size/Prep Net Carbs
Artichoke, ¼ of medium/boiled, 4.0
Artichoke Hearts, 1/in water, 1.0
Asparagus, 6 spears/boiled, 2.4
Avocado, 1 whole/raw, 3.5
Bamboo Shoots, 1 cup/boiled, 1.1
Broccoli, ½ cup/boiled, 1.6
Broccoli rabe, 1 ounce, 1.3
Brussels Sprouts, ¼ cup boiled, 2.4
Cabbage, ½ cup/boiled or raw, 2.0
Cauliflower, ½ cup/boiled or raw, 1.0
Chard, ½ cup Swiss/boiled, 1.8
Collard Greens, ½ cup/boiled, 4.2
Eggplant, ½ cup boiled/raw, 1.8
Hearts of Palm, 1 heart, 0.7
Okra, ½ cup/boiled or raw, 2.4
Pumpkin, ¼, cup/boiled, 2.4
Rhubarb, ½ cup, unsweetened, 1.7
Sauerkraut, ½ cup canned/drained, 1.2
Peas, ½ cup edible podded, 3.4
Spaghetti Squash, ½ cup/boiled, 2.0
Summer Squash, ½ cup/boiled, 2.0
Turnips, ½ cup/boiled, 2.2
Water Chestnuts, ½ cup/canned, 6.9
Zucchini, ½ cup sautéed, 2.0
Spices and Herbs
Be sure to check for added sugar or starch.
Spice/Herb, Serving Size: 1 tbsp, Net Carbs: 0

Basil
Cayenne Pepper
Cilantro
Dill
Garlic
Ginger
Oregano
Pepper
Rosemary
Sage
Tarragon
Salad Dressings and Garnishes
If you choose a salad dressing not listed below, aim for less than 2 net carbs per serving.
Dressing
Dressing, Serving Size, Net Carbs
Oil and Vinegar, 2 tbs, 1.0
Garnishes
Food, Serving Size, Net Carbs
Crumbled Bacon, 3 slices, 0.0
Diced Hard-Boiled Egg, 1 egg, 0.0
Sautéed Mushrooms, ½ cup, 1.0
Fats and Oils
There are no net carbs here, but a single serving equals 1 tablespoon. Focus on olive oil, especially virgin or extra-virgin.
Mayonnaise (Select full fat with no added sugar.)
Vegetable Oils: Canola, Walnut, Soybean, Grape Seed, Sesame, Sunflower, Safflower
Beverages
Dr. Atkins advises drinking eight, 8 oz glasses of water every day. Soda water or carbonated water with sugar-free flavors are OK, and diet sodas sweetened with sucralose (Splenda) are also acceptable.
Clear Broth/Bouillon (Check for added sugar.)
Coffee and Tea: Decaffeinated or Regular
Diet Soda (Check the label for carbs.)
Flavored Seltzer (Must be zero carb.)
Herb Tea (No barley or fruit sugar added)
Water: Filtered water, Mineral water, Spring water, Tap water
Artificial Sweeteners
Dr. Atkins prefers sucralose (Splenda), but small amounts (2 to 3 servings) of saccharine (Sweet N Low) are also allowed.
Type, Serving Size, Net Carbs
Splenda: (sucralose) 1 packet, 1 net carb
Sweet N Low: (saccharine) 1 packet, 0.9 net carbs
Foods Not Allowed on Induction
Basically, here's the rule: If it's not on the Induction foods list, you guessed it – it's not allowed.
Don't Eat these Foods on Induction
Grains and anything made with them, including bread, cake, pastries.
Pasta, or anything else made of flour.
Dairy products (milk, coffee creamers, yogurt) – except for cheese and heavy cream in limited quantities.
Starchy vegetables, such as potatoes, beets, corn.
Deli Salad (Sliced deli meat has added sugar and starch.)
Almost Zero Carb Meal Plan
The Almost Zero meal plan is three easy days, one aggressive technique and major fat loss.
The plan is designed to break even the worst stall, and burn off large amounts of stored fat – in 3 days.
The Technique
150 Recipes (100 under 1 net carb)
Sample Menus, Shopping List
Printable Planner
If what you're doing isn't working, get the meal plan now.
Category: First Month, Food Lists