Eggs, cream and vanilla bean. Freezer-made low carb ice cream, while not as spectacular as cream from a machine, is irresistibly delicious (and has hidden benefits).
Creamy base recipe with 4 variations
How to make your ice cream keto
Portion controlled container ideas
Add healthier fats and meet your macros with keto ice cream protein shakes, smoothies, milkshakes and creamsicles.
Store-made low carb creams are an option when pinched for time. However, these ice creams are fluffed with air and cost more per ounce on average than home made.
Home-made keto ice cream gives you full control over the ingredients. This is especially important when watching macros closely or avoiding certain food groups.
Versatile Recipe
There are recipe variations for vanilla bean, chocolate, lemon and raspberry.
These low carb ice cream recipes are great to use for popsicles, milk shakes and protein smoothies (just add your favorite zero carb protein powder).
About the Splenda…
These recipes use packets of Splenda (solely for ease), but substituting liquid de-bittered Stevia is healthier (all-natural), and decreases the net carbs (it's zero carb).
Achieve Perfect Creaminess
The trick to making perfect ice cream every time is to take it out of the freezer 30 to 40 minutes before you serve it.
Allow the ice cream to soften. Beat it briefly with a sturdy, small balloon whisk and return to the freezer until serving time.
Instant Ice Cream Maker
Zoku's Instant Ice Cream Maker makes fresh, soft-serve keto ice cream in 10 minutes, hard ice cream in 20 – on your counter top.
Storing Your Ice Cream
This low carb ice cream keeps fairly well in the freezer for a month or so.
Press a layer of plastic wrap or parchment paper right against the ice cream, sealing it from air.
Store in an air-tight to avoid a change in taste.
Make it KETO Ice Cream
Bump up the protein (using protein powder), add special healthy fats (like coconut oil or MCT oil), and use De-Bittered Stevia instead of Splenda or sucralose.
100% Isolate Protein
Nature's Best protein powder
is available in 19 flavored varieties. The unflavored variety is zero carb.
Pure 100% whey protein isolate, free of fat, carbs, fillers, sugars, gluten and lactose.
Organic Coconut Oil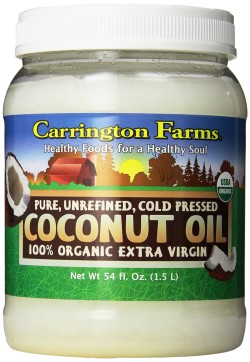 Carrington Farms Organic Coconut Oil is essential for rapid fat-burning. Fats from coconut oil aren't stored. Instead, coconut oil fats are used immediately for energy.
Coconut oil can last up to two years without spoiling, and is one of the healthiest choices for cooking and baking.
Performance MCT Oil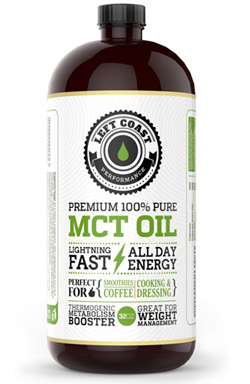 Left Coast's pure MCT oil converts into energy faster than other oils, ignites your body's metabolic rate and helps maintain healthy levels of cholesterol.
Triple filtered, pharmaceutical grade, BPA-free container, USA-made.
Liquid De-Bittered Stevia
EZ-Sweetz's de-bittered stevia has no unpleasant aftertaste. This blend has none of the characteristic bitterness of typical stevia sweeteners.

Vanilla Bean Ice Cream
Servings: 6, Serving size: 1/2 cup  (4.5 g net carbs)
This classic vanilla ice cream recipe includes four variations of flavors, including creamsicles and milk shakes.
Ingredients
2 cups heavy whipping cream
1/2 cups water
2 teaspoons vanilla extract
12 packets of Splenda (or equiv)
4 egg yolks
Directions
Slowly heat 1 cup of heavy cream, Splenda (or equiv) and vanilla extract in the top part of a double boiler over hot, but not boiling water. Stir or whisk occasionally.
Put the egg yolks in a heavy glass jar and beat until smooth.
As the cream begins to heat, dribble a small amount (about 1 tablespoon at a time) into the yolks, constantly beating the yolks. Repeat this with about half the cream.
Add the egg yolks and cream to the double boiler. Whisk mixture constantly until it thickens and coats a spoon (about one minute).
Remove double boiler from the heat. Whisk in the remaining 1/2 cup cold light cream and 1/2 cup water.
Put the custard in a covered bowl and refrigerate for at least two hours.
Variation: Chocolate Ice Cream
Serving size: 1/2 cup  (5.6 g net carbs)
Directions
Follow the Classic Vanilla recipe, adding 3 ounces of unsweetened chocolate to the custard while stirring in the double boiler, but before the egg yolks are added.
Stir until dissolved.
Increase the packets of Splenda (or equiv) to 18, or to taste.
Sub for 1 ounce (30 grams) unsweetened chocolate:
3 tablespoons (18 grams) unsweetened natural cocoa powder plus 1 tablespoon (17 grams) unsalted butter.
Variation: Lemon Ice Cream
Servings: 6, Serving size: 1/2 cup  (6.4 g net carbs)
Directions
Follow the Classic Vanilla recipe, but reduce water to 1/4 cup.
Stir 1/4 cup lemon juice into the custard when you take it off the heat.
Increase the packets of Splenda (or equiv) to 18.
This recipe also works using lime zest or juice in place of lemon.
Variation: Raspberry Ice Cream
Servings: 8, Serving size: 1/2 cup  (4.5 g net carbs)
Directions
Follow the Classic Vanilla recipe, adding 1 1/2 cups of fresh raspberries.
Put the berries in a blender or food processor and crush them into a smooth puree, or leave them chunky.
Add the berries to the custard at the same time you add the remaining cream, and stir well. (Substitute blueberries, strawberries or blackberries, but add the carbs.)
Increase the Splenda (or equiv) to taste.
Higher Carb Variations
These recipe variations have slightly more net carbs. Serving sizes may be adjusted or halved to meet your macros.
Low Carb Creamsicles
Serving size: 1 creamy pop  (6.5 g net carbs)
Turn your keto ice cream into creamy popsicles by pouring into pop molds or small containers.
Directions
Simply substitute 2 1/2 cups of half-and-half for the combined cream and water. This makes an "icy" -er type of pop that holds together very well on a stick.
Add chunks of fruit, nuts, berries or dark chocolate for flavor and color. Be sure to add the extra carbs to your total.
If you're into sugar-free Jello products, add any flavor/variety, to taste.
Low Carb Milk Shake
Makes 1 serving: 12 oz  (8 g net carbs)
Directions
In a blender, mix together:
1/2 cup ice cream of choice
1/2 cup heavy whipping cream
1/2 cup water
1 tsp of vanilla extract
2 drops of liquid Splenda (or equiv), to taste
Ice Cream Containers
Present your treats in unique containers. Low carb means no cones, but you have better options.
Scoop low carb ice cream or sherbet into hollowed-out orange, lemon or lime halves. Try ceramic cups that look exactly like cones (above).
BPA/PVC-free plastic ice cream cones from Spielstabil are easy to use. Lightweight, and stacks for storage or travel.
Plastic mini storage containers and ice pop molds hold perfect, single servings for any flavor of keto ice cream.
Perfect Portion Control
Tovolo's set of Mini Tubs keep ice cream fresh and solve any portion control issues. Tight-fitting lids, space-saving, stack-able and each tub holds 6 ounces.
Almost Zero Carb Meal Plan
The Almost Zero meal plan is three easy days, one aggressive technique and major fat loss.
The plan is designed to break even the worst stall, and burn off large amounts of stored fat – in 3 days.
The Technique
150 Recipes (100 under 1 net carb)
Sample Menus, Shopping List
Printable Planner
If what you're doing isn't working, get your meal plan now.
Category: Recipes