Give your plate some personality. Gourmet finds from exotic places add new pop to your low carb fruit and veggie list. Have you tried:
Chocolate tomatoes and peppers?
Fiery-sweet red, white and orange salsa?
Blue and purple low veggie mix?
What's the difference between an exotic fruit or vegetable and any other? In order for a fruit or vegetable to be considered exotic, it must be of foreign origin.
Exotic fruit and veggies are rare, and prized for their diversity of color and type. With only 2 to 12 net carbs per serving, these low carb veggies are fierce competitors on the Atkins Fruit and Veggies list.
Why Shop for Exotic Varieties?
Populations are more diverse today. Many people want to eat and cook with the foods that are native to their birth country, and try unusual foods from others.
Quite simply, exotic fruit and veggies make our low carb dining experiences more authentic, more flavorful and (the best part) more exciting!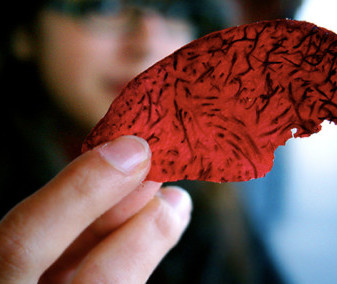 Where to Find Exotics

Local Sources
Seasonably available, different areas of the country provide different types of exotic fruit and veggies.
You can find them in many larger grocery stores, especially "health food" markets and ethnic or international food groceries.
With so many new choices (and internet shopping at your fingertips), you can grow an amazing collection of healthy and delicious fruit and vegetables all year long, in your own back yard.
Online Sources
Reputable websites that sell great exotic vegetable seeds: Melissa's, Goebel Farms, Harris Seeds and Kitazawa Seed Company.
Easy-to-Find Exotic Low Carb Veggies
A single serving (or more) of these low carb vegetables fits easily within your low carb diet. The following varieties are available at most larger grocery stores and markets.
Romanesco
Net Carbs per Serving: 2


First documented in Italy in the 16th century, Romanesco's crisp, beautiful apple-green whorled heads offer a pleasing, nutty taste.
The individual sections look very much like cauliflower (with a similar texture), but once cooked and eaten it's unmistakably related to broccoli.
Romanesco offers a powerhouse of health benefits:
It improves vision, fights viral infections and guards against free radicals, helps reduce depression, aids in eliminating constipation, lowers bad cholesterol and regulates blood sugar.
Research suggests it lowers cancer risks associated with immunodeficiency disorders.
How to Use
Romanesco broccoli is often served raw and is excellent with any vegetable dip.
This remarkable vegetable is great in stews and can be substituted in any dish that calls for broccoli or cauliflower, with excellent results.
Try it steamed and served with a lightly seasoned sauce or in its most basic format: raw with garlic, olive oil and bit of peperoncino.
Persimmon
Net Carbs per Half Fruit: 12
In November, the lovely ornamental trees of Japan produce a bountiful harvest of medium-size reddish-orange fruit. It has a rich and delicately sweet flavor.
The persimmon's peel is rumored to help reduce the signs of aging.
How to Use
Also called the "Apple Persimmon," this round fruit is firm and crisp, making it ideal for adding to vegetable mixes and salads.
Try Persimmon in chicken salad with walnuts for an extra crunch.
Purple Dragon Carrot
Net Carbs per Carrot: 4
Shred it, slice it, grate it or dice it, your family will love it.
The Purple Dragon carrot is gloriously sweet with the richest, most intense purple color, making it a delicious treat for the eyes.
How to Use
Make a cool, multicolored carrot salad of yellow, orange and purple varieties.
A favorite of children, its purple skin and light yellow core instantly brighten any entree.
Cooking or steaming deepens the color and brings out the natural sweetness of this variety. Brush lightly with balsamic vinegar and sea salt, and broil in the oven until the edges are brown.
Sunchocola Tomato
Net Carbs per Serving: 2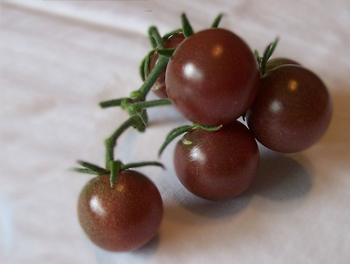 These exceptionally sweet and flavorful, chocolate colored tomatoes go anywhere traditional tomatoes go.
How to Use
With a smoky, sweet flavor, their juicy texture and low acid make them an obvious addition to spicy dishes.
Chill, slice and pair with smoked Gouda or Cheddar cheese in a light balsamic vinaigrette for an unusual side salad.
Dragon Fruit
Net Carbs per Serving: 8
Grown in Southeast Asia, Mexico, Central and South America and Israel, Dragon fruit is sweet and crunchy with a flavor that's a cross between a kiwi and a pear.
Dragon fruit is actually a type of cactus, and comes in three colors: Two types have pink skin, but with different colored flesh (one white, the other red), and the other type is yellow with white flesh.
How to Use
Cube or slice Dragon Fruit and add to salads.
Mix with sweet onion and mango to create a burst of colorful salsa on top of any grilled chicken or seafood.
Star Fruit
Net Carbs per Serving: 5
A popular fruit of wealthy Europeans in the late 1700s and a native fruit of Southeast Asia and India, Star Fruit is named for the five pointed star-shaped slices it yields.
Its pale yellow, juicy flesh contains a few small, flat seeds and a distinctly tropical flavor. The thin, edible, lime green skin ripens to a bright yellow with a waxy sheen.
How to Use
Star fruit is usually sliced fresh and used as an elegant addition to salads, buffet platters and desserts.
It may also be washed and enjoyed whole.
Purple Broccoli
Net Carbs per Serving: 2
Purple Broccoli is an English kale-broccoli cross variety that grows slowly through the winter and produces lots of purple broccoli sprouts in the spring.
Loose heads of purple florets are encircled by the deeply serrated, fuchsia veined leaves. The broccoli is extra tender when young, and sweetens as it matures.
How to Use
This colorful purple cousin of broccoli is leafier and deeper in color, adding vibrancy and crunch to vegetable dishes.
Steam or boil and serve warm with melted butter and lemon juice.
Chocolate Bell Pepper
Carbs per Serving: 2
These peppers are easily grown in any garden and ripen from green to a deep chocolate brown color.
They are more earthy in flavor, less fruity and a little hotter than their red brothers.
How to Use
This beautiful, rich chocolate brown sweet bell pepper is an unexpected surprise (and conversation starter) on any veggie platter.
Chocolate peppers are excellent in salads, stuffed, or cored and eaten whole.
How to Enjoy Your New Low Carb Veggies
One of the most rewarding things about using exotic fruit and vegetables is the excitement of trying something new that is also healthy.
The unexpected colors and genuine flavors they provide blend easily into your favorite dishes, yet add a little something "extra" to the meal.
General Guidelines
As with most vegetables, the possibilities for cooking exotic fruit and vegetables seem endless.
Often, simple preparations are best to enjoy the novelty. Nearly all of the exotic low carb vegetables are tasty when steamed.
It is important to know whether or not the skin must be removed and also what parts of the plant are not edible. Many of these vegetables are actually the edible portions of larger plants, some are the roots, others are the stems.
Exotic Low Carb Veggies Perform
Variety is the spice of life.
By choosing a variety of exotic low carb vegetables and fruit, you will have a well-balanced and nutrient-dense diet.
Use an exciting variety of foods in your diet. Go out there and try different foods from around the world.
Keep an open mind.
Exotics add adventure.
Life is too short to only eat eggs, peanut butter, lettuce and chicken.
Visit local farmers markets when you travel and enjoy your discoveries. Use the unusual low carb vegetables in a new meal.
Celebrate your find.
Share with friends and family.
Share new low carb fruit and veggies with your family and friends. Your children will be less picky eaters if you learn how to eat and try new foods together.
There's even a fun, new App for that.
Kid-tested and super savvy, the Exotic Fruit and Vegetables app tells you what it is, what it tastes like, and how to prepare it in delicious low carb recipes.
What is it?   What does it taste like?   How do I prepare it?
Find out before you buy. (There's even a free version!)
The built-in learning game also keeps kids busy in the checkout line
Almost Zero Carb Meal Plan
The Almost Zero meal plan is three easy days, one aggressive technique and major fat loss.
The plan is designed to break even the worst stall, and burn off large amounts of stored fat – in 3 days.
The Technique
150 Recipes (100 under 1 net carb)
Sample Menus, Shopping List
Printable Planner
If what you're doing isn't working, get the meal plan now.
Category: Food Lists