Let's be honest: eating lots of fat is one of the best things about your low carb diet. This isn't a gimmick. It's hard science. Find the foods, grab some recipes and make your high fat meal plan.
14 high fat low carb foods and health benefits
Easy high fat low carb recipes and food combinations
Real-Life HFLC meal plan
If you want to bust a plateau or lose more fat than ever before, stop depriving yourself. Start eating these healthy high fat low carb foods.
Fat is the new skinny. Saturated fat is traditionally forbidden in most diets, but it actually helps a low carb diet.
Healthy fat increases your HDL (good) cholesterol, which helps remove plaque from your artery walls. In turn, decreasing your risk of heart disease.
Eating more fat keeps you fuller, longer: the key to reducing your daily calories without feeling deprived.
Increasing your fat intake accelerates your fat burning.
How to Increase the Fat
Don't be afraid to eat healthy, high fats!
With the absence of carbs, fat is your body's primary fuel source. But pushing fat levels even higher while cutting carbs makes a big difference in the amount of fat you'll burn.
We are all unique.
Low carb dieters require varying levels of fat, protein and carbs to meet different weight loss goals. During ketosis, the fat levels are very high.
See how you respond to various foods. Simply adjust the recipe ingredients to adjust the percentage of fat.
14 High Fat Foods Perfect for Ketosis
Coconut Oil – 100% Fat
Coconut oil is a healthy source of saturated fat. Coconut oil is an immediate source of energy and isn't stored as fat. Adding this quality fat to your diet helps you burn more fat in ketosis.

It's high lauric acid content boosts your metabolism, and helps support healthy thyroid functioning.
Coconut oil helps skin heal faster after injury or infection. It's anti-inflammatory properties lessen arthritis.
Coconut Oil increases absorption of calcium and magnesium, helps remineralize teeth and improves overall gum health.
Organic Coconut Oil
Carrington Farms Organic Coconut Oil is gluten free, non-GMO, free of hydrogenated and trans fats, Kosher, zero carb and organic.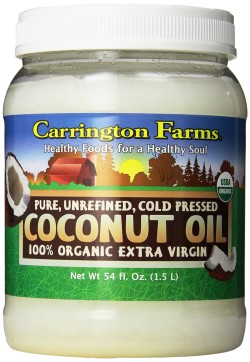 Coconut oil can last up to two years without spoiling. Coconut oil gives food a nice "buttery" (not coconut) flavor, and is easy to cook or bake with.
Enjoy a glass of raw homemade coconut milk.
Add coconut oil to smoothies, yogurt, soups and hot drinks.
Butter – 100% Fat
When you go low carb, butter becomes a condiment, a sauce, a staple. In ketosis, it's important to deliberately add butter to foods for both flavor and fat.
The natural, saturated fat in butter helps your body absorb the healthy nutrients in vegetables. Without fat, your body can't absorb carotenoids (powerful antioxidants) or the fat-soluble vitamins A, D, E and K.
My favorite butter? Kerrygold grass-fed unsalted (silver package).
Add avocado, lemon and herbs to butter; whip or process in a food processor and refrigerate. Here's how:
Savory Lemon Avocado Butter – 98.5% Fat
Click the image to view, print or save the recipe.
Olive Oil – 100% Fat
Olive oil is full of antioxidants and vitamin E, adding protection against certain cancers and signs of aging.
Olive oil promotes heart health by reducing "bad cholesterol" and increasing "good cholesterol."
Add olive oil to soups and sauces.
Make a marinade, or fresh dressing for garden salads and cooked vegetables:
Combine 2 parts olive oil with 1 part balsamic vinegar or lemon juice. Add salt, ground pepper, crushed garlic and fresh herbs.
Combine salt, garlic, fresh basil and pine nuts in a food processor. Process until the mixture forms a paste. Slowly add small amounts of olive oil until it reaches the consistency of a thick sauce. Store in the refrigerator.
Cream Cheese – 88.5% Fat
Loaded with vitamin A and potassium, cream cheese is one the most flexible high fat low carb foods.
Cream cheese adds a smooth texture to almost any low carb dish.
Combine with herbs and chopped low carb veggies for an instant dip or spread.
Use it to thicken sauces, as a spread and as a main ingredient in Atkins approved desserts.
Sour Cream – 88.5% Fat
Sour cream is a rich source of fat. It delivers amazing flavor and adds a luxurious texture to low carb foods.
A few tablespoons of sour cream gives your fat ratio a boost, helping you get into ketosis quickly.
Look for full fat versions of sour cream. It tastes better and is lower in carbs.
Add onion, spices or cucumber to sour cream for a fast veggie dip.
Try sour cream on top of steak or eggs.
Coconut – 88% Fat
Adding coconut to your high fat low carb foods boosts HDL (good) cholesterol, and decreases your risk of cardiovascular disease.
Add coconut to a smoothie in the morning to keep your hunger satisfied for hours.
Try unsweetened shredded coconut raw, add coconut oil, flavor (vanilla, lemon, cocoa, etc.) or use in low carb recipes.
Vanilla Coconut Bars – 72% Fat
Click the image to view, print or save the recipe.
Avocado – 82.5% Fat
Here's why low carbers say avocados are the perfect food:
Avocados have high amounts of fiber, are sodium and cholesterol free, contain omega 3 fatty acids, and are rich in vitamins A, C, D, E, K and the B vitamins (thiamine, riboflavin, niacin, pantothenic acid, biotin, vitamin B 6, vitamin B 12 and folate)— as well as potassium.
Add avocados to smoothies, sauces, soups and salsa for flavor and texture.
Make an avocado dressing or dip to add flavor to raw or steamed vegetables.
Combine with butter (recipe above) to make a savory steak, fish or poultry topping.
Sprinkle avocados with herbal seasoning and combine with cooked egg yolk for delicious deviled eggs.

Full Fat Cheese – 74% Fat
Hard low carb cheeses like cheddar, Monterey Jack and Swiss are good choices.
Cheese is amazingly versatile! Shred it over any low carb food, or eat a 1 to 2 ounce chunk.
Spread cream cheese between two slices of cheddar cheese for an instant high fat low carb snack.
Make a "cheese bowl" container to hold any low carb dish:
Grate Parmesan cheese over a piece of parchment paper, creating large circles, and bake. When it comes out of the oven, place it over a glass to form it into a bowl before it cools.

Here's how: Parmesan Cheese Bowl recipe at Eating Richly.
Bacon – 69.5% Fat
Bacon. Love it, or love it. Either way, to burn more fat in ketosis, start eating more of it.
Nitrate-free bacon has healthy fat, the perfect amount of protein and minimal carbs.
Bacon goes great with everything. Enough said.
Make a "bacon bowl" container:
Place thick, Canadian bacon slices in a muffin tin, fill with cream cheese, egg, bacon, spices and veggies, then bake.
Here's how: Bacon Bowl recipe at Not Martha.
Dark Chocolate – 65% Fat
Dark chocolate? Yes, dark chocolate can be a part of your low carb or ketosis plan. If you follow the rules, chocolate on a low carb diet is a reality. (It can even help you lose more weight!)
Look for the darkest chocolate with real cacao and cocoa butter.
Ketosis Chocolate Mousse Fat Bomb – 98% Fat
Click the image to view, print or save the recipe.
Whole Eggs – 61% Fat
Eggs are one of the most economical high fat low carb foods. They are convenient and store well.
Eggs provide the perfect ratio of protein to fat, and have more essential vitamins and minerals per calorie than almost any other food.
Eggs are one of the best sources of choline, a substance your body requires to break down fat for energy.
Above left: South Beach Cheesy Egg Biscuits recipe at Kalyn's Kitchen.
High Fat Meats
Packable snack: Sliced, high fat meats are easy to roll around low carb veggies or cream cheese chicken salad.
70% Ground Beef – 59.5% Fat
Go ahead, be the envy of all your "dieting" friends: Shop for the highest fat ground beef you can find. Why?
Almost half of the fat in beef is a monounsaturated fat called oleic acid— the same heart healthy fat that's found in olive oil.
The saturated fat in beef actually decreases your heart disease risk— either by lowering LDL (bad) cholesterol, or by reducing your ratio of total cholesterol to HDL (good) cholesterol.
If possible, choose locally farmed grass-fed beef for higher amounts of iron, zinc and B vitamins.
Cook burgers in butter, add cheese and avocado, and spread some sour cream on top for a juicy, high fat low carb meal.
Poultry – 57% Fat
Eat the dark meat and the skin.
Pork – 55% Fat
Bacon, pancetta, salami, pepperoni and ham are obvious choices.
Banana Pepper and Sausage Stuffed Pork Loin recipe at Paleo Pot.
Real-Life Story: High Fat Low Carb Meals
Low carb blogger, Tommy says, "I've been eating quite "hard core" LCHF since September 2009." His mission is to "Eat low carb high fat for a healthy life."
Tommy photographs and describes daily high fat low carb meals and menus, complete with fat, protein and carb counts on his blog, Eat Low Carb High Fat.
Pictured below are savory high fat low carb meals from Tommy's menu:
High Fat Low Carb Recipe Cards
Download all three, high fat low carb recipes in a single PDF.
(.3 MB .pdf, Opens in a new window.)
Sources
Top 10 Evidence-Based Health Benefits of Coconut Oil: Authority Nutrition
Dietary Fat Statistics: CalorieKing.com
Keep Calm and Low Carb
Category: Plate