Starting a low carb diet means different choices at the grocery store. Those middle aisles can be a savage place. Don't panic.
Low carb foods, arranged by section
Pantry, condiments, baking, beverages
Printable low carb grocery list
Which Foods are Low Carb?
According to rumor, there are +/- 55,000 low carb choices. Don't worry, this is a short list of the most commonly used low carb foods.
Get organized before you shop. It's incredibly simple: choose any item on the list and you're safe.
The items included in the printable grocery list are outlined below, along with tips and recommendations for making great low carb choices in every section.

Printable Grocery List
View, print, or download and save the grocery list.
Meat and Poultry
Any type or cut of meat is fine. For the best health, choose grass-fed or organic meats, avoiding antibiotic, pesticide and grain residues.
Pork loin, chops or steaks
Deli Meat
Good in a pinch and better than higher carb alternatives.
Cold cuts such as turkey breast and pastrami (Check for added sugars.)
Pepperoni sticks or slices
Seafood
Any type of seafood is fine- except imitation crab meat. Make sure to check the labels if you're buying any frozen varieties.
Omega 3 fat levels are higher in wild caught seafood.
Fresh or frozen, easy-to-peel shrimp
Eggs and Dairy Products
Cheese (Hard cheeses such as cheddar and Parmesan.)
Cheese (Soft cheeses such Muenster and Farmer's.)
Greek Yogurt (Choose plain, full fat and aim for less than 7 net carbs per serving.)
Veggies
Vegetables are a main event on any low carb foods list. Low carb veggies replace sugary side dishes and add incredible variety to meals.
Lettuce (Large leaves act as the "bread" for sandwiches.)
Leafy green vegetables such as spinach and kale
Onions and garlic (for flavorful cooking)
Summer squash such as zucchini
Zoodles!
Zoodles are mock noodles made with zucchini (and other firm veggies like carrots).
Zoodles may be eaten raw or cooked, opening up lots of possibilities: mock Alfredo, fettuccine, spaghetti, pad thai and zoodle pasta salads.
This inexpensive wonder creates uniform, curly noodles from zucchini, cucumbers, carrots, sweet potatoes, turnips and other round or long vegetables.
Veggie Spiralizer Bundle
Veggie spiralizers are great for making curly fries, frittatas, salad garnishes and of course, zoodles.
Veggie Spiralizer Bundle
includes a premium storage bag, cleaning brush and zoodle recipe book.
Fits in your hand, stores in a drawer


Built in finger guard

Dishwasher safe for easy cleaning

Sturdy BPA-free plastic

Inspiralized Cookbook
The Inspiralized Cookbook transforms more than 20 vegetables and fruits into delicious meals that look and taste just like your favorite originals.
Zucchini turns into pesto spaghetti; jicama becomes shoestring fries; sweet potatoes lay the foundation for fried rice.
Veggie Spiralizer Cookbook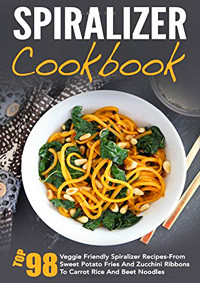 Top 98 Veggie Spiralizer Cookbook includes a step-by-step guide on using a spiralizer, a list of spiralizer-friendly vegetables and recipes, including:
Paleo-Friendly Carbonara
Roasted Carrot and Coconut Crostino
Chicken and Zucchini Noodle Bowl
Mediterranean Zoodle Platter
Zucchini Rice with Sweet Cider Dressing
Parmesan Broccoli Noodles with Tomatoes
Gluten-Free Parsnip Puttanesca
Avocado and Beet Omelet
Rutabaga Spaghetti with Truffle Marinara Sauce
Summer Prosciutto and Cottage Cheese Pasta
Fruit
Fruits are an optional item on your low carb grocery list. They can be added once your weight and health are stable.
Some people can handle the sugar in fruit and still be healthy and slim, others can't.
Not sure which fruits are low carb enough? Here are 43 low carb fruits with 1 to 10 net carbs per serving to enjoy.
Choose fresh, local fruit in season and stick to berries which are lower in sugar.
Eat fresh fruit with a fat (peanut butter, whipped cream, cheese). It slows the blood sugar spike.
Try avocados: A great snack with lemon juice or balsamic, or make guacamole for dipping low carb veggies.
Nuts and Seeds
Nuts: Almonds, hazelnuts, pecans, walnuts, coconut products and especially macadamia nuts (Nuts last longer if you freeze them.)
Seeds: Sunflower, pumpkin, watermelon and sesame seeds
Pantry
When stocking your low carb kitchen, (consult our low carb kitchen quick-start guide) add these items to your list of low carb foods:
Canned tuna, salmon, crab, shrimp, sardines, anchovies
Vienna sausages, canned luncheon meat (Good in a pinch, but go light on processed meats, as real meat is healthier.)
Tomato products: Canned tomatoes and tomato paste (Look for the brands with the lowest carb count.)
Sauces: Pasta sauce, pizza sauce and Alfredo sauce with no added sugar or thickener
Canned vegetables: Green chiles, roasted red peppers, chipotle peppers, mushrooms, artichoke hearts, sun-dried tomatoes in oil (A little adds lots of flavor.), hearts of palm, green beans, greens, okra (Check labels for no added sugar.), sauerkraut
Chicken and/or vegetable stock
Nut butters (Choose natural, unsweetened. Refrigerate after opening.)
Condiments
Sugar-free dill pickles or relish. (Use for tuna or egg salad.)
Mustard (Any except sweetened mustard, especially honey mustard.)
Cider and wine vinegar (Use balsamic vinegar sparingly.)
Most bottled hot sauces (Tabasco)
Most salsa (Check the label.)
Soy sauce (Avoid soy sauce if you are gluten sensitive.)
Mayonnaise (Look for the brands with the lowest carbs.)
Sugar-free salad dressing
Lemon or lime juice (1 carb per tbsp)
Cooking or Baking Ingredients
Erythritol, xylitol and other sugar alcohol sweeteners
Herbs and spices (Watch for mixtures with added sugars.)
Extracts (Vanilla, lemon, almond, etc. Avoid any with sugar.)
Cocoa powder (unsweetened)
Sesame oil for salad dressings
Almond flour, coconut flour, Carbquik baking mix.
Nature's Best ISOPURE Whey Protein
Unflavored and zero carb. Pure 100% whey protein isolate, stripped of fat, carbs, fillers, sugars and lactose.
Nature's Best Isopure isolate whey protein
is available in small, 1 pound sizes (makes just under 4 loaves of low carb Soul Bread) and larger bulk sizes (most economical).
Isopure protein powder is also available in 19 flavored varieties.
Liquid De-Bittered Stevia
EZ-Sweetz's de-bittered stevia blend has no unpleasant aftertaste. This blend has none of the characteristic bitterness of typical stevia sweeteners.
Kiva All Natural Xanthan Gum
Kiva all-natural xanthan gum
is non-GMO, vegan and gluten-free. Kiva's twin pack costs less than a single of the other brands.
Xanthan gum thickens soups and sauces naturally. It adds volume, elasticity, and structure to bread and baked goods.
Organic Coconut Oil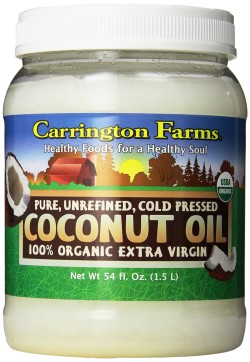 Carrington Farms Organic Coconut Oil is  essential for rapid fat-burning. Fats from coconut oil aren't stored. Instead, coconut oil fats are used immediately for energy.
Coconut oil can last up to two years without spoiling. Coconut oil gives food a nice "buttery" (not coconut) flavor, and is one of the healthiest choices for cooking and baking.
Avocado Oil
La Tourangelle Avocado Oil is all-natural, expeller-pressed, non-GMO and Kosher. La Tourangelle has a fruity roundness – great for both sweet and savory recipes.
Performance MCT Oil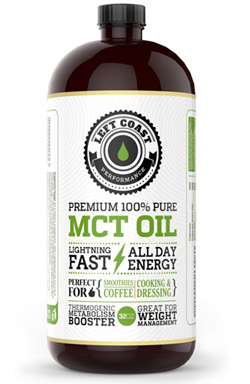 Left Coast's pure MCT oil converts into energy faster than other oils, ignites your body's metabolic rate and helps maintain healthy levels of cholesterol.
MCT oil is an easy way to increase your healthy fats. Add to salads, smoothies or your latest coffee fasting plan for immediate, all-day energy.
Triple filtered, pharmaceutical grade, BPA-free container, USA-made.
CarbQuik
CarbQuik baking mix has 90% less carbs than Bisquick. No sugar, high fiber, high protein.
3 lb box makes 90 biscuits, just add water.
(2 net carbs per biscuit)
Low Carb Baking Mix
For bread machines or hand-baked breads. Bob's Red Mill Low Carb Baking Mix is all-natural and Kosher, with only 5 net carbs per serving.
Miscellaneous
Pork rinds (Crushed, these are a good substitute for bread crumbs.)
Beef jerky or beef sticks
Almost Zero Carb Meal Plan
The Almost Zero meal plan is three easy days, one aggressive technique and major fat loss.
The plan is designed to break even the worst stall, and burn off large amounts of stored fat – in 3 days.
The Technique
150 Recipes (100 under 1 net carb)
Sample Menus, Shopping List
Printable Planner
If what you're doing isn't working, get the meal plan now.
Category: First Month, Food Lists