Looking for a high fat snack or dessert that helps you stay in ketosis? Maybe you're hungry and too lazy/exhausted to cook, or craving something sweet. Fat bombs solve all these issues in one bite.
How to make fat bombs
Ingredient variations
Printable fat bomb recipes
These fat bomb recipes have flavors for every season: peppermint, pistachio, ginger, nutmeg, clove, pumpkin, allspice, cinnamon, citrus, cocoa, coconut, vanilla, dark chocolate and bacon.
We searched the web for the healthiest fat bombs, making a few changes to lower carbs even more.
What's a Fat Bomb?
Fat bombs are any high fat low carb recipe or food (Mascarpone cheese, cream cheese, macadamia nuts), usually 85% fat or more.
Low carb and ketogenic diets are roughly 75% healthy fat – a ratio that's challenging to keep up. The solution? Fat bombs: a concentrated, delicious bite of healthy fat.
When to Eat Fat Bombs
Eating fat sources alone isn't always palatable, and doesn't add protein or fiber. This is where fat bomb recipes come into play: all the healthy high fat you need to stay in ketosis with heightened nutrition and unbelievable taste.
How to Make Fat Bombs
Most low carb fat bomb ingredients are blended well and poured into a pan, dish, candy mold, muffin tin or cupcake liner.
Then, the fat bombs are chilled and hardened in the refrigerator or freezer until ready to slice, pop out or serve.
Fat bombs are very high fat. Keep them cold! They melt quickly – a reason most fat bombs are bite-size portions.
Fat bombs use three basic types of ingredients:
A fat base (coconut oil, grass-fed butter, MCT oil, cream cheese)
A flavoring or sweetener (spices, cocoa powder, flavored syrups)
A mix-in (nuts, seeds, low carb fruit, shredded coconut)
Coconut oil is the healthiest fat bomb ingredient and essential for rapid fat-burning. Fats from coconut oil aren't stored. Instead, coconut oil fats are used immediately for energy.
Organic Coconut Oil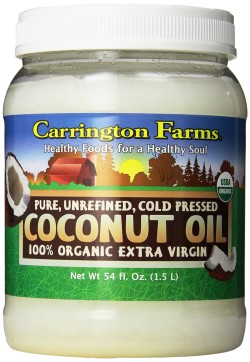 Carrington Farms Organic Coconut Oil is gluten free, non-GMO, free of hydrogenated and trans fats, Kosher, zero carb and organic.
Coconut oil lasts up to two years without spoiling. This oil gives food a rich, buttery (not coconut) flavor, and is easy to cook or bake with.
Performance MCT Oil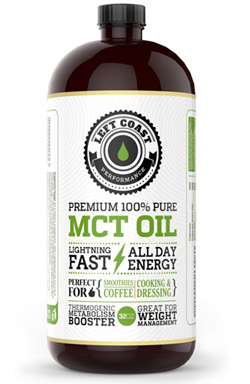 Left Coast's pure MCT oil blend is identical quality to the 'Bulletproof' brand. MCT converts into energy faster than other oils, ignites your body's metabolic rate and helps maintain healthy levels of cholesterol.
MCT oil is an easy way to increase your healthy fats. Add to salads, smoothies or your latest Bulletproof coffee fasting plan for immediate, all-day energy.
Triple filtered, pharmaceutical grade, BPA-free container, USA-made.
Liquid Sucralose

EZ-Sweetz liquid sweetener is made of sucralose and has no bitter aftertaste. Zero carb, zero calories, zero impact.
Liquid De-Bittered Stevia
EZ-Sweetz's de-bittered stevia blend has no unpleasant aftertaste. This blend has none of the characteristic bitterness of typical stevia sweeteners.
Keto Fat Bomb Recipes
There are many different types of fat bomb recipes. Most recipes are sweet, but there are also savory fat bombs with ingredients like cheese and bacon!
These fat bomb recipes include full nutrition information. Click any recipe to view, print or save.
Allspice Dark Almond Fat Bombs
Allspice creates a deeper version of traditional almond flavor. Top these moist, but firm squares with crunch.
1.5 net carbs per serving for 2 servings.
Vanilla Mocha Fat Bomb Pops
Coffee, cream and chocolate – the fat bomb trifecta. These little layered pops are the perfect high fat treat.
.5 net carbs per serving for 2 servings.
Black and White Peppermint Bombs
Shredded coconut and chocolate, cooled off with peppermint makes a perfect fat bomb for celebrations and birthday parties.
1.5 net carbs per serving for 2 servings.
  Photo credit – DitchTheWheat – Thank you!
Cinnabon Blonde Fat Bomb Bars
We're well-versed in the perils of Cinnabon. Escape the danger while adding healthy fats to your low carb diet.
Try this well-iced version instead, adapted from DitchTheWheat's Cinnabon recipe. It won't disappoint.
2.5 net carbs per serving for 2 servings.
Blackberry Nut Fat Bombs
Blackberries are one of the lowest carb fruits. Macadamia nuts add lots of healthy fat and fiber to this fruity treat.
1.3 net carbs per serving for 12 servings.
Fat Pumpkin Butter Bombs
Pumpkin fat bombs perfectly spiced with ginger, clove, nutmeg and cinnamon. Easy microwave prep and roll-in-your-hands recipe.
1.7 net carbs per serving for 2 servings.
Seasonal Four Spice Fat Bombs
Signature seasonal spices of nutmeg, clove, ginger and cinnamon in a no-bake fat bomb. Roll-with-your-hands, chill and eat.
2 net carbs per serving for 6 servings.
Bacon Maple Butter Fat Bombs
Simple, microwave-made fat bombs for that emergency bacon fix. The maple flavor adds just the right amount of sweetness.
.5 net carbs per serving for 24 servings.
   Photo credit – IttyBittyBakes – Thank you!
Peanut Butter Cinnamon Chocolate Bombs
Peanut butter, walnuts and cinnamon with vanilla undertones, and a tiny kick of salt to enhance the flavor.
1.6 net carbs per serving for 12 servings.
Chocolate Peanut Butter Coconut Bombs
Classic chocolate and peanut butter with a sweet white top layer. These fat bombs are very versatile – try them with almond, cashew or sunflower seed butters.
.7 net carbs per serving for 12 servings.
Cinnamon Ball Fat Bombs
Nutmeg and cinnamon pair with shredded coconut in this easy, roll-in-your-hands fat bomb recipe.
1.6 net carbs per serving for 10 servings.
Orange Butter Pecan Fat Bombs
Toasted pecan halves protect a creamy, orange center. Fast and simple with a bright orange kick.
.8 net carbs per serving for 2 pecan sandwiches.
   Recipe shared from M. McWhinnie – Thank you!
Pumpkin Cheesecake Fat Bomb Squares
Creamy pumpkin cheesecake with a hint of cinnamon and crunchy pecans throughout.
1.3 net carbs per serving for 12 servings.
Deep Chocolate Coconut Bombs
Chocolate cream cheese layered over coconut. The number of layers is up to you. Freeze and break into crunchy pieces.
1.3 net carbs per serving for 12 servings.
Almond Joy Fat Bombs
Healthy play on an old favorite candy bar, perfectly portioned in bite-size balls. These fat bombs store well in the fridge and freezer.
1.8 net carbs per serving for 4 servings.
Lemon Zest Cheesecake Fat Bombs
Bold lemon zest cheesecake with the lowest carbs possible. This fat bomb is an excellent base recipe.
Change it up! Top with raspberries, blueberries, chopped nuts, dark chocolate or shredded coconut.
.25 net carbs per serving for 12 servings.
Blueberry Coconut Cream Fat Bombs
Creamy, buttery and blueberry! Make these fat bombs with whole or pureed blueberries. Add a chopped nut crust and top with fresh berries or whipped heavy cream.
1 net carb per serving for 20 servings.
Strawberry Mocha Swirl Fat Bombs
Strawberries brighten a creamy, dark chocolate fudge fat bomb. Try variations with raspberries and blueberries.
1 net carb per serving for 24 servings.
Walnut Nutter Butter Bomb
Walnuts, almond butter and dark chocolate deliciousness. Easy to make: microwave, pour into cupcake liners and freeze.
1.8 net carbs per serving for 8 servings.
Inspiration
Low Carb Diner, Little Bitty Bakes, KetoAdapted, Maria Mind Body Health
Silicone Fat Bomb Mold
Freshware's fat bomb mold makes 12 perfect fat bombs. Two-inch tartlet cavities are generously wide enough for layering effects.
Microwave, oven, refrigerator, freezer and dishwasher safe.
Professional quality food-grade silicone.
BPA, PVC and Phthalate free.
Size: 13.4″ x 10.8″ x 0.8″
Fat Bomb Pops with Sticks
Fat bomb pop molds are an ingenious way to make melt-able fat bombs easy to handle. Also available in flower, heart and star designs.
100% Food-grade silicone is oven, microwave, freezer and dishwasher safe.
BPA, PVC and Phthalate free.
Measures 9.5″ x 3.7″ x 0.6″
Sticks included.
Almost Zero Carb Meal Plan
The Almost Zero meal plan is three easy days, one aggressive technique, and major fat loss.
The plan is designed to break even the worst stall and burn off large amounts of stored fat – in 3 days.
The Technique
150 Recipes (100 under 1 net carb)
Sample Menus, Shopping List
Printable Planner
If what you're doing isn't working, get your meal plan now.
Category: Recipes, Stall Busters