Curious about low carb beer or craving beer on Atkins? Don't terrorize yourself with another horrible, light low carb beer.
100 Best-tasting low carb beers (printable list)
Massive 250 Beer Comparison eBook
Beer flavor boosters
Must-have beer gear
You're low carb and you love beer. If you're new to low carb and worried about adding alcohol to your diet, most light beers are safe.
The taste of lighter low carb beers has come a long way.
There are many better tasting beer options out there – without the carbs. Let's crank up the flavor and learn where to find them.
Beer Flavor Boosters
Low carb beers are light in color and light in the flavor department. Do everything possible to bring out as much of the beer's flavor as you can.
Avoid drinking beer from cans. It tastes much better from a glass.
Beer should be served right from the fridge. Store a few mugs in the freezer so you can serve your beer in a frosted glass.
Store bottles and cans away from direct sunlight so they do not get "skunked." Did you know exposure to light can skunk a beer in under a minute?
100 Beers Under 8 Net Carbs
We'll give you the first 50 or so – the rest are on this low carb beer list. Click the image to view, print or save them all.
Low carb beer lists are helpful, but be sure to check the labels for the latest nutritional values.
Beer Under 5 Net Carbs
Drinking beer on Atkins is finally possible. And with 100+ low carb beers available, your options are multiplying.
Serving Size: 12 oz
1
Greens Trailblazer – 0.5
Budweiser Select – 1.9
2
DAB Low Carb – 2
Rock Green Light – 2.4
Miller Genuine Draft Light – 2.4
Molson Ultra – 2.5
Labatt Sterling – 2.5
Sleeman Clear – 2.5
Aspen Edge – 2.6
Michelob Ultra – 2.6
Bootie U95 – 2.6
Schmidts Light – 2.8
Iron City Light – 2.8
SeyBrew Lager – 2.8
3
Diebels Alkoholfrei – 3
Budweiser Select – 3.1
Dixie Jazz Light – 3.1
Miller Lite – 3.2
Busch Light – 3.2
Busch Light Pale Lager – 3.2
Natural Light – 3.2
Carlton LJ – 3.2
Pony Express Original Wheat – 3.3
Northwoods Golden Finch Light – 3.4
Milwaukees Best Light – 3.5
Cristal (from Peru) – 3.5
Pilsen Callao – 3.5
Eagle Lager – 3.5
Golden Pilsner – 3.5
Castlemaine DL Lager – 3.6
Michelob Ultra Amber – 3.7
Cisk Excel – 3.7
Becks Premier Light – 3.9
Pony Express Gold  – 3.9
Pony Express Rattlesnake Pale Ale – 3.9
Shock Top Honey Bourbon Cask Wheat – 3.9
4
Bud Ice – 4
Natural Ice – 4
Key West Pilsner Light – 4
Busch Ice – 4.2
Hurricane Malt Liquor – 4.2
Carolina Lighthouse  – 4.2
Hurricane High Gravity Lager – 4.2
King Cobra – 4.3
Ybor Gold Light – 4.3
Bud Light Platinum – 4.4
Maisel's Weisse Alkoholfrei – 4.8
Macs Spring Tide – 4.9
5
Coors Light – 5
Keystone Premium – 5
Amstel Light – 5
Corona Light – 5
Full Sail Session Premium Lager – 5
Taytelainen Kevyt Olut – 5
Leibinger Zeppelin – 5
Natty Daddy – 5
250 Beer Compare Chart
How Low Carb is Your Beer?
A huge list of the alcohol content, calories and carbohydrates in over 250 beers, organized from A to Z.
The information listed here comes from many sources and is a work in progress. Any help completing this beer list is greatly appreciated!
Get the results of our taste test and macros for over 250 beers in the Low Carb Beer List eBook.
Beer Gear
Best-sellers from the world of beer. Learn about beer, make it yourself, enjoy a chilled brew, or get cleaned up – avoiding it entirely.
The Complete Beer Course
The Complete Beer Course is boot camp for beer geeks. Novice to expert in 12 tasting classes.
Insider's Guide to Beer Tasting
This insider's guide helps beer lovers identify the scents, colors, flavors, and mouth-feel of all the major beer styles.
Chillsner Beer Chiller
Chillsner in-bottle beer chillers keep your beer ice cold. Freeze, insert and drink right through the Chillsner.
Beer Soap 6-Pack
A six-pack of soap made with real craft beer. If you're avoiding carbs, this may be the way to add suds to your diet.
Home Craft Beer Kit
Mr. Beer's home beer making kit is affordable, shatterproof and reusable. Modeled after professional brewing equipment.
Almost Zero Carb Meal Plan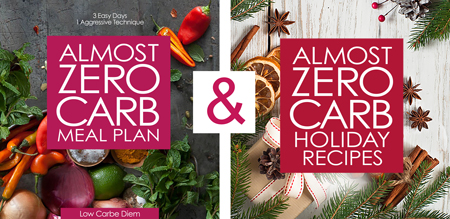 Enter deep ketosis, break your stall, recover from your cheat day, or reset your diet in three days using this aggressive technique, first made famous by Dr. Robert Atkins over 40 years ago.
Science-Backed and Powerful
The Almost Zero Carb Meal Plan is a powerful tool, allowing metabolically-resistant dieters to reach deep nutritional ketosis quickly.
What happens when you follow the plan? Incredibly rapid fat loss.
Ditch the Nervous Carb Counting
Choose from 150+ easy recipes and food combos (with special macros and almost no carbs), plus a special Holiday Recipe section!
Break your toughest diet stall.
Lose fat quickly for a special event.
Recover from an accidental cheat.
Avoid plateau completely: Use once a month.
Reach a deeper state of ketosis over the weekend.
Finally access and burn stubborn, stored fat.
Restart or reset your low carb or keto diet.
Add healthy fats effortlessly.
Decrease hunger naturally.
Sharpen your sense of portion control.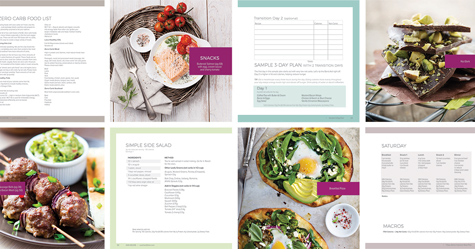 If You're Doing Everything (but Nothing's Working)…
Take three days off. Create a personalized plan that works, with a decadent variety of workhorse recipes you'll keep eating long after reaching your goal.
Go Almost Zero and start burning fat with your next meal. Fit in those jeans again. In three days.
Category: Food Lists