Missing the crunch? This crispy, almost zero carb cracker cradles high fat dips, pairs with soups and salads, and travels extremely well.
Switch out the cheese and herbs to create your favorite flavors.
Italian = Mozzarella and Parmesan + basil and oregano.
Mexican = Hot pepper cheese + cilantro or taco seasonings.
French =  Gruyère + garlic, rosemary and thyme.
Don't forget the chopped bacon. You get the idea.
Featured in the Almost Zero Carb Meal Plan.
Cauliflower Parmesan Chips
Per Serving: 132 calories, 1 net carb
Servings: 3
Ingredients
1 c cauliflower, grated
1 tsp parsley, chopped
1/2 tsp rosemary, chopped
1 c Parmesan cheese, grated
1 clove garlic, pressed
sea salt and black pepper, to taste
Directions
Preheat oven to 400 F. Grate the cauliflower into a bowl or use riced cauliflower.
Finely chop the parsley and rosemary. Add both to the cauliflower rice. Toss well, then mix in Parmesan cheese, garlic, salt and pepper.
Form loose balls with the mixture (about 1 inch in diameter) and place them on a parchment paper‐lined baking tray. Using the bottom of a drinking glass, press each ball flat.
Bake 5 minutes, turn crackers over and bake another 5 minutes until golden brown on top. Remove from the oven and allow to cool a few minutes until crispy.
Nutrition
Per Serving: 132 Calories; 8g Fat (57.2% calories from fat); 12g Protein; 2g Carbohydrate; 1g Dietary Fiber.
Click to print or save this recipe:
Almost Zero Carb Meal Plan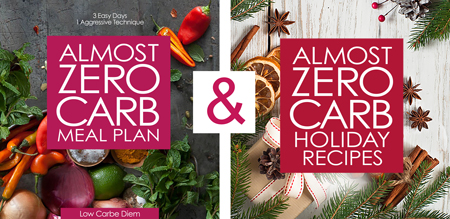 Enter deep ketosis, break your stall, recover from your cheat day, or reset your diet in three days using this aggressive technique, first made famous by Dr. Robert Atkins over 40 years ago.
Science-Backed and Powerful
The Almost Zero Carb Meal Plan is a powerful tool, allowing metabolically-resistant dieters to reach deep nutritional ketosis quickly.
What happens when you follow the plan? Incredibly rapid fat loss.
Ditch the Nervous Carb Counting
Choose from 150+ easy recipes and food combos (with special macros and almost no carbs), plus a special Holiday Recipe section!
Break your toughest diet stall.
Lose fat quickly for a special event.
Recover from an accidental cheat.
Avoid plateau completely: Use once a month.
Reach a deeper state of ketosis over the weekend.
Finally access and burn stubborn, stored fat.
Restart or reset your low carb or keto diet.
Add healthy fats effortlessly.
Decrease hunger naturally.
Sharpen your sense of portion control.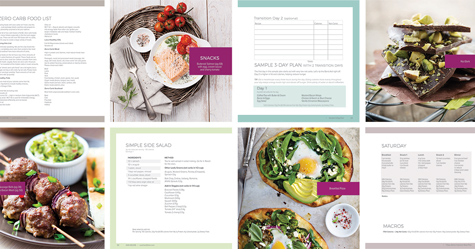 If You're Doing Everything (but Nothing's Working)…
Take three days off. Create a personalized plan that works, with a decadent variety of workhorse recipes you'll keep eating long after reaching your goal.
Go Almost Zero and start burning fat with your next meal. Fit in those jeans again. In three days.
Category: Bread - Crackers