Dining out on a low carb diet requires strategy. A little prep makes it easy to find low carb options away from home.
How to find low carb restaurants
Best restaurants for low carb diets
Surprising spots to find low carb foods
Most restaurants are easy to navigate, as long as you're comfortable being polite (but firm) with the staff about your diet. For a positive experience, do your homework.
Simple research beforehand saves countless hours in the car searching for low carb restaurants when starving. Start on the web, finish on the phone if needed.
Get On The Web
Google is rich with easy-to-find information about the places you'll be passing along the way.
Visit some of the restaurant websites and browse through the menus. Five to ten minutes researching saves time and money on the road.
Get On The Phone
Call restaurants ahead of time and ask how they prepare specific meals.
Patiently explain in a simple way that your diet is low in sugar. Ask if modifying the dish or substituting side dishes is acceptable.
When You Get There
Don't forget to smile. The key here is being very polite to everyone.
The staff is doing you a favor by cooking special food to meet your dietary requirements.
Best Restaurant Choices
At steakhouses and seafood restaurants, meat is the main event. Dining out low carb here is easy. You'll be able to enjoy most of the entrées with very little change.
Low carb vegetables or a salad are acceptable side items that make the meal complete.
Buffet-style restaurants and salad bars with custom salad options can also be very low carb-friendly.
At Chipotle or Subway, you can order a vegetable salad topped with meat and guacamole.
If necessary, you can even pack your own salad dressing. Both restaurants offer brochures with nutritional information about their menu items.
Restaurant App
What if a restaurant suddenly catches your eye, but you're not familiar with the brand? Well, there are several low carb diet apps for that.
The newest low carb apps feature low carb-friendly menu items, nutritional information, calorie/carb counts, favorites, restaurant locators and a variety of helpful diet tools.
Ordering Low Carb
If your restaurant doesn't have many low carbohydrate options on the menu, don't worry.
Order a salad or any cut of meat/seafood with a side of vegetables, prepared in a low carbohydrate-friendly way: grilled, roasted, poached, or steamed.
Pan-fried is also an option if the chef is using an acceptable type of oil.
Dining out low carb foods to order:
If the restaurant serves breakfast all day, order an omelet with low carb vegetables
Order a burger or steak sandwich without the bun. Enjoy it with a side salad.
Ask for any sandwich minus the bread, and add it to the top of a green salad.
Don't see your usual low carbohydrate favorites on the menu? Use the opportunity to experiment and try something new.
There are many low carb food options available at Mexican, Italian, Asian and Fast Food restaurants.
Avoid Dining Dangerously
To keep the meal heart healthy, order lean cuts of red meat, choose poultry and fish most often and limit cheeses.
Foods smothered in cheese or cream sauces are low in carbs, but not very heart healthy.
Order more vegetables as side dishes but keep portion sizes in check. If you consume more calories than you need, you will gain weight.
Think Outside the Low Carb Box
For low carbohydrate meals on the road without the hassle of finding or researching a restaurant, try a health food store or market.
Health food stores often have a café or hot buffet lines that allow you to mix and match for variety.
The staff is typically well-versed in special diets, and the food  is usually heart-healthy and highly nutritious, removing most of the guess-work.
Find a Low Carb Market
Before you travel, find health or farmer's markets on your route and near your destination. You can shop before you leave, or opt to stock up on the way! Search for markets with healthy prepared foods as a quick solution.
Whole Foods market has several prepared low carb options, an attached café for sit-down dining and the ability to pack prepared foods in travel containers to take with you.
TIP:  Rotisserie chicken is an inexpensive, convenient way to get a hot meal the night you arrive, and provides ample leftovers for breakfast and snacks the next day.
Eat Out Low Carb With Ease
Maintaining a low carb diet outside the home is tough. But with these tips, low carb dining is a breeze.
Find low carb restaurant foods before you go. And thank the restaurant staff for any special changes! Use these strategies to decrease stress, and keep dining out low carb wherever you go.
Almost Zero Carb Meal Plan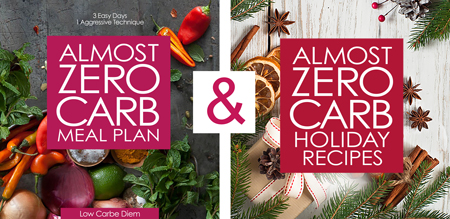 Enter deep ketosis, break your stall, recover from your cheat day, or reset your diet in three days using this aggressive technique, first made famous by Dr. Robert Atkins over 40 years ago.
Science-Backed and Powerful
The Almost Zero Carb Meal Plan is a powerful tool, allowing metabolically-resistant dieters to reach deep nutritional ketosis quickly.
What happens when you follow the plan? Incredibly rapid fat loss.
Ditch the Nervous Carb Counting
Choose from 150+ easy recipes and food combos (with special macros and almost no carbs), plus a special Holiday Recipe section!
Break your toughest diet stall.
Lose fat quickly for a special event.
Recover from an accidental cheat.
Avoid plateau completely: Use once a month.
Reach a deeper state of ketosis over the weekend.
Finally access and burn stubborn, stored fat.
Restart or reset your low carb or keto diet.
Add healthy fats effortlessly.
Decrease hunger naturally.
Sharpen your sense of portion control.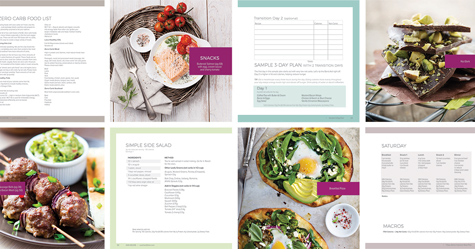 If You're Doing Everything (but Nothing's Working)…
Take three days off. Create a personalized plan that works, with a decadent variety of workhorse recipes you'll keep eating long after reaching your goal.
Go Almost Zero and start burning fat with your next meal. Fit in those jeans again. In three days.
Keep Calm and Low Carb
Category: Strategy