Tailgates and picnics are notorious celebrations for sugary foods. Yours won't be. Serve these (secretly) low carb snacks.
Shhh – No one has to know how low carb they are.
Real life low carb tailgate spread
Easy pack-and-travel game snacks
Fast and no-cook snack recipes
Jodie's Low Carb Spread
Real-life low carber Jodie Hawkins Dyer of Greenville, South Carolina slaps down a mean spread – brimming with low carb spirit.
Jodie has all your old favorite game foods, nailing the full range of taste sensations.
Her low carb game snacks are hot and spicy, creamy, crunchy, savory, salty, tart and sweet – in a single spread.
Jodie's Spread

Pimento Cheese (recipe below)
Veggies and Dip
Olives (recipe below)
Pork Rinds
Sausage and Cheddar Balls (recipe below)
Almonds
Serve a classic tossed salad, dill pickle spears, macadamia nut mock hummus, spinach cream cheese dip, roasted red peppers and a cold, riced cauliflower salad.
Top roasted eggplant slices with mozzarella and fresh herbs.
Wrap chunks of cheddar cheese with prosciutto or cooked bacon slices, and secure with a toothpick.
Easy No-Cook Game Snacks
Mixed nuts, avocado salsa or a cheese plate with sliced summer sausage and seasoned deli meats.
Tailgate Favorites
Many of our old tailgate favorites are also low carb snacks. Focus on the low sugar game foods you can enjoy.
Don't sacrifice flavor. Indulge in these options. Guests and other non low-carbers won't notice a thing. Victory is yours.
Sausage Cheddar Balls
Per Serving (1 ball) 1.6 net carbs  |  Total Recipe (30 balls) 18 net carbs
(The almond meal used in this recipe has 3 net carbs per 1/4 cup serving. Use CarbQuick or low carb baking mix to reduce the carbs even further!)
Ingredients
1 1/2 cups almond meal or CarbQuick
1/2 pound Jimmy Dean sausage
4 oz shredded sharp cheddar cheese
1 egg
salt and pepper
Instructions
Preheat the oven to 375.
Put all ingredients together in a large mixing bowl, and mix thoroughly.
Use a large baking sheet covered with foil for easy clean up. Roll out small shaped sausage balls between your hands and place them on the baking sheet.
Bake 20 to 25 minutes or until brown. Immediately remove from pan. Serve warm alone or with dipping sauces.
CarbQuik
CarbQuik baking mix has 90% less carbs than Bisquick. No sugar, high fiber, high protein.
3 lb box makes 90 biscuits, just add water.
(2 net carbs per biscuit)
Low Carb Baking Mix
For bread machines or hand-baked breads. Bob's Red Mill Low Carb Baking Mix is all-natural and Kosher, with only 5 net carbs per serving.
Sausage Ball Variations
This Low Carb Friends forum thread has several interesting sausage ball recipe variations.
For added kick, use spicy, hot or sage seasoned sausage with minced red or jalapeno peppers.
Sausage Ball Recipes to Try

Note: Substitute CarbQuik or low carb baking mix for the Bisquick in the linked recipes below!
Sausage Ball Serving Tips
Serve these low carb snack balls with simple toothpicks, or dip them in a low carb sauce. Two to try:
Honey Mustard Sauce
1/2 cup mayonnaise
1/4 cup Dijon mustard
1 packet Splenda
Spicy Ketchup Sauce
1/2 cup low carb ketchup
1 1/2 tsp Worcestershire sauce
1 1/2 tsp prepared horseradish
1/2 tsp cayenne pepper ( to taste)
1/4 tsp garlic salt
Southern Pimento Cheese
Ingredients
2 cups shredded extra-sharp cheddar cheese
8 ounces cream cheese, softened
1/2 cup full-fat mayonnaise
1/4 tsp garlic powder
1/4 tsp ground cayenne pepper (optional)
1/4 tsp onion powder
1 jalapeno pepper, seeded and minced (optional)
1 (4 oz) jar diced pimento, drained
sea salt and black pepper
Instructions
Place the cheddar cheese, cream cheese, mayonnaise, garlic powder, cayenne pepper, onion powder, minced jalapeno and pimento into the large bowl of a mixer.
Beat at medium speed, with a paddle blade if possible, until thoroughly combined.
Season to taste with sea salt and black pepper.
Portable Pimento Cheese
For a firmer travel version, place the cheese in your refrigerator for an hour until well-chilled.
Form the pimento cheese into a round shape. Roll the cheese balls in crushed walnuts and pecans until completely covered.
Sliders with Zucchini Buns
Per Serving (1 Slider)  |  cal 120,  net carbs .5,  fat 6,  pro 7
There's nothing more adorable than a mini slider! These flexible 'unwiches' are easy to make and store ahead of game time.
Experiment with veggie bun possibilities: raw summer squash, portobello mushroom caps, bell peppers cut length-wise or pliable butter lettuce leaves.
Ingredients  (Makes about 8 Sliders)
1 lb ground chicken, beef or turkey
1 egg
1/4 cup pork rinds
1/2 tsp salt
1/2 tsp pepper
1/2 tsp dry oregano
1/2 tsp dry basil
1 cup chicken or beef broth
Condiments & Toppings
1 to 2 large zucchini, cut into 1/4 inch rings (buns)
avocado slices
low carb BBQ sauce
pickled jalapeno
vine ripened tomato slices
Instructions
In a bowl, combine all ingredients except the broth using your hands until well blended.
Spray the inside of a skillet (with a lid) with cooking spray or oil, and allow to get hot but not smoking.
Form the ground meat mixture into patties about the width of your zucchini slices and about 1/2 inch thick.
Cook on one side until browned on the bottom, flip and cook for 1 more minute.
Add the chicken broth until about half way up the sides of the patties. Cover with a lid and allow to steam for 3 to 5 minutes or until patties are fully cooked.
Remove from pan and allow to drain.
Add the patties to the zucchini slices, top with condiments and serve.
Crispy Cheese Crackers
Per Serving (9 crackers)  |  cal 106,  net carbs .5,  fat 9,  pro 6
This low carb cheese cracker recipe from Linda's Low Carb is so simple to make, you only need a slice of cheese, a microwave and parchment paper. Each slice of cheese makes 9 crackers with only .5 net carbs.
Flavor these crackers by sprinkling them with seasoning while warm. Try nacho cheese, ranch, garlic or mesquite seasonings. Check the seasoning labels carefully for extra carbs.
Ingredients
Natural cheese slices (not processed, cheese food or cheese product)
Instructions
Cut one square of cheese into 9 tiny squares. Arrange on a sheet of parchment paper in a circular shape around the edges of the paper.
Head's Up:
Don't place the cheese squares too close together or they'll stick to each other.
Don't place any in the center of the paper or they will burn before the outer squares are done.
Carefully place the sheet of parchment on the tray of a microwave oven. Microwave on HIGH about 55 seconds, or until the crackers are well-browned, but not burnt. Watch closely and add more time if needed.
Remove the parchment paper from microwave and sprinkle with any seasonings. Let the crackers cool slightly before removing them from the paper. Peel them off the paper and store in an airtight container.
Repeat this process one cheese slice at a time. These store well in an air-tight container at room temperature for several days – and even longer if refrigerated or frozen.
Greek Olive Tapenade
Nutrition varies by olive type, seasonings and amount of added ingredients. Check each brand's label.
Greek Olives (1 cup chopped) | cal 142,  net carbs 4,  fat 13,  pro 1
Ingredients
8 oz Greek olives, pitted and diced
3 tbsp capers, drained
3 anchovy fillets (or to taste)
1 garlic clove, minced
1/2 cup extra-virgin olive oil
1 tbsp lemon juice
1/2 tsp lemon zest
2 tsp Dijon mustard
1 tsp minced fresh thyme leaves
1 tbsp chopped fresh parsley leaves
Instructions
Combine the olives, capers, anchovies and garlic in a food processor, and pulse 3 to 5 times.
Mix in the olive oil, lemon juice and zest, mustard, thyme and parsley. Continue to pulse and process until chunky.
Serving Ideas
Try green Greek olives and toasted almonds with fresh lemon zest.
Add diced celery, artichoke hearts and drizzle with Italian dressing for a chunky olive salad.
Any-Flavor (Jello) Cheesecake
8 Servings  |  cal 248,  net carbs 2,  fat 25,  pro 4
Customize this low carb snack by using any flavor of sugar-free Jello, top with your favorite low carb fruit, or indulge with a crunchy crushed walnut 'crust.'
Ingredients
8 oz cream cheese
1 packet sugar free flavored Jello
10 oz heavy whipping cream
6 drops of liquid sweetener (EZ-Sweetz) or Splenda to taste
Instructions
Whip the heavy cream and set aside.
Soften the cream cheese, and beat this together with the sweetener.
Dissolve the Jello in 1 cup boiling water, then let cool for 15 minutes.
Combine the cream cheese mixture with the Jello using an electric beater or blender, folding in the whipped heavy cream at the end.
Pour the mixture into a greased dish (approx. 11 in x 7 in). Put the dish in the fridge to set for at least a couple of hours. Once set, cut into slices.
– or –
Fill cupcake or muffin tins with a tablespoon of crushed walnuts, pour the cheesecake mixture on top. Once set, top with low carb fruit.
Serving Ideas
Make two flavors of Jello and layer in clear glasses or jars. Top with a strawberry slice and shaved dark chocolate.
Hollow out a strawberry using a melon baller, spoon or scoop. Pour cheesecake mixture into a piping bag or plastic Ziploc bag with the corner removed.
Pipe into the strawberries and sprinkle with a TINY bit of graham cracker crumbs, cinnamon or lemon zest.
Almost Zero Carb Meal Plan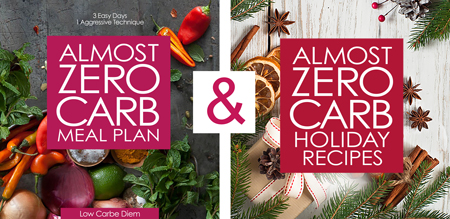 Enter deep ketosis, break your stall, recover from your cheat day, or reset your diet in three days using this aggressive technique, first made famous by Dr. Robert Atkins over 40 years ago.
Science-Backed and Powerful
The Almost Zero Carb Meal Plan is a powerful tool, allowing metabolically-resistant dieters to reach deep nutritional ketosis quickly.
What happens when you follow the plan? Incredibly rapid fat loss.
Ditch the Nervous Carb Counting
Choose from 150+ easy recipes and food combos (with special macros and almost no carbs), plus a special Holiday Recipe section!
Break your toughest diet stall.
Lose fat quickly for a special event.
Recover from an accidental cheat.
Avoid plateau completely: Use once a month.
Reach a deeper state of ketosis over the weekend.
Finally access and burn stubborn, stored fat.
Restart or reset your low carb or keto diet.
Add healthy fats effortlessly.
Decrease hunger naturally.
Sharpen your sense of portion control.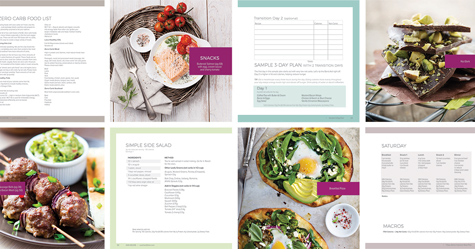 If You're Doing Everything (but Nothing's Working)…
Take three days off. Create a personalized plan that works, with a decadent variety of workhorse recipes you'll keep eating long after reaching your goal.
Go Almost Zero and start burning fat with your next meal. Fit in those jeans again. In three days.
Category: Recipes