These design ideas will transform your low carb coffee instantly. Grab your favorite coffee beans, some heavy cream and a toothpick. That's all you need for amazing foam designs.
Foam designs: heart, flower, leaf, sun
Tips for better coffee foam
Coffee design idea photo gallery
Drinking coffee on a low carb diet has many health benefits and satisfies sweet carb cravings.
Special fat-burning coffee made with butter is a fast way to add fat to your low carb diet.
It takes a little practice to make frothed cream designs, but anyone can learn some simple shapes to make beautiful low carb coffee foam art. You'll need a few simple coffee supplies:
Espresso or Coffee
Steamed, Heated or Frothed Cream
Skewer or Toothpick
Heart Design
Pour coffee in the bottom of a cup held in one hand at an angle.
Pour the frothed cream into the cup, bringing the cup back up to a straight position.
The cream will create a white circle in the center of the cup.
When the cup is almost full, pour and lift the stream of frothed cream through the center of the circle.
Flower Design
Pour the frothed cream straight down into the center of the coffee.
Use the skewer and pull the coffee creme into the center of the white circle to form petals.
Leaf Design
Gently wiggle the cup of frothed cream back and forth as you pour to create white semicircles.
At the last moment, move the stream of frothed cream up through the center of all the circles.
Sun Design
Pour frothed cream into the coffee, straight into the center.
With a skewer or toothpick, pull the froth through the darker coffee to form small, curved rays.
Place the skewer in the center of the froth circle, then pull out toward the edges.
Coffee Foam Tip
Use a sugar free, low carb chocolate topping to create words and darker outlines- if the frothed cream is strong enough to support it.
Coffee Foam Designs
Almost Zero Carb Meal Plan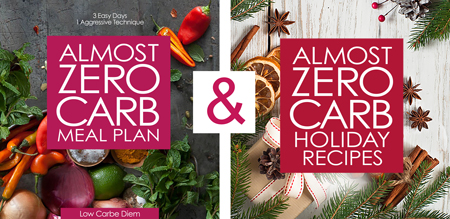 Enter deep ketosis, break your stall, recover from your cheat day, or reset your diet in three days using this aggressive technique, first made famous by Dr. Robert Atkins over 40 years ago.
Science-Backed and Powerful
The Almost Zero Carb Meal Plan is a powerful tool, allowing metabolically-resistant dieters to reach deep nutritional ketosis quickly.
What happens when you follow the plan? Incredibly rapid fat loss.
Ditch the Nervous Carb Counting
Choose from 150+ easy recipes and food combos (with special macros and almost no carbs), plus a special Holiday Recipe section!
Break your toughest diet stall.
Lose fat quickly for a special event.
Recover from an accidental cheat.
Avoid plateau completely: Use once a month.
Reach a deeper state of ketosis over the weekend.
Finally access and burn stubborn, stored fat.
Restart or reset your low carb or keto diet.
Add healthy fats effortlessly.
Decrease hunger naturally.
Sharpen your sense of portion control.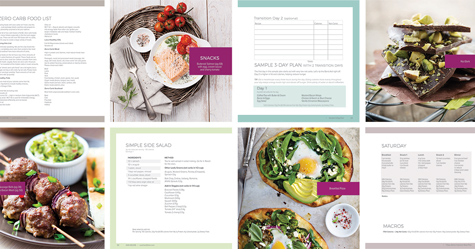 If You're Doing Everything (but Nothing's Working)…
Take three days off. Create a personalized plan that works, with a decadent variety of workhorse recipes you'll keep eating long after reaching your goal.
Go Almost Zero and start burning fat with your next meal. Fit in those jeans again. In three days.
Keep Calm and Low Carb
Category: Strategy