Imagine enjoying delicious low carb chocolate and candy on your diet. That dream is possible with a naturally low carb candy.

Unreal Chocolate carb counts and taste test
Eating chocolate on Atkins
Low carb chocolate nutrition, ingredients, benefits
Unreal Candy is a low sugar, healthy low carb chocolate that tastes just like regular (unhealthy) candy, but won't spike your insulin. This low carb chocolate is all natural and gluten free.
Unreal low carb chocolate has no corn syrup, hydrogenated fats, GMOs, artificial colors, flavors or preservatives. Instead, this chocolate is made with real cane sugar, real milk, more peanuts and twice the cacao for better nutrition.
Where to Buy Low Carb Chocolate
You can find Unreal low carb chocolate at grocery stores and drugstores. You can even buy Unreal candy at great low prices in bulk online on Amazon.
UPDATE: As of Dec, 2015, Unreal chocolate is now available at Walgreens, Michaels, CVS, Kroger, Staples, Target, Fred Meyer, Ralphs, Rite Aid, BJs, and Food4Less.
Low Carb Candy on Atkins
How "low carb" is Unreal candy? Unreal is low carb enough to enjoy one serving without spiking your insulin levels, making it a perfect low carb snack on Atkins.
Unreal #41: Candy Coated Chocolates
Net Carbs Per Serving: 6
Unreal #54: Candy Coated Chocolates with Peanuts
Net Carbs Per Serving: 8
Unreal #5: Chocolate Caramel Nougat
Net Carbs Per Serving: 9
Unreal #8: Chocolate Caramel Nougat with Peanuts
Net Carbs Per Serving: 8
Unreal #77: Chocolate Peanut Butter Cups
Net Carbs Per Serving: 11
Chocolate Nutrition
Impressively, all products are low GI (low on the Glycemic Index). Compared to regular chocolate candy, a serving of Unreal candy has:
45% less sugar (on average)
13% less fat
23% fewer calories
149% more protein
250%  more fiber
Benefits of Low Carb Chocolate
Chocolate is healthy and can help you lose weight, if added the right way. Unreal chocolate offers those benefits and more:
No lingering guilt feeling of eating something sweet. (My favorite reason.)
The price, set by the retailers, will be the same as the other leading brands.
The shelf life is about the same as regular candy. (The secret is in the packaging.)
Package is easy to open and designed to appeal to everyone.
Healthy option for those who don't want to consume "junk" ingredients.
Unreal Candy Review: The Taste Test
Unreal #77: Chocolate Peanut Butter Cups
These are my favorite! Although I can tell a difference between these and my usual favorite, Reese's peanut butter cups (which taste sweeter), I still enjoyed them very much. The creamy texture of this candy easily satisfies any carb craving.
TIP:  Cut into pieces and use as a topping for low carb mini cheesecakes or home made low carb ice cream.
Unreal #54: Candy Coated Chocolates with Peanuts
These were my second favorite. The colors of the candy are not as vivid as regular candy (Unreal has no artificial ingredients.) and the peanuts taste a little more "roasted" than typical M&M peanuts.
Unreal #8: Chocolate Caramel Nougat Bar with Peanuts
This was my third favorite. This bar has more carbs per serving than the first two types of candy, but it is also much more filling.
Enjoy half a bar at a time to cut the carbs.
Chocolate Review Results
The quality of Unreal ingredients and nutrition is far above our old favorites. It's affordable and easy to find. It's naturally low carb chocolate that tastes delicious!
(Click image to enlarge.)
Almost Zero Carb Meal Plan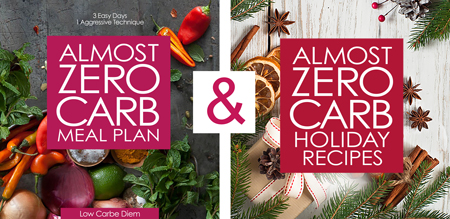 Enter deep ketosis, break your stall, recover from your cheat day, or reset your diet in three days using this aggressive technique, first made famous by Dr. Robert Atkins over 40 years ago.
Science-Backed and Powerful
The Almost Zero Carb Meal Plan is a powerful tool, allowing metabolically-resistant dieters to reach deep nutritional ketosis quickly.
What happens when you follow the plan? Incredibly rapid fat loss.
Ditch the Nervous Carb Counting
Choose from 150+ easy recipes and food combos (with special macros and almost no carbs), plus a special Holiday Recipe section!
Break your toughest diet stall.
Lose fat quickly for a special event.
Recover from an accidental cheat.
Avoid plateau completely: Use once a month.
Reach a deeper state of ketosis over the weekend.
Finally access and burn stubborn, stored fat.
Restart or reset your low carb or keto diet.
Add healthy fats effortlessly.
Decrease hunger naturally.
Sharpen your sense of portion control.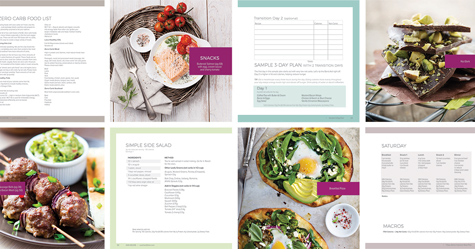 If You're Doing Everything (but Nothing's Working)…
Take three days off. Create a personalized plan that works, with a decadent variety of workhorse recipes you'll keep eating long after reaching your goal.
Go Almost Zero and start burning fat with your next meal. Fit in those jeans again. In three days.
Keep Calm and Low Carb
Category: Recommended