Don't let your kitchen stand between you and your food. Low carbers eat more veggies than most people eating 'regular' diets. We know prepping takes time. Let's cut your daily grind in half.
10 Ways to shorten prep time
Printable list: 100 low carb fruits and veggies
Prepping low carb veggies is fast and easy – if you know a few secrets.
Let's make your veggies do all the work. These 10 tips are simple, but using a few together saves incredible amounts of time.
Where to Start
Start with the veggie prep tips that fit your low carb style first. You don't have to wield your knife like a samurai. Let the veggies do the prep for you. Once you've mastered a tip, add a new one to your routine.
Grab Your Tool Kit
Get a good chef's knife, learn how to use it and keep it sharp. Knowing you can cut up a big pile of low carb veggies in just a few minutes means you are much more likely to do it.
You don't have to spend a lot of money to get a good knife. America's Test Kitchen reviewed chef's knives and recommends one that costs around $25 will last the rest of your life.
Learn how to use your knife by taking classes at a kitchen equipment store, or watching TV shows that give technique guidance.
Don't try to cut too fast at first. Build up your speed gradually. Soon you'll chop like a pro.
For some jobs, a food processor is also very helpful. It can shred a zucchini or turn cauliflower into "cauli-rice" in a few seconds.
Space Out
Running all over the kitchen like a madman wastes time. If possible, set up your kitchen with a work space for cutting right next to the stove. This way, you can "chop and drop" as you go.
Place a trash can next to you on the floor and a container for scraps (good for making soups or compost) on the counter.
A plate or bowl for veggies that aren't ready to be cooked is also helpful.
Let the Veggies Do the Work
Choose low carb fruits and veggies that don't tend to be dirty, aren't tricky to chop, and don't need a lot of preparation. These veggies are your best bets when you don't feel like cooking.
Asparagus may be rinsed and chopped in seconds.
Cabbage is easy to prep. When your knife runs through it, you get lots of little sauce-grabbing pieces.
Zucchini is firm and easy to chop, slice or zoodle-ize. Wrap zucchini around other foods or layer in a dish for mock lasagna.
Zoodles!
Zoodles are mock noodles made with zucchini (and other firm veggies like carrots).
Zoodles may be eaten raw or cooked, opening up lots of possibilities: mock Alfredo, fettuccine, spaghetti, pad thai and zoodle pasta salads.
This inexpensive wonder creates uniform, curly noodles from zucchini, cucumbers, carrots, sweet potatoes, turnips and other round or long vegetables.
Spiralizer Bundle
Veggie spiralizers are great for making curly fries, frittatas, salad garnishes and of course, zoodles.
Veggie Spiralizer Bundle
includes a premium storage bag, cleaning brush and zoodle recipe book.
Fits in your hand, stores in a drawer


Built in finger guard

Dishwasher safe for easy cleaning

Sturdy BPA-free plastic

Inspiralized Cookbook
The Inspiralized Cookbook transforms more than 20 vegetables and fruits into delicious meals that look and taste just like your favorite originals.
Zucchini turns into pesto spaghetti; jicama becomes shoestring fries; sweet potatoes lay the foundation for fried rice.
Veggie Spiralizer Cookbook
Top 98 Veggie Spiralizer Cookbook includes a step-by-step guide on using a spiralizer, a list of spiralizer-friendly vegetables and recipes, including:
Paleo-Friendly Carbonara
Roasted Carrot and Coconut Crostino
Chicken and Zucchini Noodle Bowl
Mediterranean Zoodle Platter
Zucchini Rice with Sweet Cider Dressing
Parmesan Broccoli Noodles with Tomatoes
Gluten-Free Parsnip Puttanesca
Avocado and Beet Omelet
Rutabaga Spaghetti with Truffle Marinara Sauce
Summer Prosciutto and Cottage Cheese Pasta
Only Chop Once
It doesn't take twice the time to chop up twice the vegetables; do it once and enjoy them for several meals.
Store the chopped fruits and veggies in the fridge.  There are many low carb vegetables sturdy enough to have a long life span, and store easily.
Chop everything extra in your vegetable drawer and sauté in a big pan with olive oil and seasoning. Throw in bunches of herbs, fresh garlic or chopped nuts.
Use stored low carb veggies in an omelet (or other egg dish) for a side dish, or with dressing in a cold or cooked salad.
Don't Chop at All
Roast or grill your veggies with salt, pepper and olive oil. This concentrates the flavors in a wonderful way. It works best when veggies are whole or cut into larger pieces.
Order in the Pan
When cooking up a bunch of low carb veggies in a pan, start with the veggies that take the longest to cook, then add fast-cooking veggies.
For example
Start with the aromatics such as onion, celery, and carrots, followed by denser options such as broccoli or cauliflower.
Next, add less-dense veggies such as peppers, zucchini and mushrooms.
Finish by adding greens such as spinach and chard – right at the very end.
Only Cook Fast Veggies
It takes almost no time to sauté a little garlic in olive oil (just a few seconds until aromatic or it will be bitter), then mix in lemon juice and a bunch of spinach or arugula greens.
Totally Skip the Prep
Although more expensive, buying a bag of washed cut greens or sliced mushrooms/onions/celery saves the most time in the kitchen.
Some chopped fruits and veggies are available in bulk, and are perfect for large cooking projects such as veggie salads, stews, chili and soups. Plan for the week.
Frozen & Canned are Still Low Carb
Try to focus on eating fresh, low carb vegetables. The flavor tastes better and these veggies often feel 'crunchier.' However – it's still fine to serve frozen broccoli or crumbled cauliflower in a pinch.
Frozen or canned fruits and vegetables work best in dishes with bold seasoning.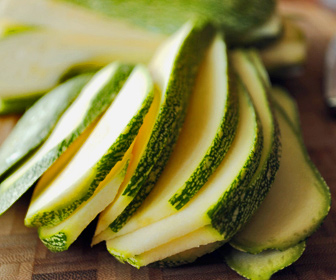 Adjust Your Attitude
Change your attitude about low carb fruits and veggies. Don't view kitchen prep as an obstacle to putting dinner on the table.
Instead, decide to enjoy it. Turn your prep into a meditation. Just put on some music and chop the pain away…
100 Fruits and Veggies List
Official chart from the USDA lists full nutrition of over 100 fruits and vegetables. Includes stats for calories, carbs, fiber, fat and protein.
Click the image to view, print or save.
Almost Zero Carb Meal Plan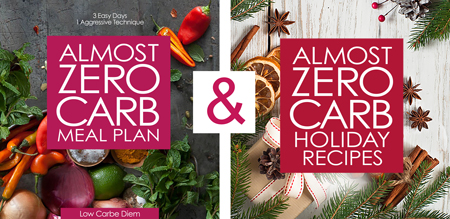 Enter deep ketosis, break your stall, recover from your cheat day, or reset your diet in three days using this aggressive technique, first made famous by Dr. Robert Atkins over 40 years ago.
Science-Backed and Powerful
The Almost Zero Carb Meal Plan is a powerful tool, allowing metabolically-resistant dieters to reach deep nutritional ketosis quickly.
What happens when you follow the plan? Incredibly rapid fat loss.
Ditch the Nervous Carb Counting
Choose from 150+ easy recipes and food combos (with special macros and almost no carbs), plus a special Holiday Recipe section!
Break your toughest diet stall.
Lose fat quickly for a special event.
Recover from an accidental cheat.
Avoid plateau completely: Use once a month.
Reach a deeper state of ketosis over the weekend.
Finally access and burn stubborn, stored fat.
Restart or reset your low carb or keto diet.
Add healthy fats effortlessly.
Decrease hunger naturally.
Sharpen your sense of portion control.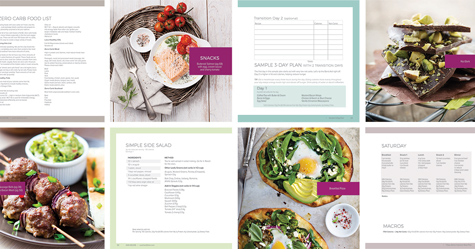 If You're Doing Everything (but Nothing's Working)…
Take three days off. Create a personalized plan that works, with a decadent variety of workhorse recipes you'll keep eating long after reaching your goal.
Go Almost Zero and start burning fat with your next meal. Fit in those jeans again. In three days.
Category: Strategy