Dangerous fudge? Possibly. With keto macros? Always.
Chocolate keto fudge cures the most intense salty-sweet cravings. Imagine smooth dark chocolate chunks filled with macadamia nuts and coconut flakes for just the right amount of crunch.
Now imagine a few scoops of super low carb vanilla-coconut whipped ice cream on the side…
Fortunately, this easy sugar-free fudge recipe is very high in (healthy) fats and antioxidants – perfect for staying ketosis.
Keto Fudge Modifications
Adding Nut Butters
You may also add a little nut butter (1/4 cup) to the recipe. Try almond, macadamia or raw / sugar-free peanut butter.
When adding nut butter, line the pan with wax paper to avoid sticking.
Changing the Texture
For softer chocolate keto fudge, add a few tablespoons of unsalted butter to the recipe.
After chilling and before eating, let the fudge container sit on the counter a few minutes.
This chocolate keto fudge is a modified recipe from The Keto Beginning meal plan for women.
Coconut Keto Fudge
Per Serving: 154 calories, 2 net carbs
Servings: 12
Ingredients
3/4 c coconut oil, softened
1/2 c unsweetened cocoa powder
1/4 c powdered stevia (or equiv)
1/2 c unsweetened coconut flakes
1/8 tsp salt
1/4 c coconut milk (or thin coconut cream; how-to below)
2 tsp vanilla extract
2 oz macadamia nuts (about 45 nuts), chopped
Directions
Mix together in a large bowl (or use a food processor): coconut oil, cocoa powder, stevia, coconut flakes and salt.
Stir in coconut milk (or coconut cream thinned with water) and vanilla extract.
Fold in the chopped macadamia nuts. Leave the nuts whole for a bolder, polka dot effect.
Pour the keto fudge into a parchment paper lined dish or container. Press fudge gently into the bottom of the container using a spatula.
Place into the fridge until fully hardened. Remove and cut into squares.
Nutrition
Per Serving: 193 Calories; 21g Fat (90.3% calories from fat); 1g Protein; 4g Carbohydrate; 2g Dietary Fiber.
Click to print or save this recipe:
Keto Plan for Women
If you're looking for a body-changing meal plan, The Keto Beginning works with your hormones, sliding you into fat-burning mode without going super low carb.
Keto authority, Leanne Vogel created a program that's particularly good if you need to break a diet stall, but don't want a drastic decrease in daily carbs.
Special Ingredients
Organic stevia powder adds natural sweetness without carbs. This version is zero carb and has zero glycemic impact.
Non-GMO and vegan, with zero aftertaste.
Organic coconut oil burns fat rapidly. Fats from coconut oil aren't stored. Instead, they're used immediately for energy.
Coconut oil stays fresh up to two years, has a nice buttery flavor, and is one of the healthiest choices for cooking or baking.
Unsweetened shredded coconut toasts quickly to a golden-brown, adding incredible flavor and crunch in an instant.
Coconut shreds and coconut cream increase your healthy, medium chain triglyceride fats.
Coconut cream is a perfect non-dairy sub for heavy cream in recipes.
Coconut cream is very low carb, rich and satiating, and whips up fluffy and light. Whip and freeze, then top your keto fudge with a scoop or two.
Leftover Coconut Cream?
Store It
Spoon leftover cream into empty ice cube trays and freeze. Pop out and store in a container for future use. Each cube compartment generally holds an ounce of cream.
Pair It
Serve your sugar-free keto fudge with whipped coconut ice cream.
Add vanilla extract (or chocolate stevia) and coconut flakes to remaining coconut cream. Whip until stiff, and freeze 30 minutes to an hour.
Make Milk

Add 2 tablespoons of coconut cream to 3/4 cup of water. Stir vigorously or shake. You now have coconut milk made at home.
These methods work well when thinning coconut cream for baking:
Method One: Pour coconut cream and water into a blender and mix until smooth. Immersion blenders and inexpensive mini-frothers work well, too.
Method Two: Stir coconut cream into hot water until dissolved.
If you're thinning the coconut cream for drinking and want a smoother texture, allow the coconut milk to thicken, then strain it through cheesecloth before serving.
Almost Zero Carb Meal Plan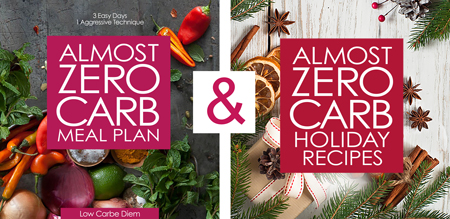 Enter deep ketosis, break your stall, recover from your cheat day, or reset your diet in three days using this aggressive technique, first made famous by Dr. Robert Atkins over 40 years ago.
Science-Backed and Powerful
The Almost Zero Carb Meal Plan is a powerful tool, allowing metabolically-resistant dieters to reach deep nutritional ketosis quickly.
What happens when you follow the plan? Incredibly rapid fat loss.
Ditch the Nervous Carb Counting
Choose from 150+ easy recipes and food combos (with special macros and almost no carbs), plus a special Holiday Recipe section!
Break your toughest diet stall.
Lose fat quickly for a special event.
Recover from an accidental cheat.
Avoid plateau completely: Use once a month.
Reach a deeper state of ketosis over the weekend.
Finally access and burn stubborn, stored fat.
Restart or reset your low carb or keto diet.
Add healthy fats effortlessly.
Decrease hunger naturally.
Sharpen your sense of portion control.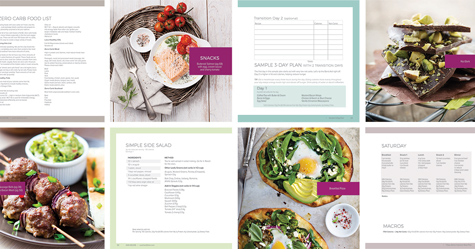 If You're Doing Everything (but Nothing's Working)…
Take three days off. Create a personalized plan that works, with a decadent variety of workhorse recipes you'll keep eating long after reaching your goal.
Go Almost Zero and start burning fat with your next meal. Fit in those jeans again. In three days.
Category: Desserts