Start with this hearty, base low carb hummus recipe and change it up (10 ways) for lunches, games, parties, picnics and social events outside the home.
This very low carb hummus recipe has half the net carbs per serving, and is healthier than chickpea-based versions, with the addition of calcium-rich tahini, alkalizing lemon and stimulating spices.
Hummus From Leftovers
This recipe makes a delightfully simple, creamy and bright low carb hummus. Taste-testers agreed: it tasted like chickpea hummus. It's the real deal.
Raw macadamia hummus may also be made with pulp left over from making nut milk.
Use nut pulp from almonds, Brazil nuts, macadamias, cashews, hazelnuts, or sunflower, sesame or pumpkin seeds – all work well with this base recipe.
Try adding leftover roasted veggies and spices from a prior meal.
This low carb nut hummus is a modified recipe from The Keto Beginning meal plan for women.
Macadamia Nut Hummus
Per Serving: 153 calories, 2 net carbs.
Servings: 4
Ingredients
1/2 c macadamia nuts, Soak in water for 24 hours, drain and rinse.
1 tsp olive oil (Sub coconut oil or MCT oil.)
2 cloves garlic
1 tbsp lemon juice
1 tbsp water
1 tbsp tahini
pinch cayenne pepper
salt and pepper, to taste
Directions
Add all ingredients to your food processor or high‐powered blender. Blend on high until smooth.
Store in an air‐tight container in the fridge up to 5 days.
Nutrition
Per Serving: 153 Calories; 15g Fat (85.2% calories from fat); 2g Protein; 4g Carbohydrate; 2g Dietary Fiber.
Click to print or save this recipe:
Keto Plan for Women
If you're looking for a body-changing meal plan, The Keto Beginning works with your hormones, sliding you into fat-burning mode without going super low carb.
Keto authority, Leanne Vogel created a program that's particularly good if you need to break a diet stall, but don't want a drastic decrease in daily carbs.
Special Ingredients
Organic coconut oil burns fat rapidly. Fats from coconut oil aren't stored. Instead, they're used immediately for energy.
Coconut oil stays fresh up to two years, has a nice buttery flavor, and is one of the healthiest choices for cooking or baking.
Left Coast's pure MCT oil converts into energy faster than other oils, ignites your body's metabolic rate and helps maintain healthy levels of cholesterol.
Triple filtered, pharmaceutical grade and USA-made.
1 Hummus Recipe, 10 Ways
Use this recipe as a starting point and make adjustments according to your personal taste. Start with less and add more gradually. It's easy to add something to a recipe, but difficult to remove ingredients.
Changing the spices changes the flavor (and color) considerably.
Choose from savory, salty, spicy or citrus flavors with colors of golden yellow, green, vivid purple, white (plain recipe, no additions) reddish-pink and orange.
Change your base hummus recipe by adding combinations of:
Avocado and coriander (light green)
Ginger and carrots (orange)
Greek olives and ground peppercorns
Cilantro and minced jalapeño
Beets, lemon, white pepper and walnuts (purple, pictured above)
Roasted mushrooms, onions and garlic
Red Peppers and minced purple onion (reddish-pink)
Shredded fresh spinach and feta (green)
Tomato and basil (reddish-pink)
Garlic and lemon zest
Almost Zero Carb Meal Plan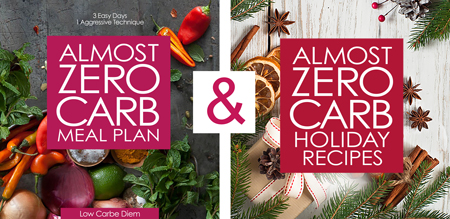 Enter deep ketosis, break your stall, recover from your cheat day, or reset your diet in three days using this aggressive technique, first made famous by Dr. Robert Atkins over 40 years ago.
Science-Backed and Powerful
The Almost Zero Carb Meal Plan is a powerful tool, allowing metabolically-resistant dieters to reach deep nutritional ketosis quickly.
What happens when you follow the plan? Incredibly rapid fat loss.
Ditch the Nervous Carb Counting
Choose from 150+ easy recipes and food combos (with special macros and almost no carbs), plus a special Holiday Recipe section!
Break your toughest diet stall.
Lose fat quickly for a special event.
Recover from an accidental cheat.
Avoid plateau completely: Use once a month.
Reach a deeper state of ketosis over the weekend.
Finally access and burn stubborn, stored fat.
Restart or reset your low carb or keto diet.
Add healthy fats effortlessly.
Decrease hunger naturally.
Sharpen your sense of portion control.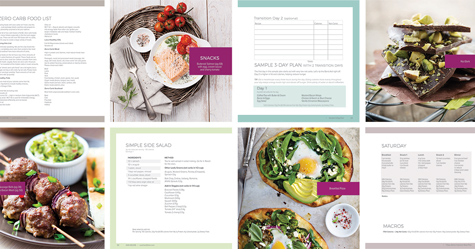 If You're Doing Everything (but Nothing's Working)…
Take three days off. Create a personalized plan that works, with a decadent variety of workhorse recipes you'll keep eating long after reaching your goal.
Go Almost Zero and start burning fat with your next meal. Fit in those jeans again. In three days.
Category: Sauces - Dips