Fine tune your fat-burning with the perfect keto ratio.
Learn the special concerns for protein and fat ratios, how to track your keto macros and where to find the wiggle room.
Best keto ratio for rapid fat-burning
Printable keto food pyramid
Online keto calculator
Printable list of keto macros: calories, fat, net carbs, protein
What are Macros?
Keto macro is short for ketosis macro-nutrient. The three keto macro-nutrients are fats, proteins and carbs. Sometimes, calories are also considered part of the equation.
What's the best keto ratio?
"Best" depends on your goals. A typical keto ratio has 75% of calories from fat, 20% of calories from protein and 5% of calories from fiber-rich carbs.
A Typical Keto Ratio
Keto Tip: A perfect ketogenic ratio happens when the amount of protein grams are equal to or slightly great than the grams of fat.
Keto Food Pyramid
Keto foods center around healthy fats, with moderate amounts of protein and scant carbs. During ketosis, think of fat as a food group.
The Atkins Keto Food Pyramid illustrates which of the 200 ketosis foods to enjoy liberally and which ones to limit.
Click the image to view, print or save.
Tracking Keto Macros
Track keto macros helps identify diet stalls and plateau. Macro tracking pinpoints troublesome keto ratios in your diet.
For example:
Are you eating enough fat? Are you eating too much protein? Track your keto foods and find out.
Keto Wiggle Room
If your keto ratio is off a bit, it's not a big deal. You have wiggle room.  If some days are over and some days are under your ideal goals, it's fine.
Keep your calories in check and track your keto macros by averaging several days at a time. A single day won't make or break your plan.
Testing for Ketosis
Special test strips called keto sticks (or ketostix, keto strips) are used to detect ketones in the urine, a sure sign of ketosis.
I must admit: I love seeing dark purple on the end of my keto test strip. Keto sticks are a good detector of ketosis, but if the strip doesn't register the presence of ketones, you can still be ketosis. Why?
This happens when the urine sample is diluted from drinking lots of water. It's also possible to use up all the ketones during heavy exercise.
Using Keto Strips
Fat-adapted low carbers may not register ketones after being in ketosis for longer periods of time.
These low carbers use ketones more efficiently and levels may not be detectable in the urine, even though they are in ketosis.
Play it safe, rely on your eating habits and use keto sticks to 'check in.'
Find Your Perfect Keto Ratio
Keto ratio and keto macro percentages are great for weight loss, but it's smart to calculate your own, specific requirements. Physique and physical exercise are an important part of the equation.
Keto Calculator
Find out exactly how many calories of each macro-nutrient you need per day with a keto calculator.
Use this free, online keto macros calculator to see how many fat, protein and carb grams to eat per day. The keto calculator also provides a weight and body fat forecast for one year.
Best Keto Ratio for Calories
Yes, eventually calories matter. On a ketogenic diet, worrying about calories is rare. Fats and proteins are filling and keep you full for long periods of time.
If you're exercising, you'll create a calorie deficit so factor in an extra keto mini-meal or snack on those days.
Best Keto Ratio for Fat
Eating too much fat increases total daily calories. If you've eaten more than you've burned off throughout the day, weight loss stalls.
Or worse – you'll gain.
Most low carbers find it difficult to overeat fat, but it's a possibility.
Organic Coconut Oil
Carrington Farms Organic Coconut Oil is  essential for rapid fat-burning. Fats from coconut oil aren't stored. Instead, coconut oil fats are used immediately for energy.
Coconut oil can last up to two years without spoiling. Coconut oil gives food a nice "buttery" (not coconut) flavor, and is one of the healthiest choices for cooking and baking.
Non-GMO, free of hydrogenated and trans fats, Kosher and organic.
Avocado Oil
La Tourangelle Avocado Oil is all-natural, expeller-pressed, non-GMO and Kosher. La Tourangelle has a fruity roundness – great for both sweet and savory recipes.
Performance MCT Oil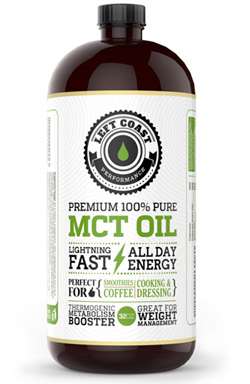 Left Coast's pure MCT oil converts into energy faster than other oils, ignites your body's metabolic rate and helps maintain healthy levels of cholesterol.
MCT oil is an easy way to increase your healthy fats. Add to salads, smoothies or your latest coffee fasting plan for immediate, all-day energy.
Triple filtered, pharmaceutical grade, BPA-free container, USA-made.
Best Keto Ratio for Protein
The balance of fat and protein is important. If protein ratios are too low, muscle is lost. If protein ratios that are too high can stall ketosis.
Excess protein may cause elevated glucose in some low carbers, raising blood sugar and encouraging fat storage.
Printable Keto Macros and Food List
Certain low carb foods are best for ketosis. Here's a printable list of keto macros for your safest choices.
Click the image to view, print or save.
The list includes calories, fat, net carbs and protein for almost 200 ketosis foods.
Cheese
Dairy
Fats and Oils
Fruits, low sugar
Fruits, moderate sugar
Vegetables, low sugar
Vegetables, moderate sugar
Meats
Shell Fish
Fowl
Nuts, Legumes, Seeds
Almost Zero Carb Meal Plan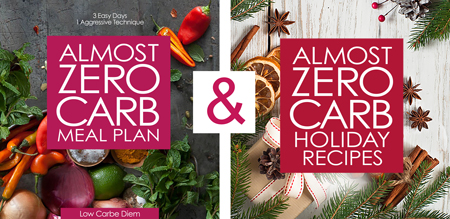 Enter deep ketosis, break your stall, recover from your cheat day, or reset your diet in three days using this aggressive technique, first made famous by Dr. Robert Atkins over 40 years ago.
Science-Backed and Powerful
The Almost Zero Carb Meal Plan is a powerful tool, allowing metabolically-resistant dieters to reach deep nutritional ketosis quickly.
What happens when you follow the plan? Incredibly rapid fat loss.
Ditch the Nervous Carb Counting
Choose from 150+ easy recipes and food combos (with special macros and almost no carbs), plus a special Holiday Recipe section!
Break your toughest diet stall.
Lose fat quickly for a special event.
Recover from an accidental cheat.
Avoid plateau completely: Use once a month.
Reach a deeper state of ketosis over the weekend.
Finally access and burn stubborn, stored fat.
Restart or reset your low carb or keto diet.
Add healthy fats effortlessly.
Decrease hunger naturally.
Sharpen your sense of portion control.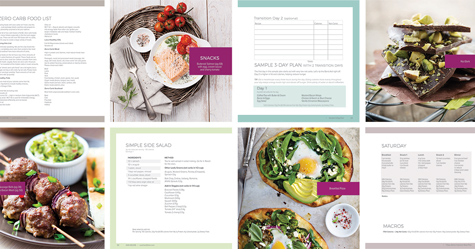 If You're Doing Everything (but Nothing's Working)…
Take three days off. Create a personalized plan that works, with a decadent variety of workhorse recipes you'll keep eating long after reaching your goal.
Go Almost Zero and start burning fat with your next meal. Fit in those jeans again. In three days.
Category: Keto