Increase your healthy fats with a cool, citrus zest. Simple, no-bake lemon cheesecake fat bombs are easy to make:
Mix, freeze, pop out or store.
This dessert recipe is almost zero carb, very high fat, firm to the touch and perfectly portable.
(from the Almost Zero Carb Meal Plan)
Lemon Cheesecake Fat Bombs
Per Serving: 106 calories, .25 net carbs
Servings: 12
Ingredients
1/4 c coconut oil, melted
4 tbsp unsalted butter, softened
4 oz cream cheese, softened
1 tbsp lemon zest, finely grated
1 tsp lemon juice
lemon extract, optional
stevia (or equiv), to taste
Directions
Blend all ingredients with a hand mixer until smooth.
Pour into cupcake liners, tins or molds.
Freeze until firm ‐ at least a few hours, preferably overnight.
Sprinkle with lemon zest.
Nutrition
Per Serving: 106 Calories; 11g Fat (96.5% calories from fat); 1g Protein; trace Carbohydrate; trace Dietary Fiber.
Click to print or save this recipe:
Special Ingredients
De-Bittered Stevia has no unpleasant aftertaste. This blend has none of the characteristic bitterness of typical stevia sweeteners.
Zero carb and zero glycemic impact.
Organic coconut oil burns fat rapidly. Fats from coconut oil aren't stored. Instead, they're used immediately for energy.
Coconut oil stays fresh up to two years, has a nice buttery flavor, and is one of the healthiest choices for cooking or baking.
Make It Even Easier
Muffin tins, ice cube trays and candy molds make excellent easy-store, pop-out fat bomb containers.
Shift the Flavor
Use colorful lime or orange zest instead of expected lemon.
Add Crunch

Add texture to your lemon cheesecake squares with chopped nuts, shredded coconut or low carb dark chocolate chips.
Almost Zero Carb Meal Plan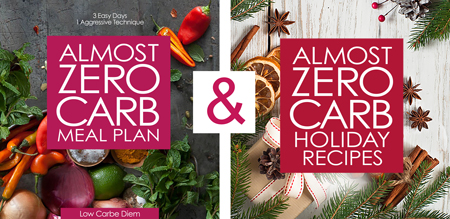 Enter deep ketosis, break your stall, recover from your cheat day, or reset your diet in three days using this aggressive technique, first made famous by Dr. Robert Atkins over 40 years ago.
Science-Backed and Powerful
The Almost Zero Carb Meal Plan is a powerful tool, allowing metabolically-resistant dieters to reach deep nutritional ketosis quickly.
What happens when you follow the plan? Incredibly rapid fat loss.
Ditch the Nervous Carb Counting
Choose from 150+ easy recipes and food combos (with special macros and almost no carbs), plus a special Holiday Recipe section!
Break your toughest diet stall.
Lose fat quickly for a special event.
Recover from an accidental cheat.
Avoid plateau completely: Use once a month.
Reach a deeper state of ketosis over the weekend.
Finally access and burn stubborn, stored fat.
Restart or reset your low carb or keto diet.
Add healthy fats effortlessly.
Decrease hunger naturally.
Sharpen your sense of portion control.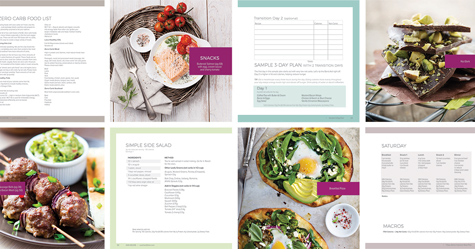 If You're Doing Everything (but Nothing's Working)…
Take three days off. Create a personalized plan that works, with a decadent variety of workhorse recipes you'll keep eating long after reaching your goal.
Go Almost Zero and start burning fat with your next meal. Fit in those jeans again. In three days.
Category: Desserts