You're in the produce section. You see something interesting but what does it taste like? Is it a fruit or veggie – man or machine?
Identifies any fruit or veggie
Instant carb counts
Fruit and veggie quiz
Try the free version
This low carb exotic fruits and vegetables app shakes up your plate with something unexpected. There's really only one important question. "Can I eat it on my low carb diet?"
Find something delicious and new in less than a minute. Easily identify low carb fruits and veggies, occupy your kids with the fun veggie game and get delicious low carb recipes.
Tired of Typical Low Carb Fruits and Veggies?
The Exotic Fruits and Vegetables App is an ideal guide for your smartphone and tablet.
A comprehensive library full of facts, figures and HD images.
Find out how the fruit or vegetable tastes and how to cook it.
Bored in the Checkout Line?
Play an Exotic Veggies Game
Learn how to distinguish different species from each other using the app's built-in quiz.
Keep Children Occupied
This simple app is easy enough for a child to discover and learn about international fruits and vegetables. What a great opportunity to talk about what people all over the world are eating.
Let your child choose the exotic fruit or vegetable, and you choose the low carb recipe.
Getting your family involved in trying something new (especially a healthy vegetable) has never been more fun!
Identify Fruits and Veggies, Plan Meals
Enter the features of any fruit or vegetable and you'll get new ideas for dinner.
The more features you enter (such as fruit color, size, or habitat), the more refined your results.
Best App Features
Beautiful, eye-catching photography
Instant carb counts and recipes
Simple and intuitive navigation
Optimized for phones and tablets
Tested on both parents and kids
No Internet access required to use it
Identify the Fruit or Vegetable
Search by Appearance:  Color, size, leaf, flower, growth, etc.
Search by Type:  Berry, stone fruit, apple fruit, nut, etc.
Search for Nutrition Content:  Number of calories, protein, carbs, fat, etc.
Plan Your Exotic Low Carb Meal:  Recipe ideas for your new exotic fruit or veggie.
Take the Built-In Exotics Quiz
Guess the exotic species from the photos.
Learn how to prepare the different species, and save your favorites.
Expand your knowledge and become an exotics expert.
Try it Free
The free version of Exotic Fruits and Vegetables includes 10 species.
This low carb app downloads in less than a minute from Google, so try it out: Get the free version of exotic fruits and vegetables.
Technical
Available in English and German
Minimum Operating System: Android 2.1
Downloads in less than 1 minute
Links
Visit the Exotic Fruits and Vegetables App page.
Almost Zero Carb Meal Plan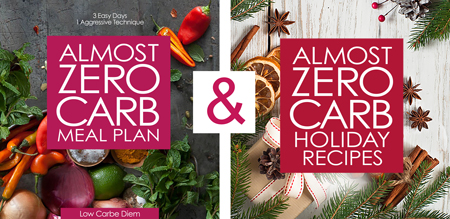 Enter deep ketosis, break your stall, recover from your cheat day, or reset your diet in three days using this aggressive technique, first made famous by Dr. Robert Atkins over 40 years ago.
Science-Backed and Powerful
The Almost Zero Carb Meal Plan is a powerful tool, allowing metabolically-resistant dieters to reach deep nutritional ketosis quickly.
What happens when you follow the plan? Incredibly rapid fat loss.
Ditch the Nervous Carb Counting
Choose from 150+ easy recipes and food combos (with special macros and almost no carbs), plus a special Holiday Recipe section!
Break your toughest diet stall.
Lose fat quickly for a special event.
Recover from an accidental cheat.
Avoid plateau completely: Use once a month.
Reach a deeper state of ketosis over the weekend.
Finally access and burn stubborn, stored fat.
Restart or reset your low carb or keto diet.
Add healthy fats effortlessly.
Decrease hunger naturally.
Sharpen your sense of portion control.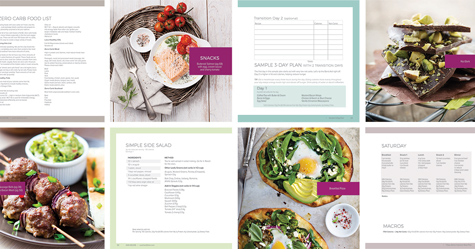 If You're Doing Everything (but Nothing's Working)…
Take three days off. Create a personalized plan that works, with a decadent variety of workhorse recipes you'll keep eating long after reaching your goal.
Go Almost Zero and start burning fat with your next meal. Fit in those jeans again. In three days.
Category: Recommended