Keto cocktails exist. And they are two-step simple: Measure carefully and concentrate on the lowest carb mixers.
Mix up the unexpected – something unique (and maybe a little weird.)
Keto cocktail, mocktail and poptail recipes
Six essentials quickly stock your low carb bar
Infused spirits, low carb mixers and The Boston Shaker Method
Enjoy your favorite drink without guilt, or be adventurous and try a new low carb cocktail.
The Best Picks low carb cocktails have very unexpected ingredients: artichoke, avocado, ginger, mint, sage… One is bigger than Texas. Another vodka martini is blue.
Classic Low Carb Drinks
1. Low Carb White Russian: Learn how to make a creamy, guilt-free White Russian.
2. Vodka Collins: Enjoy this traditional favorite without all the carbs.
3. Low Carb Cosmo: The Cosmo gets a makeover! This recipe cuts the carbs.
4. Bloody Mary: An excellent, low carb recipe for the spicy classic.
5. Low Carb Sangria: This Sangria recipe uses traditional ingredients. Add seasonal mulling spices during the holidays or winter months.
Avocado Margarita
Healthy high fat avocados get frisky. From Low Carb High Party, a visual step-by-step low carb avocado Margarita.
The Bobby Burns
The Bobby Burns low carb scotch cocktail uses Benedictine to add unique herbal flavor. It transforms your Scotch into something special.
Whispering Wreath
Hot buttered rum gets a low carb makeover with fresh mint and sage.
Cynar Sour
The low carb Cynar Sour cocktail uses an Italian artichoke liqueur with a burnt-sugar, earthy, bittersweet flavor. Interesting…
Ginger Infused Vodka
A Happy Dragon cocktail made with homemade ginger-infused vodka. Also featured: kumquat garnished Gingertinis and ginger vodka tonics.
Herb Infused Vodka?
Capture the flavor of the season by making infused herbal liquors. Ashley English gives a simple how-to on her blog, complete with photos.
Infusion Herbs to Try:
Cilantro: Pair with ginger, chile peppers, figs, cucumbers, cumin seed
Basil: Pair with strawberries, cucumbers, orange peel, peaches, pineapple
Lemon Verbena: Pair with blueberries, cherries, cinnamon, currants
Tarragon: Pair with lemon thyme, celery, lemon, pink grapefruit
Dill: Pair with cucumber, coriander, cilantro, capers, lemon
Mint: Pair with apples, cardamom, whole cloves, grapes, peaches
Rosemary: Pair with lemon, orange slices, apricots, plums
Thyme: Pair with allspice, bay leaf, celery, cranberries, sage
Lavender: Pair with raspberries, blackberries, strawberries, lemon
Dirty Martini
Stuffed green olives and splashed vermouth twist up this timeless vodka classic. Add a splash of Blue Curacao (5 net carbs per ounce – be cautious) for a colorful Blue Martini.
Big Texan Bourbon and Grapefruit
This bold bourbon cocktail has flavor as big as Texas. Easily modify this recipe by using sugar free syrup or Splenda.
Cilantro Cooler
A great low carb vodka-lime aperitif: cilantro-spiked with eucalyptus-infused syrup. *Substitute sugar-free syrup during the recipe.
Low Carb Old Fashioned
A timeless taste for smokey conversation. The low carb Old Fashioned transports bourbon into a cool sweet sip.
Low Carb Mocktails
Not every low carber indulges in alcohol. There are a few ways to make a low carb "mocktail" – a fake cocktail without the alcohol, but just as festive and delicious.
Alcohol-Free Drinks
Whip fresh or frozen berries in a blender with ice and a dash of lime.
Mix two ounces of fresh-squeezed orange or grapefruit juice (6.4 carbs per 2 ounces) with sparkling water, diet tonic or seltzer to make a low carb spritzer.
Try a splash of stevia-sweetened lime and/or lemon juice with spring water served over crushed ice.
Cucumber Mojito Mocktail
This low carb Mojito mocktail features refreshing cucumber and Crystal Light sugar-free flavor.
Low Carb Poptails?
Don't "drink" your drink. Have some fun! These low carb cocktails are cleverly disguised as popsicles! Adults only, please. Obviously these are NOT meant for minor children.
52 Kitchen Adventures recommends the 25 Best Boozy Popsicles if you're looking for ideas. Most of the recipes can be modified to lower the carbs.
Black or White Russian Poptails
CavemanKeto has a creamy low carb White Russian recipe perfect for making poptails. Add unsweetened cocoa powder to make a Black Russian pop.
Smashed Raspberry Lemon Poptails
Crush low carb raspberries and zesty lemons (add heavy cream or full-fat yogurt too!) for these high-fiber, fruity low carb popsicles.
Build a Low Carb Bar
Six basics plus a few mixers turn out a surprising number of classic low carb cocktails. You'll also have enough variety to invent your own signature low carb drinks.
The Essential Six
These spirits have trace amounts of carbs and make a wide variety of low carb drinks.
Vodka: The versatile star of your liquor cabinet. Use vodka in basic drinks: vodka tonics, screwdrivers and martinis.
White Rum: A classic ingredient in daiquiris and Mojitos.
Gin: Enjoy with tonic or in a martini.
Tequila: The best are made from 100 percent agave, so be sure to check the label.
Bourbon: Drink "on the rocks," in a Manhattan, an old fashioned or whiskey sour.
Cognac or Whiskey: Enjoy whiskey and cognac straight up, or with sugar-free mixers.
Low Carb Drink Mixers
The easiest way to make your favorite (formerly) sweet cocktails low carb is to replace the sugary ingredients with artificially sweetened ones, like Splenda or simple sugar-free or flavored syrups.
There are a few substitutes (like tweaking your recipe), but to get an extremely close "faux" version, there's really no way around it.
Using unsweetened lemonade, Crystal Light flavors or no-added-sugar cranberry juice gives you the ability to add just the right amount of flavor.
Fresh low carb fruits (There are 43 kinds!) like berries, lemon and lime are old standards and mix well with sugar-free (diet) tonic water or club soda.
Try these low carb cocktail mixers:
Cointreau
Clean, natural orange flavor and not too sweet.
One ounce has 7 carbs, so be careful or reduce the amount in the recipe.
Vermouth
½ ounce of Vermouth has less than 2 carbs.
White Vermouth: for martinis.
Red Vermouth: for Manhattans.
Bitters
Bitters doesn't taste bitter, but it helps blend the drink. Bitters comes in dozens of flavors. You only need a dash. Typically, there is 1 carb in 1/4 teaspoon of bitters.
Mixing 101: The Boston Shaker Method
Professionals prefer a two-piece Boston shaker to mix cocktails: a thin, tapered, glass-and-metal combination shaker.
The metal shaker is versatile and fast, keeping the drink cold longer. It forms a perfect seal around almost any size glass.
How-To

One: Measure ingredients and pour into the glass. And crushed or cracked ice. Cover the glass with the shaker and gently tap to seal.
Two: Pick up the assembly and flip it over, holding the glasses together. Shake it up and down in a slight oval, counting to 15.
Almost Zero Carb Meal Plan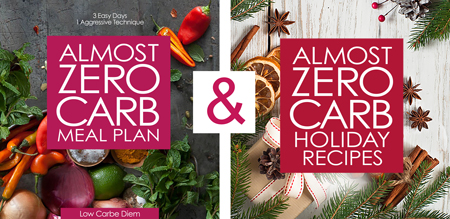 Enter deep ketosis, break your stall, recover from your cheat day, or reset your diet in three days using this aggressive technique, first made famous by Dr. Robert Atkins over 40 years ago.
Science-Backed and Powerful
The Almost Zero Carb Meal Plan is a powerful tool, allowing metabolically-resistant dieters to reach deep nutritional ketosis quickly.
What happens when you follow the plan? Incredibly rapid fat loss.
Ditch the Nervous Carb Counting
Choose from 150+ easy recipes and food combos (with special macros and almost no carbs), plus a special Holiday Recipe section!
Break your toughest diet stall.
Lose fat quickly for a special event.
Recover from an accidental cheat.
Avoid plateau completely: Use once a month.
Reach a deeper state of ketosis over the weekend.
Finally access and burn stubborn, stored fat.
Restart or reset your low carb or keto diet.
Add healthy fats effortlessly.
Decrease hunger naturally.
Sharpen your sense of portion control.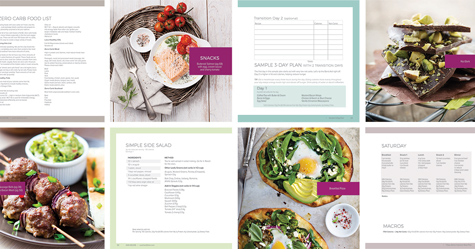 If You're Doing Everything (but Nothing's Working)…
Take three days off. Create a personalized plan that works, with a decadent variety of workhorse recipes you'll keep eating long after reaching your goal.
Go Almost Zero and start burning fat with your next meal. Fit in those jeans again. In three days.
Category: Recipes