What does starting a low carb diet really mean? Starting low carb means reducing the sugars and starches in your diet, then replacing them with healthy sources of veggies, protein and fat.
How to start a low carb diet
Low carb promises and simple science
Low carb diet infographic
Starting low carb lets all your creamy, buttery, bacony dreams come true. Here's an overview of what low carb promises, a little simple science and the steps to start.
The food will keep you satisfied and full longer. After eating a low carb meal, you won't feel stuffed or tired. Instead, you'll gain energy.
Low Carb Keeps Its Promises
Soon your skin will improve, you'll look great and you'll feel younger.
Low Carbers eat delicious high fat foods, but continue to lose stored body fat. How is this possible? That's where the science behind the low carb diet comes into play.

Low Carb Science
When you start a low carb diet and decrease the carbs (sugars and starches), your metabolism changes.
You won't have sugar available to burn for energy. Instead, your body uses stored body fat, and the fat you're eating.
When the body uses fat for energy, you are "in ketosis." Ketosis burns body fat rapidly while giving a boost of added energy.
How Do You Start a Low Carb Diet?
1. Find the Carbs
First, learn to read food labels (Food companies use tricks – watch out!) and find the REAL amount of carbs in what you're eating.
2. Choose Low Carb Foods
Check out low carb food lists and see the hundreds of delicious choices you have. You'll be surprised.
3. Prep Your Pantry and Kitchen
It's time to clean house and deal with all the dangerous foods hiding there. Then head to the store, armed with a fool-proof low carb grocery store strategy in hand.
4. Practice Meal Planning
Plan a week or two of meals and snacks in advance. This will take the guesswork out of what to eat while you give yourself time to adjust to your new way of eating.
5. Order a Free Atkins Quick Start Kit
Atkins has a great free low carb starter kit with free full size meal bars, carb counter, meal planner, tips, discounts and more!
It's really free, with no shipping fees – just tell them where to send the free samples and coupons!
6. Get Great Low Carb Support
Starting low carb is safe for healthy adults, but it's always a good idea to check with your physician if you have any special health conditions.
Subscribe to Low Carbe Diem and receive fresh low carb food ideas, food lists and eBooks each month.
Get the Juicy Details
Ready for ALL the juicy details of starting a low carb diet?
Read the full article: Starting a Low Carb Diet, complete with TONS of free low carb food lists, eBooks and downloads.  – Low Carbe Diem!
Starting Low Carb Infographic
Click the image to enlarge. Right-click to copy, print or save.
Almost Zero Carb Meal Plan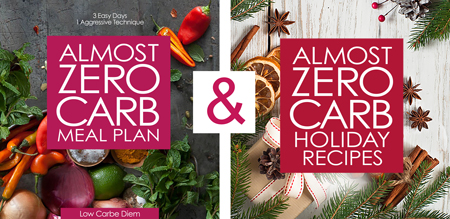 Enter deep ketosis, break your stall, recover from your cheat day, or reset your diet in three days using this aggressive technique, first made famous by Dr. Robert Atkins over 40 years ago.
Science-Backed and Powerful
The Almost Zero Carb Meal Plan is a powerful tool, allowing metabolically-resistant dieters to reach deep nutritional ketosis quickly.
What happens when you follow the plan? Incredibly rapid fat loss.
Ditch the Nervous Carb Counting
Choose from 150+ easy recipes and food combos (with special macros and almost no carbs), plus a special Holiday Recipe section!
Break your toughest diet stall.
Lose fat quickly for a special event.
Recover from an accidental cheat.
Avoid plateau completely: Use once a month.
Reach a deeper state of ketosis over the weekend.
Finally access and burn stubborn, stored fat.
Restart or reset your low carb or keto diet.
Add healthy fats effortlessly.
Decrease hunger naturally.
Sharpen your sense of portion control.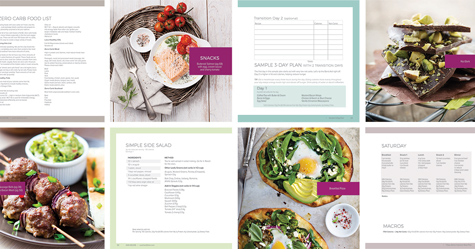 If You're Doing Everything (but Nothing's Working)…
Take three days off. Create a personalized plan that works, with a decadent variety of workhorse recipes you'll keep eating long after reaching your goal.
Go Almost Zero and start burning fat with your next meal. Fit in those jeans again. In three days.
Category: First Month