Lingering zucchini in your fridge?
Zucchini fritters have almost no carbs, are low in calories, wonderfully nutritious, and have the potential to pack a mean crunch.
These flour and gluten-free low carb fritters work for breakfast, as a snack or appetizer, and even a light lunch.
Zucchini fritters are notoriously durable. Fritters freeze, store, reheat/re-crisp and travel extremely well.
Easy Zucchini Fritters
Per Serving: 105 calories, 1.6 net carbs (2 fritters).
Servings: 6
Ingredients
1 lb zucchini, grated
salt, to taste
1/4 c Parmesan cheese, grated
2 eggs
2 green onions, chopped
3 garlic cloves, chopped
4 basil leaves, chopped
1 pinch nutmeg, ground
1 pinch onion powder
black pepper, to taste
2 tbsp butter
1 tbsp coconut oil (or MCT oil) as needed
Directions
Wrap grated zucchini in paper towels (or a cloth) and squeeze/blot. Squeeze out as much water as possible! We're going for DRY here.
Spread zucchini on fresh paper towels and sprinkle with salt. Let zucchini rest for a half hour to release any additional water, then squeeze/blot a second time.
In a bowl, mix together Parmesan, eggs, green onions, garlic, basil, nutmeg, onion powder and black pepper. Add zucchini and toss well to combine.
Heat butter and olive oil in a pan over medium heat until the oil is shimmery and hot. Test the oil by flicking a little batter into the pan. If the batter sizzles, it's ready.
Cook the zucchini fritters in batches. Drop heaping tablespoons of batter into the oil. Flatten lightly with a spatula or back of a spoon.
Cook until brown around the edges, turning once, about 4 to 6 minutes on each side.
Transfer to a paper towel‐lined plate. Sprinkle with salt. Repeat with remaining batter. Serve immediately, or store in a sealed container in the fridge or freezer.
Reheat fritters: Toast in a toaster oven or place under a broiler for a few minutes, or until crispy.
Nutrition
Per Serving (2 fritters): 105 Calories; 9g Fat (74.0% calories from fat); 4g Protein; 3g Carbohydrate; 1.4g Dietary Fiber.
Click to print or save this recipe:
Special Ingredients
Organic coconut oil burns fat rapidly. Fats from coconut oil aren't stored. Instead, they're used immediately for energy.
Coconut oil stays fresh up to two years, has a nice buttery flavor, and is one of the healthiest choices for cooking or baking.
Get More from Your Fritters
Serve for Breakfast
Make zucchini fritter eggs Benedict (Sub fritters for English muffins).
Serve up a crispy side: Break apart while frying for the perfect hash brown substitute.
Add crunch: Top with scrambled eggs.
Serve Chilled
Dip in yogurt mixed with snipped chives.
Topped with egg salad, tuna salad or chicken salad.
Serve Hot and Crispy
Top with diced/shredded chicken, avocado slices and grated cheddar cheese. Toast a few minutes in the oven.
Top with slow-roasted, low carb BBQ pulled beef, pork or chicken.
Use as a bun for low carb burgers, or stack with ham, cheese, and tomato for a mock sandwich.
Bright Lemon Dipping Sauce
Pair your zucchini fritters with a low carb (high fat) lemony sauce:
Whisk together sour cream, minced garlic, salt, lemon zest and a splash of lemon juice. Substitute lemon pepper instead of the zest/juice for an Induction-friendly sauce.
Almost Zero Carb Meal Plan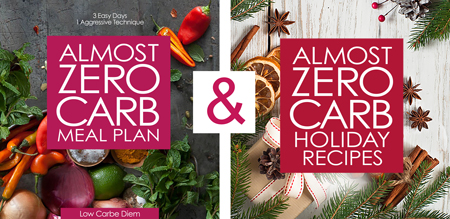 Enter deep ketosis, break your stall, recover from your cheat day, or reset your diet in three days using this aggressive technique, first made famous by Dr. Robert Atkins over 40 years ago.
Science-Backed and Powerful
The Almost Zero Carb Meal Plan is a powerful tool, allowing metabolically-resistant dieters to reach deep nutritional ketosis quickly.
What happens when you follow the plan? Incredibly rapid fat loss.
Ditch the Nervous Carb Counting
Choose from 150+ easy recipes and food combos (with special macros and almost no carbs), plus a special Holiday Recipe section!
Break your toughest diet stall.
Lose fat quickly for a special event.
Recover from an accidental cheat.
Avoid plateau completely: Use once a month.
Reach a deeper state of ketosis over the weekend.
Finally access and burn stubborn, stored fat.
Restart or reset your low carb or keto diet.
Add healthy fats effortlessly.
Decrease hunger naturally.
Sharpen your sense of portion control.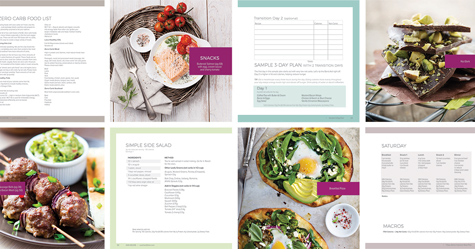 If You're Doing Everything (but Nothing's Working)…
Take three days off. Create a personalized plan that works, with a decadent variety of workhorse recipes you'll keep eating long after reaching your goal.
Go Almost Zero and start burning fat with your next meal. Fit in those jeans again. In three days.
Category: Snacks