If your carb count is out of control lately, you're craving or simply stalled on Atkins, take three days and reset your keto clock.
Choose your calorie range, mix and match 12 meals, use add-ons to up your calories and fat.
3 Day high fat meal plan
Printable stall breaker recipes
Bulletproof® Coffee treats, fat bombs and Soul Bread
The Technique
Breaking your stall involves trying something new – something different.
Changing your ratio of fat to protein, and dropping carbs to rock-bottom levels are effective stall-busters. We've combined both techniques in a simple (but never boring) mini meal plan.
The premise is simple: limit calories, drink high fat beverages and eat healthy high fat foods – spreading meals out throughout the day.
This meal plan keeps you satisfied and full while burning stored fat reserves.
Using the Meal Plan
End your weight loss plateau with three days of delicious.
1. Choose three or four meals for each day of your meal plan. This will give you a starting base of 900-1200 calories each day.
2. Add remaining calories by eating high fat add-ons. Each add-on option is around 200 calories, very high fat and very low carb.
Find Your Daily Calorie Needs
Use the online keto calculator to find out how many calories you need to maintain your current weight.
Decide how many calories per day to eat during the plan.
For greater results, choose a plan that's lower in calories than your daily required amount. This creates a calorie deficit, translating into fat loss.
All meals, desserts, snacks and beverages are very high fat – ensuring your weight loss is fat loss.
Low Carb Stall Buster Meals
Each stall breaker meal has around 300 calories. Eat any three or four meals on any day.
3 meals each day = 900 calories. (average)
4 meals each day = 1200 calories. (average)
Repeat the meals you enjoy – that's fine to do for just a few days.
Stall Breaker Breakfast
Mini Mushroom Cheddar Quiche
Keto Lace Heart Pancakes
Bacon and Egg Crepe Pocket
Mini Mushroom Cheddar Quiche
Make ahead, store in fridge or freezer. Use leftover veggies to mix and match ingredients.
Mini Mushroom Cheddar Quiche Recipe
Keto Lace Heart Pancakes
For your stall breaker meal, one serving equals five keto pancakes (or half the pancake batter.)
Make a large batch and store in the fridge (lasts a few days) or freezer (lasts a month).
Drizzle the keto pancake batter onto the cook surface. Start with an outline and fill in with squiggles.
These keto pancakes work in chocolate (add cocoa powder) or mocha (add 1 tbsp strong coffee or espresso).
Lace Heart Keto Pancake Recipe
Bacon and Egg Crepe Pocket
This stall buster recipe is a little lower calorie than the rest. Be sure to add one ounce of cream cheese, a teaspoon of grass-fed butter or olive oil over the top.
Bake your eggs in the oven instead. Fold crepes gently into muffin tins. Carefully add the scrambled eggs and cooked, chopped bacon.
Top your extra crepes with copious amounts of protein like sausage, ham, eggs or bacon for a breakfast pizza.
Bacon and Egg Crepe Recipe

The Classic Buttery Crepe recipe is included below.
Stall Breaker Lunches
Fresh Avocado Cucumber Salad
Crunchy Parm & Cheddar Chicken Bites
Two Carb Side Salad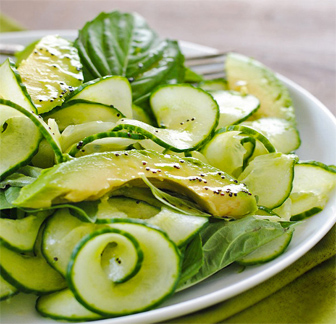 Fresh Avocado Cucumber Salad
Citrus blended with cool, fresh cucumber and healthy, high fat avocado. The spiralized veggies stay firm and crisp. This stall breaker recipe also works with zoodles.
Avocado Cucumber Salad Recipe
Zoodles!
This inexpensive wonder creates uniform, curly 'noodles' and spirals from zucchini, cucumbers, carrots, sweet potatoes, turnips and other round or long vegetables.
Veggie Spiralizer Bundle
The veggie spiralizer is great for making curly fries, frittatas, salads and side dishes like zoodles – low carb "pasta" made from zucchini!
Crunchy Parm & Cheddar Chicken Bites
Works with bite-size nuggets and chicken fingers. For added crunch, roll in unsweetened, shredded coconut.
Crunchy Chicken Bites Recipe
Two Carb Side Salad
Convenient base salad with only two net carbs and plenty of veggie options.
Top your stall breaker salad with 4 ounces of protein and 1 tablespoon of full fat salad dressing, or olive oil and red wine vinegar.
Two Carb Side Salad Recipe
Stall Breaker Snacks
Lemon Basil Spinach Ricotta Crepes
Bacon Wrapped Meatballs
Crispy Cauli Parm Chips
Lemon Basil Spinach Ricotta Crepes
Perfect make-ahead snack: slice into carb-controlled portions, wrap and store in the fridge.
Substitute feta or mozzarella cheese for the ricotta, kale or arugula for the spinach.
Spinach Ricotta Crepe Recipe
Bacon Wrapped Meatballs
Try these meatballs grilled, baked or add to a slow-cooker. For a quick stall breaker meal, eat 5 meatballs (280 cals), or 6 (336 cals).
Wrap meatballs in bacon and place seam side down on a sheet of foil, or place into muffin tins.
Bacon Wrapped Meatball Recipe
Crispy Cauli Parm Chips
Crispy and savory, these super low carb chips add crunch when you crave it most.
Top your parmesan cauliflower chips with a bacon wrapped meatball.
Cauliflower Parmesan Chip Recipe
Stall Breaker Main Meals
Rosemary Tilapia with Garlic Butter
Cilantro Chicken and Cauli Fried Rice
Feta Pepper Rolled Steak
Rosemary Tilapia with Garlic Butter
This classic garlic butter sauce also works with chicken and beef.
Make a few extra servings to add to the side salad. Top with 1 tablespoon of full fat dressing or olive oil.
Rosemary Garlic Tilapia Recipe
Cilantro Chicken and Cauli Fried Rice
This dish is excellent hot or cold. Roll leftovers up in a crepe and serve chilled for lunch.
Chicken Cauli Rice Recipe
Feta Pepper Rolled Steak
Pound out steak, add spicy peppers and cool feta cheese. Slice into perfect portions. Leftovers store and travel well for work or school.
Feta Pepper Rolled Steak Recipe
Stall Breaker Add-Ons
After your base meals, enjoy a a few add-ons to achieve your meal plan calorie goal for the day.
Each high fat stall breaker add-on has around 200 calories.
Bulletproof® Coffee Treats
Fat Bombs
Soul Bread
Bulletproof® Coffee Treats
Bulletproof® Coffee treats leave you full, focused and energized for hours, crash-free – the perfect stall buster!
Health Benefits

Help you stay in ketosis
Accelerate fat loss
Promote muscle gain
Boost brain power
Increase mental clarity
Bump up energy levels
Bulletproof® Coffee
Bulletproof® Coffee is an upgrade for your regular cup of Joe. Healthy fats are blended and frothed into freshly brewed coffee.
Bulletproof® Coffee is satisfying enough to double as a meal.
Bulletproof® Coffee how-to, plus recipes for coffee, cocoa, candy, tea, to-go drops, ice cream, pops and mousse.
Fat Bombs
Increasing fat in your diet burns more stored body fat. Fat bombs are concentrated, delicious bites of healthy fat.
What's a Fat Bomb?
Fat bombs are any high fat low carb recipe or food (Coconut oil, flaked coconut, Mascarpone cheese, cream cheese, macadamia nuts), usually 85% fat or more.
Choose any fat bomb recipe (savory, citrus and sweet) plus a printable, 19 fat bomb recipe eBook.
Soul Bread
Soul Bread is an Atkins Induction friendly, high fat low carb bread.
How is this possible? Soul Bread doesn't have gluten or flour. Instead, Soul Bread uses isolate whey protein powder, baking soda, eggs and all-natural xanthan gum to get the fluffy rise and texture it's famous for.
How To Eat Soul Bread
One slice+ makes a 300 cal meal. What's the "plus?"
Top your Soul Bread with:
1 tablespoon grass-fed butter
2 oz chicken or beef, a thin slice of tomato and onion, 1 teaspoon mayo/olive oil, or a slice of avocado.
1 oz cream cheese with garlic or herbs
2 slices of bacon, 1 teaspoon mayonnaise, lettuce and a thin slice of onion or tomato.
1 scrambled egg with chopped veggies, and butter or 1 oz cheese.
Original Soul Bread Recipe
Per Slice:  207 cals, 1 net carb, 17 fat, 14 protein.
Click the recipe to view, print or save. Or grab all the Soul Bread recipe variations, including Bacon Cheddar, Lemon Blueberry, Toasted Onion, Cinnamon Pecan and Rosemary Garlic.
Source
Bulletproof® and Brain Octane® are registered trademarks owned by Bulletproof Digital, Inc.
Almost Zero Carb Meal Plan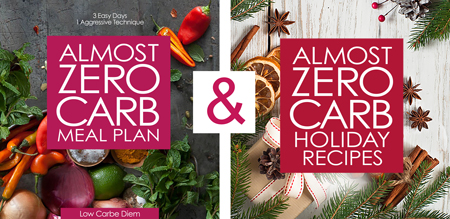 Enter deep ketosis, break your stall, recover from your cheat day, or reset your diet in three days using this aggressive technique, first made famous by Dr. Robert Atkins over 40 years ago.
Science-Backed and Powerful
The Almost Zero Carb Meal Plan is a powerful tool, allowing metabolically-resistant dieters to reach deep nutritional ketosis quickly.
What happens when you follow the plan? Incredibly rapid fat loss.
Ditch the Nervous Carb Counting
Choose from 150+ easy recipes and food combos (with special macros and almost no carbs), plus a special Holiday Recipe section!
Break your toughest diet stall.
Lose fat quickly for a special event.
Recover from an accidental cheat.
Avoid plateau completely: Use once a month.
Reach a deeper state of ketosis over the weekend.
Finally access and burn stubborn, stored fat.
Restart or reset your low carb or keto diet.
Add healthy fats effortlessly.
Decrease hunger naturally.
Sharpen your sense of portion control.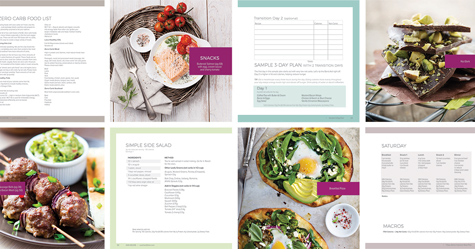 If You're Doing Everything (but Nothing's Working)…
Take three days off. Create a personalized plan that works, with a decadent variety of workhorse recipes you'll keep eating long after reaching your goal.
Go Almost Zero and start burning fat with your next meal. Fit in those jeans again. In three days.
Category: Meal Plans, Stall Busters