Valentine's Day. You love it or hate it – either way, you have to eat. Making these low carb Valentine's Day recipes feels like you're cheating on your diet. But several actually help burn more fat.
Special Valentine's Day Soul Bread recipes
Low carb Valentine's Day meal ideas: breakfast, dinner, dessert
These printable Valentine's Day recipes are very low carb. Each serving has 2 net carbs or less, leaving more wiggle room in your daily carb count for something special.
The cupcakes? They're Induction friendly.
Ignite a healthy romance with bread. Cleverly twist your bacon. Enhance your fat loss with keto bark. This year, eating low carb on Valentine's Day is sheer heaven.
Valentine's Day Breakfast Recipes
Wake up to a delicious Valentine's Day filled with (low carb) toast, eggs, bacon, pancakes and muffins that are anything but ordinary.
Egg, Heart and Soul Bread
Start your day with a neatly nested egg inside a golden slice of low carb Soul Bread. Save the heart-shaped piece and serve on the side with sugar-free jam or smashed fruit.
Grab a fresh slice of Soul Bread and toast it lightly (just until firm).
Using a cookie cutter or knife, cut a heart shape into the center of the slice.
Place the Soul Bread into a hot skillet. Crack an egg into the heart-shaped space.
Soul Bread Ingredients
Soul Bread is safe for Induction and uniquely low carb – requiring protein powder and xanthan gum. Here are some helpful Amazon links to the special ingredients.
Nature's Best ISOPURE Whey Protein
Not all protein powders are equal. Nature's Best produces a clean bread taste and a golden, fluffy loaf.
Nature's Best ISOPURE whey protein
is zero carb, 100% whey protein isolate, and stripped of fat, carbs, fillers, sugars and lactose.
Kiva All Natural Xanthan Gum
Kiva's xanthan gum
thickens soups and sauces naturally. Xanthan gum adds volume, elasticity and structure to bread/baked goods. Non-GMO, vegan and gluten-free.
Egg, Heart and Soul Bread Recipe

Low Carb Soul Bread is Induction friendly, made with all natural ingredients, flour-free and gluten-free.
.9 net carbs per slice for 16 slices.
Lace Heart Keto Pancakes
Classic low carb pancake with perfect keto macros gets a makeover. Giving this pancake a polished look is surprisingly simple.
Pour the pancake batter into a plastic bag. Seal or twist closed. Snip one corner off the bag and pipe the batter into the skillet.
A plastic ketchup, mustard or honey bottle works well, and is easy to squirt into the skillet.
Start with a basic heart shape. Add a border. Fill the inside of the design with squiggles and lines.
More spaces in the design makes a more delicate pancake. This part is a little messy – just eat the stray pancake dots.
For chocolate low carb pancakes, add 1 teaspoon of cocoa powder. Change it up with a few ounces of low carb fruit like raspberries, blackberries or blueberries.
Lace Heart Keto Pancake Recipe

Induction friendly, all natural ingredients, flour-free and gluten-free.
1 to 2 net carbs in total recipe (cocoa adds 1 carb). Makes 8 to 10 pancakes.
Bacon Love
Rekindle your love of bacon. Mini heart-shaped bacon treats are easy to make: slice, brush and fold.
Ingredients
bacon slices
seasoning or sugar-free maple syrup
Instructions
Cut the bacon slice in half. Fold over two halves, creating a heart shape.
Brush the bacon hearts with sugar-free maple syrup or a seasoning mix.
Line the bottom of a baking sheet with foil or parchment paper to catch the drippings.
Place the hearts on a cooling rack on top of the foil-lined baking sheet.
Bake at 400 F for 15 to 20 minutes, or as desired.
Note – These bacon love hearts have a mind of their own. Some turn out perfect, but others curl up a bit while cooking – just like relationships.
Raspberry Soul Bread Muffins
A small amount of raspberry adds just the right flavor – no sugar-free jam necessary. Slather with cream cheese or grass-fed butter, or both.
Raspberry Soul Bread Muffin Recipe

Made with all natural ingredients, flour-free and gluten-free. Eat after the Atkins Induction phase – this has fruit.
1.5 net carbs per serving for 8 servings.
Low Carb Valentine's Meal Ideas
Food hearts are a fun way to say "I Love You" using cheese and meat. The best part is they are super easy to make.
Parmesan Heart Bowl Salad
Saveur Test Kitchen demonstrates how to make parmesan cups in minutes, using only grated parmesan cheese, a hot pan and a drinking glass. (video tutorial)
Heart Shaped Pork Chops
Shake up the shape of your chops. Cut the chops into a heart shape before cooking.
Hamburger Hearts
Blend one pound of organic, grass-fed beef with one egg, garlic, minced sweet onion, diced red pepper, sliced mushrooms and pepper.
Smaller-size hamburger hearts are easily wrapped with bacon.
Fat Head Valentine's Day Pizza
Go completely casual (but thoughtful) on Valentine's Day without planning a big meal. Make a low carb Fat Head pizza with heart-shaped pepperoni, onions or bell peppers.
TIP: Cut the pizza toppings with kitchen scissors.
Valentine's Day Dessert Recipes
The sweetest part of Valentine's Day is dessert. Special low carb Soul Bread recipes make it possible to enjoy old favorites again.
Soul Bread Red Velvet Cake
Moist red velvet cupcakes made from the Original Soul Bread recipe. These Valentine's Day cakes are ON your diet.
Pour the cupcake batter into muffin tins with liners. Placing a marble between the liner and tin creates the heart shape.
Shaping Your Soul Cakes
Silicone molds are the easiest way to achieve a perfectly shaped cake. These inexpensive molds also work great for the Raspberry Soul Bread Muffins above.
Freshware Silicone Heart Mold
Freshware silicone heart baking molds are free of chemical coatings and have passed the Pinch Test.
Freshware Heart Silicone Cupcake Liners
Freshware heart cupcake liners are reusable up to 3,000 times. Safe for microwave, oven, refrigerator, freezer and dishwasher.
Frosting Your Soul Cakes
Once cool, dip the Soul Bread Red Velvet cupcakes in chocolate ganache or a cover with a fluffy cream cheese frosting.
Ingredients and instructions for both are included on the recipe card.
Organic Cacao Powder
Cacao powder offers a sugar-free, rich taste and bold chocolate flavor.
Viva Labs Cacao Powder is made from Criollo cacao beans – the highest quality cacao without bitterness.
Viva Labs Cacao Powder is unprocessed, retaining important nutrients like magnesium, calcium, iron, fiber and protein.
Antioxidants in cacao provide cellular defense against the effects of free radicals, improving the look of skin and promoting cellular repair and rejuvenation.
Soul Bread Red Velvet Cake Recipe

Photo and recipe by Joan Syndmiller.
Induction friendly, all natural ingredients, flour and gluten-free.
7 net carbs in total recipe, without the sweetener.
Toasted Coconut Fat Bomb Bark
A crunchy Valentine's Day fat bomb! Toasted large-flake coconut pressed into dark chocolate with perfect keto macros?
There's nothing sweeter.
Pour the dark chocolate onto a baking sheet for a fat-burning keto bark or into muffin tins for single, carb-controlled servings.
Toasting the Coconut
Recipe author, Joan Syndmiller used the "Let's Do Organic" brand unsweetened, large coconut flakes.
Joan toasted the whole bag at once on a large cookie sheet at 350 F, checking frequently. There will be plenty left over to use during the week.
Let's Do Organics: Organic Coconut Flakes
Organic coconut flakes are one of the healthiest sources of fat. Large flakes quickly toast to a golden brown.
Dark Chocolate Chips
Lily's premium dark chocolate Baking Chips are your low carb solution for recipes. Lily's dark chocolate chips melt and blend easily.
Stevia-sweetened, all-natural, non-GMO ingredients. Fair trade and gluten-free certified cocoa.
Raw Cacao Nibs
Organic Raw Cacao Nibs are "nature's chocolate chips" boast a strong, raw dark chocolate flavor.
Snack on these sweet dark chocolate nibs or use them in recipes instead of sugary milk chocolate chips.
Raw cacao nibs are one of the most plentiful sources of antioxidants and magnesium. Raw cacao is high in fiber, iron and essential minerals.
Organic, kosher, non-GMO, certified gluten-free and vegan.
Toasted Coconut Fat Bomb Bark Recipe
Photo and recipe by Joan Syndmiller.
6 net carbs in total recipe, without the sweetener.
Hidden Heart Soul Bread Cupcakes
Soul Bread Valen-cakes! Rich red velvet cupcakes hide a secret heart. Each cupcake is 1 to 2 net carbs, depending on size.
Add a few drops of food coloring (and/or flavoring) to the Original Soul Bread Recipe. Bake in a shallow pan or dish. Cool the bread, then cut out the heart shapes.
These inexpensive, non-stick heart cookie cutters make the job easy.
Norpro Nonstick Heart, Pancake, Egg Rings
Norpro heart, pancake and egg rings have stay-cool wooden handles and fold flat to store. Each ring holds 1/4 cup batter or 1 raw egg.
Wilton Nesting Heart Cutter Set
Wilton heart cookie cutter sets are made in the United States. Heart sizes range from 2.25 to 4.2 inches.
Hiding Your Heart
Make the Soul Bread Red Velvet Cake batter and pour into cupcake tins or molds, filling only half way. Add a Soul Bread cut-out heart to the center of each mold.
Thicker Soul Bread cut-out hearts stand upright better in the batter. Some will shift during cooking.
TIP: Use an oven-safe toothpick to hold the heart in place.
Hidden Heart Soul Bread

This same technique may be used with any low carb Soul Bread recipe, creating an entire loaf of hidden hearts.
Pour the Soul Bread batter into a bread pan. Line up the cut-out Soul Bread hearts and place into the batter upright. Reduce baking time, since the center is already cooked.
Bread is done when a knife comes out clean and crumb-free.
Try flavor combinations like dark cocoa-raspberry (above) and strawberry-pecan (below).
More Soul Bread Recipes
Soul Bread recipes are rich in fat and fiber, and have moderate protein. Soul Bread was created and tested by real low carbers. Recipe variations are delicious and easy to bake.
What's the best low carb bread for Valentine's Day? Soul Bread.
Almost Zero Carb Meal Plan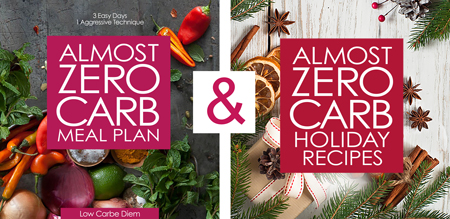 Enter deep ketosis, break your stall, recover from your cheat day, or reset your diet in three days using this aggressive technique, first made famous by Dr. Robert Atkins over 40 years ago.
Science-Backed and Powerful
The Almost Zero Carb Meal Plan is a powerful tool, allowing metabolically-resistant dieters to reach deep nutritional ketosis quickly.
What happens when you follow the plan? Incredibly rapid fat loss.
Ditch the Nervous Carb Counting
Choose from 150+ easy recipes and food combos (with special macros and almost no carbs), plus a special Holiday Recipe section!
Break your toughest diet stall.
Lose fat quickly for a special event.
Recover from an accidental cheat.
Avoid plateau completely: Use once a month.
Reach a deeper state of ketosis over the weekend.
Finally access and burn stubborn, stored fat.
Restart or reset your low carb or keto diet.
Add healthy fats effortlessly.
Decrease hunger naturally.
Sharpen your sense of portion control.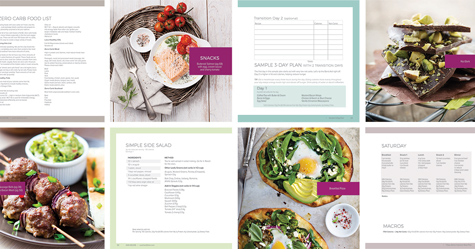 If You're Doing Everything (but Nothing's Working)…
Take three days off. Create a personalized plan that works, with a decadent variety of workhorse recipes you'll keep eating long after reaching your goal.
Go Almost Zero and start burning fat with your next meal. Fit in those jeans again. In three days.
Keep Calm and Low Carb
Category: Recipes