Oopsie recipes are Atkins Induction-friendly, low carb favorites that shift from savory to sweet in an instant.
Having almost no carbs, this keto bread begs for crunchy toppings, rich sauces and high fat fillings.
Featured in the Almost Zero Carb Meal Plan.
Easy Oopsie Flatbread
Per Serving: 246 calories, 2 net carbs.
Servings: 3-ish
Makes 3 small pizza‐size flatbreads, or 6 bun tops/rolls.
Ingredients
3 eggs, room temp, separate out yolks
1/4 tsp cream of tartar
3 oz neufchatel cheese, cold (sub cottage cheese or ricotta)
stevia (or equiv), to taste
favorite herbs and spices, to taste
2 oz cheddar cheese (or Parmesan) shredded
Directions
Preheat oven to 300 F. Separate eggs. Beat egg whites with cream of tartar until stiff.
In a separate bowl, mix together egg yolks, spices/herbs of choice and cream cheese. Gently fold the yolk mix into the egg whites. Be careful not to break down the whites!
Scoop (don't pour) the batter into a circular pile on a lightly greased oven tray. Pile the batter as high as possible. (We're not going for Mt. Everest, though.)
Make the batter pile the size of your flatbread (usually 6 to 10 inches in diameter). Or, make 6 small piles – perfect for low carb buns.
Bake at 300 F in the oven for about 30 minutes.
Remove from oven and allow to cool on a rack. Your flatbread deflates a bit during this time, and becomes firmer.
Store your Oopsie flatbread in a loose‐lid container on the counter, in the fridge or freezer (thaw before use).
When you are ready to use:
Slather or spray lightly with olive oil (or melted butter), top with grated cheddar or Parmesan (or desired cheese), and dark greens like spinach or arugula (both have 0.4g net carbs per cup).
Toast or broil in the oven until cheese is melted, bubbly and Oopsie flatbread is slightly browned. Toast longer at a lower temp for an extra crispy, crunchy flatbread.
Nutrition
Per Serving (1 flatbread; 2 buns/rolls): 246 Calories; 36g Fat (77.8% calories from fat); 22g Protein; 2g Carbohydrate; 0 Dietary Fiber.
Click to print or save this recipe:
Special Ingredients
De-Bittered Stevia has no unpleasant aftertaste. This blend has none of the characteristic bitterness of typical stevia sweeteners.
Zero carb and zero glycemic impact.
Non-stick muffin pans hold Oopsie batter in place, resulting in perfectly baked bun tops and rolls.
Oopsie Flatbread Recipe Tips
Making firm, fluffy and perfectly-shaped Oopsie flatbread requires a little finesse at first. Here's how to solve the most common concerns:
"How do I store Oopsie flatbread?"
Store on the counter (up to two days), in the fridge, or freeze. Place cooked flatbread in a plastic bag or container.
Leave the bag slightly open, or seal the container loosely. Air circulation prevents sticky Oopsies.
Thawing Oopsies
Place flatbread on the counter until visibly thawed. Remove from the bag/container and place on a cooling rack until it reaches room temperature.
"My egg whites aren't holding up."
Whip eggs at room temperature for the greatest volume. Whip the whites into firm, stiff peaks. Whip by hand or use a mixer 3 to 5 minutes.
"My whites went flat after adding the yolks."
Carefully add half the yolk mixture to the whites, then fold in with a spatula. Add the second half of the yolks and fold again.
"I'm dealing with excess liquid in my batter."
Some liquid separates from the solid batter. Gently plop the pile(s) on your baking sheet. Build your piles slowly.
If liquid batter remains in the bowl, make a small well in the center of each pile. Add liquid batter to the center wells.
"My finished batter went flat after making the pile."
Scoop batter from bowl with a large spoon or rubber spatula. Don't pour! Pouring or dumping breaks down the batter.
"My Oopsie bread is uneven or spread too much."
Muffin top pans cook Oopsie batter uniformly for perfect buns.
Small pizza crust pans maintain the shape for larger flatbread, and muffin tins/baking cups work well for small breads.
"My flatbread fell apart after baking."
Cool baked Oopsie bread on the sheet/pan until the edges shrink. Run a spatula around the edges to loosen.
Invert Oopsies carefully onto a cooling rack. Let the bread rest until it feels firm and handles easily.
"My Oopsie bread feels dry and crumbly."
Place flatbread in a sealed bag 1 to 3 hours to re-moisten.
"My Oopsies feel spongy and stick together."
Simply set the bread on the counter for 30 to 60 minutes to dry them slightly. You may also toast them 30 to 60 seconds.
"My bread feels too light/airy to hold food."
Just after cooking, Oopsie flatbread is fluffy, airy and falls apart easily. However, Oopsies firm up substantially after cooling and sitting out.
Almost Zero Carb Meal Plan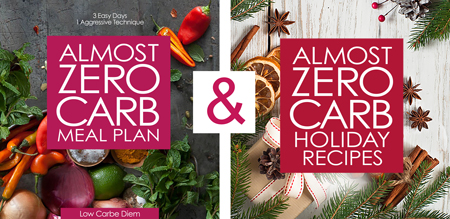 Enter deep ketosis, break your stall, recover from your cheat day, or reset your diet in three days using this aggressive technique, first made famous by Dr. Robert Atkins over 40 years ago.
Science-Backed and Powerful
The Almost Zero Carb Meal Plan is a powerful tool, allowing metabolically-resistant dieters to reach deep nutritional ketosis quickly.
What happens when you follow the plan? Incredibly rapid fat loss.
Ditch the Nervous Carb Counting
Choose from 150+ easy recipes and food combos (with special macros and almost no carbs), plus a special Holiday Recipe section!
Break your toughest diet stall.
Lose fat quickly for a special event.
Recover from an accidental cheat.
Avoid plateau completely: Use once a month.
Reach a deeper state of ketosis over the weekend.
Finally access and burn stubborn, stored fat.
Restart or reset your low carb or keto diet.
Add healthy fats effortlessly.
Decrease hunger naturally.
Sharpen your sense of portion control.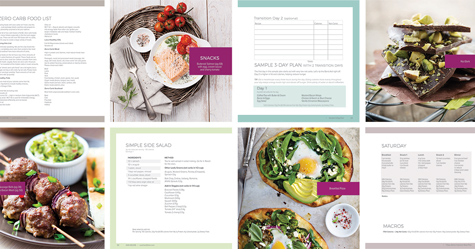 If You're Doing Everything (but Nothing's Working)…
Take three days off. Create a personalized plan that works, with a decadent variety of workhorse recipes you'll keep eating long after reaching your goal.
Go Almost Zero and start burning fat with your next meal. Fit in those jeans again. In three days.
Category: Bread - Crackers