Low carb grocery trips don't need to be a paranoid experience. Let's get in and get out – unscathed by sugar. You'll need a list, a strategy and an appetite for weight loss.
Low carb shopping strategy
Your go-to low carb aisles
Dangerous areas
Printable Atkins grocery list
Temptation is Everywhere
A printable list adds instant confidence, especially when you're faced with so many temptations.
High carb foods are literally everywhere. Some grocery aisles are much safer than others.
Plan your path carefully.
This low carb grocery strategy helps you plan ahead and stick to your list. Grab your master plan and start shopping.
Low Carb Grocery Strategy
First, cling to the sides of the store. Shopping the perimeter is a good strategy for low carb. The aisles are where most of the high carb and processed foods live.
If you're not buying it, don't visit it 'just to look.'
Don't Shop Naked
Second, don't leave the house without your armor. In this case, your low carb grocery list.
A planned grocery list will save time, help your focus stay on low carb and prevent dangerous food purchases.
Low Carb in the Aisles
Shop your grocery like a seasoned low carb pro. Whip through those aisles like a tub of heavy cream by concentrating on the smartest low carb choices.
Use our printable low carb grocery list (download below) when you shop.
Meat, Poultry, Fish, Seafood, Eggs
Almost all foods in this grocery area are fine.
Eggs are flexible, fast and extremely nutritious. They have the perfect fat-protein-carb ratio.
Oysters and liver have more carbs. Some low carb diets limit these in the Induction phase.
Some packaged meats are processed and contain nitrates or added sugars. Read the labels carefully.
Dairy Case
Dairy is essential on your low carb grocery list. Dairy foods are full of fat and protein, keeping you full for hours.
Shop for cream, grass fed butter, full fat cottage cheese, sour cream, hard or soft block cheeses, ricotta and full fat, sugar-free yogurt.
Fats and Oils
Healthy fats are a staple on every low carb grocery list.
Most low carb experts argue that foods high in saturated fats are not a problem in the context of low carb diets, while a few others avoid them.
Butter, MCT oil, olive oil (particularly recommended), avocado oil and coconut oil are staples on every low carb grocery list.
Focus on oils that are high in omega 3 fats.
Partially hydrogenated oils should always be avoided.
Organic Coconut Oil
Carrington Farms Organic Coconut Oil is  essential for rapid fat-burning. Fats from coconut oil aren't stored. Instead, coconut oil fats are used immediately for energy.
Coconut oil can last up to two years without spoiling. Coconut oil gives food a nice "buttery" (not coconut) flavor, and is one of the healthiest choices for cooking and baking.
Non-GMO, free of hydrogenated and trans fats, Kosher and organic.
Avocado Oil
La Tourangelle Avocado Oil is all-natural, expeller-pressed, non-GMO and Kosher. La Tourangelle has a fruity roundness – great for both sweet and savory recipes.
Performance MCT Oil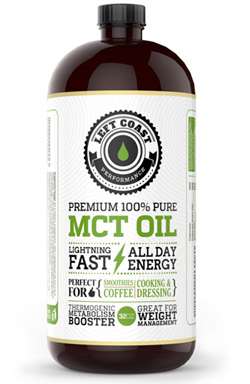 Left Coast's pure MCT oil converts into energy faster than other oils, ignites your body's metabolic rate and helps maintain healthy levels of cholesterol.
MCT oil is an easy way to increase your healthy fats. Add to salads, smoothies or your latest fasting plan for immediate, all-day energy.
Frozen Foods Section
It's a good idea to have frozen meats, fish, vegetables and berries on hand.
Avoid everything else in this area. Seriously.
Canned Goods
Canned black or soy beans, olives and coconut milk shorten cooking and prep time.
Measure each serving and use sparingly – canned beans and veggies are higher in net carbs.
Some canned foods have added starches and gluten.
Nuts and Seeds
Most nuts and seeds, including nut and seed butters are fine after the Induction phase.
Check the label for net carbs per serving, as each brand is different.
Some low carb diets avoid legumes – this includes peanuts.
Use unsweetened coconut foods.
Fresh flax, almond and coconut flour/meal are great for baking.
Spices
Specific low carb spices and herbs help you lose weight quickly and naturally. Most have only trace amounts of carbs per ounce.
Spices and herbs are an excellent way to flavor and season without adding carb-filled sauces.
Condiments
These condiments are safe for your low carb grocery list:
Mustard, full-fat mayo (not made with soy oil), sugar-free ketchup
Sugar-free salad dressing (not made with soy oil)
Gluten-free soy sauce
Pesto sauce
Broth or bouillon
Spices, hot sauce
Sugar-free pickle relish
Sugar-free jams and preserves
Sweeteners
During the Atkins Induction phase 1, allow no more than 2 to 3 servings of sweeteners, sugar-free flavors and sugar-free syrups.
Liquid De-Bittered Stevia
EZ-Sweetz's de-bittered stevia blend has no unpleasant aftertaste. This blend has none of the characteristic bitterness of typical stevia sweeteners.
Dangerous Grocery Aisles
Avoid aisles with baked goods, cookies, crackers, bread (unless it's for low carb bread), candy, pasta, baking supplies and anywhere the processed foods lurk.
Don't get sneaky. Don't include these on any low carb grocery list.
To recap – just say no.
Instant Low Carb Grocery Meals
It's been a long day, and you don't feel like cooking. You're wandering up and down the aisles of the grocery.
Put together a low carb 'grab and go' meal at the grocery. Choose a handful of protein, any of the 65 low carb fruits and veggies, and plenty of healthy fat.
Deli Foods
Try tuna, chicken, or shrimp salad, that you can either eat on it's own, or pre-wrapped in a low carb tortilla or lettuce leaf.
Vegetable salads can be good low carb grocery choices. Just make sure the dressing is full-fat and low sugar.
Guacamole can be purchased as a dip for cucumber rounds, celery sticks, or other low carb vegetables .
Many delis have roasted chicken, which can be paired with a salad.
Make a wrap with lunch meat (check for sugars in ingredients) and a low carb tortilla.
Salad Bars
Grocery store salad bars let you mix and match. It's easy to control the net carbs, and keep the flavor and crunch.
When in doubt about the dressings, blue cheese, or oil and vinegar dressings are the least likely to have added sugar.
Alternative: Buy your own bottle.
Prepared Salads
Look for salads with mixed greens instead of iceberg lettuce (lower in nutrients).
Include a serving of protein and top with full-fat dressing or cheese.
Deviled Eggs
Deviled eggs, if available in your grocery store, are often near the cheese or a special area for store-made items.
If you are unsure of the exact ingredients, limit these on your to-go low carb grocery list.
Vegetables
Some stores offer prepared veggies in packages.
Celery, mushrooms, green beans, bell peppers, tomatoes and broccoli are bite-sized, low carb and delicious raw.
Pair low carb veggies with deli tuna/chicken salad or low carb dip.
Low Sugar Fruit
Low carb fruit at the grocery is a good choice – if you're past Induction and it fits into your plan.
Smart choices are berries, avocados, tomatoes or any of the 43 low carb fruits.
Individual Cheese
Individually-wrapped small portions of cheese (usually wax or foil-wrapped) are easy to find.
Mini cheeses are a convenient and portable protein source. Examples are Mini-Gouda and Mini-Bel.
Sugar Free Yogurt
Finding yogurt that is sugar-free AND contains live yogurt cultures AND doesn't have objectionable additives AND tastes good?
This requires hunting, but it can be done.
Flavor plain yogurt with berries, sugar substitute, sugar-free jam, or any other flavoring that sounds good.
Sugar-Free Gelatin Snacks
For a quick bite of something sweet, packs of individual sugar-free gelatin cups satisfy.
Sugar free gelatin is available in dozens of flavors. Blend with whipped heavy cream for a low carb dessert.
Meal Replacement Bars
It's hard to find meal replacement bars that are sugar-free and don't have 'diet stall' sugar alcohols like maltitol.
Atkins Advantage Bars are one brand that work for many low carbers. However, some Atkins bars contain maltitol so read each label carefully.
Printable Low Carb Grocery List
Starting a low carb diet requires making different choices at the grocery.
You don't want to feel like you have 'nothing to eat.' Choose a variety of options from the low carb grocery list.
Click the list to view, print or save.
Almost Zero Carb Meal Plan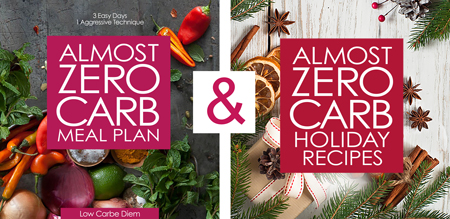 Enter deep ketosis, break your stall, recover from your cheat day, or reset your diet in three days using this aggressive technique, first made famous by Dr. Robert Atkins over 40 years ago.
Science-Backed and Powerful
The Almost Zero Carb Meal Plan is a powerful tool, allowing metabolically-resistant dieters to reach deep nutritional ketosis quickly.
What happens when you follow the plan? Incredibly rapid fat loss.
Ditch the Nervous Carb Counting
Choose from 150+ easy recipes and food combos (with special macros and almost no carbs), plus a special Holiday Recipe section!
Break your toughest diet stall.
Lose fat quickly for a special event.
Recover from an accidental cheat.
Avoid plateau completely: Use once a month.
Reach a deeper state of ketosis over the weekend.
Finally access and burn stubborn, stored fat.
Restart or reset your low carb or keto diet.
Add healthy fats effortlessly.
Decrease hunger naturally.
Sharpen your sense of portion control.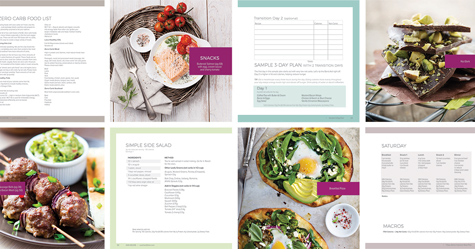 If You're Doing Everything (but Nothing's Working)…
Take three days off. Create a personalized plan that works, with a decadent variety of workhorse recipes you'll keep eating long after reaching your goal.
Go Almost Zero and start burning fat with your next meal. Fit in those jeans again. In three days.
Keep Calm and Low Carb
Category: First Month