Let's forgo the horror of choco doodles and the agony of what to take to the next cookout. Instead, reach for a more promising low carb snack.
40 Low carb snacks (1-5 net carbs)
40 Atkins Snack Recipes eBook
Snack tips and avoiding freak-outs
Crispy, savory, spicy or sweet – these little babies are super flexible. Combine two or three snacks for a perfect Atkins mini-meal.
Far from boring, they even satisfy non-low carb sugar-burners.
These snacks for Atkins really perform. They are higher in fiber and important nutrients, have carbs with a lower glycemic index, are balanced with quality proteins and include heart-healthy fats.
Hearty Snack Recipes
These 15 low carb snacks are quick to make or prepare ahead of time. They are hearty, time-tested favorites with a dash of 'interesting.'
The recipes are available in a free 40 page snack recipe eBook at the end of this article.
Stuffed Mushrooms
Mushroom caps are gorgeous and handy for stuffing. Raw mushrooms hold meats or seafood, cheeses mixed with herbs and spices, other veggies, pizza toppings, or spreads and dips.
Which mushroom caps are best for stuffing?
Cremini Mushrooms are immature Portobello mushrooms. Their button-like caps are perfect for stuffing. They range in color, from pale tan to rich brown. Cremini mushrooms are similar to white mushrooms, but have a firmer texture and deeper flavor.
Portobello Mushrooms (especially large ones) can hold almost anything. Use grilled Portobello caps in place of bread or hamburger buns. These mushroom caps are porous, absorbing marinades and spices fully.
Mushroom Health Benefits
Mushrooms are a very good source of copper, selenium, riboflavin, niacin, panothenic acid and a good source of potassium. Mushrooms have high levels of antioxidant compounds that help prevent some cancers.
Nutrition  1 large cap (3 oz): 3 net carbs, 42 cal, 5 protein, 3 fiber
Stuffed Mushroom Recipes
These classic stuffed mushroom recipes are rich with fiber and very filling.
Serve them as an appetizer or a meal.
Stuff them with fresh ingredients or leftovers.
Mushroom caps store and travel like nobody's business. All recipes are available in the low carb snack eBook at the end of this article.
Stuffed Mushroom Tips
Remove the gills, as they darken in color and their liquid muddies the other flavors.
You can make the stuffing as far ahead as you like and freeze it.
You can saute the stuffing, fill the mushrooms and put them in the fridge to bake later.
You can bake the caps ahead of time, then serve chilled or at room temperature.
Fast Deviled Eggs
Eggs are tiny edible filling containers. What could be better? You don't need to be a chef to create fabulous-looking deviled eggs.
Deviled eggs are usually served cold as a side dish, appetizer or low carb snack, but may also substitute for a main course.
This low carb snack is nutritious, high in healthy fat and guilt-free.
Nutrition  1 large egg : .6 net carbs, 78 cal, 6 protein, 0 fiber
Deviled eggs are a popular holiday, picnic and party food, perfect for the Superbowl, Easter, 4th of July, Thanksgiving, Christmas or a causal family get-together.
Plus, they are just plain fun to decorate!
Deviled Egg Recipes
Even if you've never made a deviled egg before, these recipes are simple and delicious. These low carb snacks work perfectly with Atkins Induction.
The recipes below are in the eBook at the end of this article. They are so simple, a chicken could make them.
Deviled Egg Tips
We eat with our eyes first. Fortunately, it's very easy to make deviled eggs look nice. All you really need is a piping bag (or a plastic Ziploc bag) and a colorful garnish.
Fill a piping or plastic bag with your deviled egg mixture, snip one of the corners off with scissors, then pipe your deviled yolks into the whites without making a huge mess.
Next, garnish your eggs with… Whatever!
Try fresh herbs, exotic low carb spices (some help you lose more weight!), chopped veggies or a dollop of flavored sour cream.
Warning
Those eggs you carefully piped deviled yolks into and garnished with parsley or bacon or whatever? If you stick them in a plastic container and try to transport them, they will arrive looking like they had a rave inside the container.
Do Your Nerves a Favor
Put the unfilled cooked whites into a container for transportation and bring along your bag filled with the seasoned yolks. When you arrive, give the egg whites a quick fill and you're done.
Deviled-egg-freak-out free.
Easy Low Carb Snack Wings
Whether it's a quick appetizer, a fun dinner or party food for the big game, chicken wings are a favorite low carb snack on any menu. They make great finger foods and canapés.
Want to kick wings up a notch? It's all about the marinades and sauces.
Wing sauces generally take influences from Italian, French, Chinese, Japanese, Caribbean and Indian cuisines.
Be creative with your wing sauce:
Garlic Parmesan
Stone ground or peppered mustard
Bizarre citrus combinations like mango-orange-lemon
A small amount of honey, molasses, Splenda or sugar-free syrup
Full fat salad dressings, such as ranch or blue cheese
Chicken Wing Recipes
Whether you like to slow cook and baste your birds with sauce, or marinate and grill them, the recipes below are sure to please.
The chicken wing recipes are available in the low carb snack recipe eBook at the end of this article.
Chicken Wing Tips
For quick clean up, line your baking pan with foil. No scrubbing.
For out-of-the-fryer crispness, pat dry the wings before seasoning and cooking. This also works when baking or grilling the wings.
If the cooked wings come in contact with much air after they are fried, they 'seal' – and won't absorb the sauce as well. When the cooked wings come out of the hot oil, put them into a container with a lid, add the sauce, then spin them around until well-coated.
Low Carb Snack: Dips and Spreads
Need a pick-me-up between meals? A rich and creamy, or bold and chunky low carb snack dip will curb your appetite and satisfy your taste buds for hours.
Savory, salty, tangy, spicy or sweet – dips are the most versatile low carb snack around. Dips and spreads require very little prep time and will stay fresh in the fridge for days or weeks.
Dip and Spread Recipes
These dips and spreads are also Atkins Induction friendly if you stay within the dairy limits for the day.
'Grow's Fresh & Wild Avocado Salsa' is a very special low carb recipe created and written by a personal friend. Thanks, Lonnie!
The low carb recipes below are in the free recipe eBook at the end of this article.
Dip and Spread Presentation Tips
Beds of lettuce, and hollowed-out tomatoes or peppers make smart 'veggie bowls' for dips.
Yes, we all remember the 'bread bowls' – hollowed-out loaves of bread filled with dip. If you can't resist, try Soul Bread with only 1 net carb per slice.
Soul Bread recipes are Atkins Induction friendly, all natural, free of gluten and flour, high protein and very easy to make with no rising!
Small containers and clear cups are beautiful, show off fresh veggies, and hold individual servings of dips neatly in place.
Fill them with your favorite low carb fruits and vegetables, and try themed or decorative cups.
Free Snack Recipes eBook
Grab all the recipes in a low carb snacks eBook. (Click the ebook image above to view, print or save.)
Almost Zero Carb Meal Plan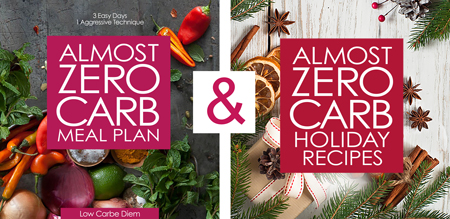 Enter deep ketosis, break your stall, recover from your cheat day, or reset your diet in three days using this aggressive technique, first made famous by Dr. Robert Atkins over 40 years ago.
Science-Backed and Powerful
The Almost Zero Carb Meal Plan is a powerful tool, allowing metabolically-resistant dieters to reach deep nutritional ketosis quickly.
What happens when you follow the plan? Incredibly rapid fat loss.
Ditch the Nervous Carb Counting
Choose from 150+ easy recipes and food combos (with special macros and almost no carbs), plus a special Holiday Recipe section!
Break your toughest diet stall.
Lose fat quickly for a special event.
Recover from an accidental cheat.
Avoid plateau completely: Use once a month.
Reach a deeper state of ketosis over the weekend.
Finally access and burn stubborn, stored fat.
Restart or reset your low carb or keto diet.
Add healthy fats effortlessly.
Decrease hunger naturally.
Sharpen your sense of portion control.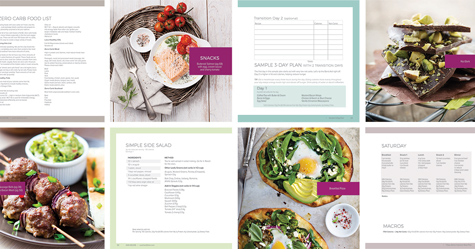 If You're Doing Everything (but Nothing's Working)…
Take three days off. Create a personalized plan that works, with a decadent variety of workhorse recipes you'll keep eating long after reaching your goal.
Go Almost Zero and start burning fat with your next meal. Fit in those jeans again. In three days.
Category: Recipes