If you're short on time, don't like cooking or want to stay in ketosis without chewing on sticks of butter, Bulletproof® Coffee is your answer.
Bulletproof® Coffee recipes (desserts and drinks)
Avoiding the big mistakes
Fasting with Bulletproof® Coffee
Popular by Design, Healthy by Definition
Bulletproof® Coffee is popular for a reason. This high-powered mix is the genius brainchild of Dave Asprey – a rich and frothy cup, with a velvety taste and metabolic advantage.
Dave's Bulletproof® Coffee offers fat-burning and health benefits far above traditional, keto butter coffee.
(Spoiler Alert: One special ingredient has four times the ketone energy of coconut oil.)
What is Bulletproof® Coffee?
Bulletproof® Coffee is an upgrade for your regular cup of Joe.
Healthy fats are blended and frothed into freshly brewed coffee, achieving a cup satisfying enough to double as a morning meal.
What's in Bulletproof® Coffee?
This special fat-burning, health-improving, energy-giving coffee is almost 100% fat and made from three basic ingredients:
What's in it for You?
You'll stay full for hours, achieving better health, better digestion, better fat-burning and all-day, steady energy.
Why Drink Bulletproof® Coffee?
This new-and-improved version leaves you full, focused and energized for hours, crash-free – guaranteed.
Low carbers have many reasons besides weight loss for drinking Bulletproof® Coffee:
Helps you stay in ketosis
Accelerates stored fat loss
Improves digestion
Promotes muscle gain
Boosts brain power
Increases mental clarity
Bumps up energy levels
Fat-Burning Ingredients
How does Bulletproof® Coffee help burn fat so quickly? Grass-fed butter and Brain Octane® oil.
Of course, a little caffeine helps, too.
For maximum weight loss results, enjoy Bulletproof® Coffee on an empty stomach – preferably at the start of your day.
Bulletproof® Coffee goes through a rigorous, carefully engineered Bulletproof Process™, ensuring you get the cleanest cup every time.
Each batch of Bulletproof® Coffee beans is lab tested for 27 toxins (including mold toxins that survive coffee-roasting temps), so each cup gives a clear-headed, energized focus.
Bulletproof® Coffee is also available in pods!
Brain Octane® oil burns fat rapidly, and supports healthy digestion and immune function. Fats from Brain Octane® oil aren't stored. Instead, they're used immediately for energy.
Dave's oil has at least 10 times the (C8) Caprylic acid (14g) per tablespoon as in one tablespoon of Coconut oil (1.4g).
Brain Octane® oil works in meals, drinks, tea, smoothies and salad dressings. Add to any food or drink for an amazing boost.
Brain Octane® oil converts into energy faster than other oils, ignites your body's metabolic rate and helps maintain healthy levels of cholesterol.
Bulletproof® Ghee is clarified over an open flame to remove nearly all casein and lactose.
Bulletproof® Ghee is all natural, gluten-free, non-GMO, has delicious, buttery taste and is made from grass-fed butter.
How To Make Bulletproof® Coffee
Dave's video demonstrates a simple version of how to make basic, but perfectly blended Bulletproof® Coffee in less than a minute.
Perfect Hot Bulletproof® Coffee
– a modified spin of Dave's original Bulletproof® Coffee recipe. (This version has added flavoring or sweetener.)

Ingredients
2 tbsp unsalted grass-fed butter (or Bulletproof® Ghee)
1-2 tbsp Brain Octane® oil
2 cups Bulletproof® Coffee, freshly brewed
add-in spices, flavors, extracts or sweetener like stevia (optional)
Instructions
Brew Bulletproof® Coffee using your favorite method. This method may be espresso, drip, french press, Keurig, etc. Yes – Dave's coffee comes in pods!!
Preheat blender. Pour hot water into your blender while your Bulletproof® Coffee is brewing.
Blend and froth.
Empty the hot water from the (now preheated) blender. Add Bulletproof® Coffee, butter or (grass-fed Bulletproof® Ghee), and Brain Octane® oil.
Add Optional Extras:
Try shredded unsweetened coconut, cinnamon, vanilla, dark chocolate, flavored sugar-free syrups or sweetener.
Blend until a thick, foamy layer forms on top.
Using Hand-Held Blenders
Yes, you may use a hand held blender instead. Battery powered, pocket-size mini frothers are inexpensive and work great.
Fast and Powerful
Cuisinart's Smart Stick hand blender is a best-selling workhorse. It's multi-speed, durable, available in many colors and downright fun.
Use your stick blender for low carb sauces, shredding chicken for chicken salad, and instant whipped cream or keto mousse.
Frozen Bulletproof® Coffee Shots
Pour freshly frothed Bulletproof® Coffee into chilled shot glasses. Top with whipped cream, add a small spoon, straw or stick, and place into the freezer until firm.
Warm the shots in your hands just before eating so they release from the glass or container easily.
Spike it: Add your favorite liqueur or flavored extract.
Frozen Layered Pops
Add extra whipped heavy cream to your prepared Bulletproof® Coffee and chill in the freezer for 30 minutes. Remove and mix well.
In small containers or pop molds, pour alternate layers of chilled Bulletproof® Coffee, and vanilla extract-flavored whipped cream.
Freeze 30 minutes between layers, or simply pour the Bulletproof® Coffee layer first, adding the whipped cream on top.
Big Bulletproof® Coffee Mistakes
Dave's recipe for Bulletproof® Coffee is carefully designed. Certain recipe changes will lower its positive effects.
Don't make these mistakes:
Choosing the Wrong Type of Coffee
Not all coffee is equal.
The wrong coffee (those containing mycotoxins) will zap your energy, leaving you lethargic and irritable.
Choose high quality, lab-tested Bulletproof® Coffee to avoid chemicals.
Choosing Regular Butter
Only use grass-fed butter like Kerrygold.
Butter from grain-fed animals has a different fat composition. Traditional butter doesn't blend as well, doesn't taste as good, and lacks fat-soluble vitamins.
Don't use low-fat or butter substitutes!
Skipping Ingredients
Butter alone does NOT make it Bulletproof® Coffee.
The Brain Octane® oil in your Bulletproof® Coffee helps burn fat rapidly, promotes high energy and increases brain function.
Dave's special oil also gives a velvety feel in your mouth.
Substituting
Don't use Bulletproof® Coffee to replace meals often.
Bulletproof® Coffee is very filling, so this will be tempting.
A few times a week is acceptable long-term, but replacing a meal means you'll be missing out on vital nutrients and protein.
Mixing by Hand
Blend, blend, blend… or it won't taste the same.
Stirring won't emulsify your Bulletproof® Coffee. To get that rich, creamy texture you MUST use the proper ingredients and a thorough blender.
Sweet Sabotage
If you must add sweetener, go natural.
Try xylitol, erythritol or stevia. Use caution when adding sugar-free flavored syrups.
The extra carbs add up quickly and may cause cravings, stalls or act like sugar in the body for some low carbers.
Liquid De-Bittered Stevia
De-Bittered Stevia has no unpleasant aftertaste. This blend has none of the characteristic bitterness of typical stevia sweeteners.
Zero carb and zero glycemic impact.
Bulletproof® Coffee Recipes
Bulletproof® Coffee recipes are in demand for several reasons: amazing taste, that full-but-lean feeling, greater focus and added energy.
Bulletproof® Hot Cocoa
High fat hot cocoa mixes up quickly and works hot or cold.
Ginger Bulletproof® Coffee
Soothe your stomach, calm inflammation and burn stored fat using Bulletproof® Coffee and ginger.
Bulletproof® Green Tea
Matcha green tea enhances health. This low carb version also burns fat.
Bulletproof® Cocoa Mousse
A fat-burning dessert. What's not to like? Add berries for extra fiber and flavor, or top with citrus zest and whipped cream.
Bulletproof® Coffee Ice Cream
If breakfast ice cream existed, this would be the go-to favorite. Low carb ice cream plus a caffeine kick? This qualifies as multitasking.
Strawberry Bulletproof® Coffee Pops
Burn more fat on the go with brightly flavored, healthy high fat pops. Enjoy a double serving of the low calorie version.
Pumpkin Bulletproof® Latte, Frap & Ice Cream
All the health benefits of pumpkin in a spice-bitten latte. Serve this drink hot or over ice.
Try a Frappuccino

Low carb pumpkin frappuccino coffee cubes. Add cream and blend for an instant icy, frothy drink.
Bulletproof® Pumpkin Ice Cream
Use the rest of your pumpkin in a fat-burning ice cream. Makes an unexpected recipe for the Holidays!
Bulletproof To Go
Outside your kitchen? Take your Bulletproof® Coffee with you. These packs, drops and gummies transform any drink into a fat-burning, Bulletproof® Coffee version.
Bulletproof® Coffee Gummies
Portable energy shots with the added benefit of grass-fed gelatin.
Bulletproof® Coffee Packs
Mocha Bulletproof® Coffee packs for travel and fast morning drinks. (Modified recipe; Image from Imgur.)
Bulletproof® Coffee Blocks
Easy, drop-in coffee blocks turn any hot beverage into a fat-burning machine. (Recipe inspired from Stalkerville.)
Intermittent Fasting with Bulletproof® Coffee
Bulletproof® Coffee fasting is like intermittent fasting, except you are consuming Bulletproof® Coffee recipes in the morning.
What makes Bulletproof® Coffee Fasting so much better?
Healthy fats from grass-fed butter and

Brain Octane® oil 

provides a stable current of energy, sustaining you through the entire day.
Brain Octane® oil increases ketosis, boosting metabolic rate, and leading to greater fat loss.
Bulletproof® Coffee raises cell energy while inhibiting muscle-building for a brief period. This causes the muscles to 'spring back,' building more muscle as soon as you eat.
Intermittent fasting extends your life, improves brain function and strengthens your immune system.
Bulletproof® Coffee Accessories
The Blender bottle's patented mixing system uses a 316 surgical-grade stainless steel Blender Ball to mix perfect Bulletproof® Coffee, protein shakes, smoothies, pancake batter, home made ice cream… Anything!
Dishwasher safe, BPA and phthalate-free
3 sizes: 20 oz, 28 oz and 32 oz
The Bulletproof® Diet
The unconventional Bulletproof® Diet Plan urges you to skip breakfast, stop counting calories, eat high levels of healthy saturated fat, exercise less, sleep better and tap into more stored fat for energy.
Gain energy, build lean muscle, and watch the pounds melt off.
The Bulletproof® Cookbook
The Bulletproof® Cookbook guides you through delicious Bulletproof® meals, featuring 125 of Dave's best.
Source
Bulletproof® and Brain Octane® are registered trademarks owned by Bulletproof Digital, Inc.
Almost Zero Carb Meal Plan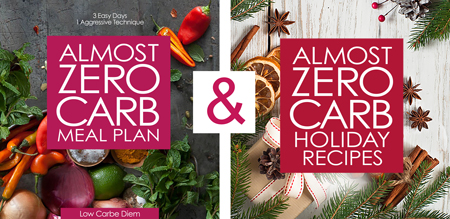 Enter deep ketosis, break your stall, recover from your cheat day, or reset your diet in three days using this aggressive technique, first made famous by Dr. Robert Atkins over 40 years ago.
Science-Backed and Powerful
The Almost Zero Carb Meal Plan is a powerful tool, allowing metabolically-resistant dieters to reach deep nutritional ketosis quickly.
What happens when you follow the plan? Incredibly rapid fat loss.
Ditch the Nervous Carb Counting
Choose from 150+ easy recipes and food combos (with special macros and almost no carbs), plus a special Holiday Recipe section!
Break your toughest diet stall.
Lose fat quickly for a special event.
Recover from an accidental cheat.
Avoid plateau completely: Use once a month.
Reach a deeper state of ketosis over the weekend.
Finally access and burn stubborn, stored fat.
Restart or reset your low carb or keto diet.
Add healthy fats effortlessly.
Decrease hunger naturally.
Sharpen your sense of portion control.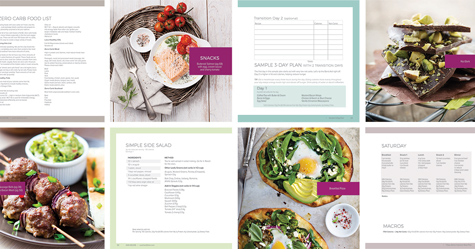 If You're Doing Everything (but Nothing's Working)…
Take three days off. Create a personalized plan that works, with a decadent variety of workhorse recipes you'll keep eating long after reaching your goal.
Go Almost Zero and start burning fat with your next meal. Fit in those jeans again. In three days.
Category: Recipes, Stall Busters