Imagine a world where nervous carb counting doesn't exist.
If you're starting low carb, speeding up ketosis or in Atkins Induction, zero carb foods will set you free.
Tips for going zero carb
How to read no carb food labels
Real life zero carb food experience and 6 week food log
Printable list of no carb foods
Almost zero carb meal plan
The list of low carb foods is HUGE. Zero carb foods are more limited, especially in the fruit and veggie area. But there are still over 100 choices for richly satisfying meals.
Finding foods with zero carbs isn't hard (anymore.)
Use our zero carb and (almost) zero carb food lists, read package labels carefully and be pleasantly surprised at all the options.
No Carb Food Labels
Many food labels list foods as having zero carbs. Labeling laws allow food companies to print "zero grams" on the label if the food has less than one gram of carbs.
Sugar substitutes, cheese, eggs and spices are common examples of this situation. If you're being extra cautious, count them as 0.5g net carbs per serving.
Almost Zero Carb Meal Plan
The Almost Zero meal plan is three easy days, one aggressive technique and major fat loss. The plan is designed to break even the worst stall and burn large amounts of stored fat.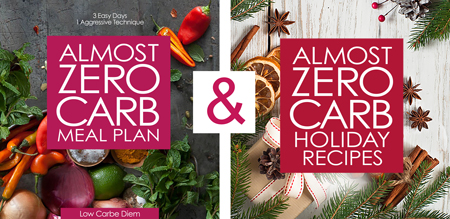 Using the Almost Zero List
Technically speaking, fats are the only foods that are completely zero carb. Even meats and seafood have trace amounts.
What You Must Know:
The foods on this list have very minor amounts of net carbs – fractions of a gram. These foods are so close to zero, most low carbers consider them 'no carb foods.'
The "almost" zero carb foods are a bit higher, but a single serving from the list is still under 1 net carb.
One Warning:
Track your servings. Trace amounts of carbs really add up.
Grab the List

There are zero carb foods in almost every food group, so it's easy to enjoy a variety of foods when going super low.

Grab a copy of the almost zero carb foods list here.
Zero Carb Meat
High in protein and vitamins, most natural meats have zero carbs.
Packaged, cured and processed meats (sausage, hot dogs, deli meat, bacon, etc.) have some carbs due to added flavoring, preservatives or starchy binders.
Be sure to check the labels.
These natural meats have no carbs:
Beef
Veal
Lamb
Pork
Fowl (turkey, chicken, duck, goose, hen, quail)
Organ Meats (brains, tongue, liver, heart, kidneys)
Game Meats (venison, bison, ostrich, caribou, elk)
Exotic Meats (such as ostrich and emu)
Zero Carb Seafood
Fresh (unprocessed) seafood is zero carb:
Cod
Flounder
Sole
Haddock
Halibut
Sardine
Swordfish
Tuna
Trout
Salmon
Catfish
Bass
These options have trace carbs:
Crab
Shrimp
Lobster
Squid
These options have a bit more:
Oysters (count .35 net carbs per oyster)
Mussels (count .38 net carbs per mussel)
Clams (count .35 net carbs per clam)
Zero Carb Seasoning
Flavoring zero carb foods makes them much more palatable.
Salt and Pepper
Vinegar
Ground Cinnamon
Most Hot Sauces
Pre-mixed Seasonings (check the label)
Yellow Mustard
Dill weed
Chives, Basil, Oregano, Rosemary, Thyme, etc.
Zero Carb Oils and Fats
The following fats and oils have zero carbs:
Olive oil
Grass-fed butter
Walnut Oil
Fish oil
Animal Fats (including lard)
Less healthy oils:
Mayonnaise (check each label)
Vegetable Shortening
Sesame oil
Organic Coconut Oil
Coconut oil is high in Medium Chain Triglycerides, or (MCT) fatty acids. These fats are metabolized differently.
Coconut oil is used immediately for energy – not stored.
Carrington farms organic coconut oil is gluten free, non-GMO, free of hydrogenated and trans fats, Kosher and zero carb.
High Performance MCT Oil
Left Coast's pure MCT oil blend is easier to absorb and digest.
MCT converts into energy faster than other oils, ignites your body's metabolic rate and helps maintain healthy levels of cholesterol.
Zero Carb Binders
Unflavored, powdered gelatin is a high protein, zero carb food. Gelatin strengthens hair and nails, helps skin stay elastic and helps with sleep.
Low carb guru, Dana Carpender has excellent ideas for adding gelatin:
    "I intend to start adding gelatin to things, too. In particular, I plan to mix gelatin into ground meat dishes, from burgers to meat loaves to chili.

Why not? It's flavorless. I'm betting in the burgers and meat loaves it holds moisture, and acts as a binder.

I've also started adding pork rind crumbs to a lot of ground meat recipes, not only for flavor, but for the gelatin."

– from Hold The Toast "Gelatin Blowing My Mind")
Use zero carb gelatin as a binder for ground meat, or add to lemonade for a filling, protein boost.
Zero Carb Beverages
These beverages are zero carb:
Water
Sparkling Water
Club Soda
Coffee
Tea
Diet Soda (watch the artificial sweetener)
Zero Carb Sweeteners
Companies advertise aspartame, sucralose, saccharine and stevia as no carb sugar substitutes. However – the powder and granular ones usually contain trace amounts of carbohydrate fillers.
It only takes a little to go a long way. Use a sprinkle.

Note: Artificial sweeteners can affect insulin the same way sugar does, so watch your progress, use sparingly and with caution.
Liquid De-Bittered Stevia
EZ-Sweetz's de-bittered stevia blend has no unpleasant aftertaste. This blend has none of the characteristic bitterness of typical stevia sweeteners.
Zero Carb Alcohol
Use alcohol with caution. Your body burns alcohol before it burns fat for fuel. When you have metabolized all the alcohol, your body will return to burning fat.
Alcohol knocks some low carbers out of ketosis for several days after drinking alcohol. Everyone is different, so watch your progress and adjust if necessary.
Gin
Rum (unflavored)
Vodka (unflavored)
Whiskey
Tequila
Scotch
(Almost) Zero Carb Foods
This list of almost zero carb foods really expands your options without compromising your plan.
A single serving of these foods contains less than 1 net carb. Measure carefully and spread your extra carbs throughout the day.
Almost Zero Fruits and Veggies
Many of the leafy green vegetables (spinach, lettuce, celery, kale, turnip greens) are great choices for going zero carb.
Although commonly thought of as vegetables, avocados are fruit, almost zero carb and a source of healthy fat.
Raspberries are high in fiber and are great to sprinkle over a salad or top with whipped cream.
Serving size: 1/2 cup
Spinach .2
Parsley .4
Avocado .5
Radish .5
Lettuce .25
Bok Choy .7
Celery .8
Serving size: 1/4 cup
Mushrooms .5
Garlic (1/2 clove) .5
Pokeberry Shoots .5
Cabbage .5
Asparagus (3 pieces) .6
Coconut .5
Yellow Squash .7
Raspberries .7
Cauliflower .7
Broccoli .8
Cucumber .9
Almost Zero Eggs and Dairy
Eggs
Eggs are so versatile: fried, scrambled, omelets, quiche, boiled, deviled and of course – egg salad.
Eggs  .2 to .7 per egg (check the carton)
Eggs are almost zero carb, ranging from .2 to 1 net carb per egg. Organic, free-range, cage-free, etc. eggs have larger yolks, making them lower in carbs. Be sure to check each carton.
Heavy Cream
Most heavy whipping cream brands have less than 1 carb per tablespoon, even if the packaging declares "0 carbs."
Check labels carefully – each brand of cream is very different.
Heavy Cream  .4 net carbs per tablespoon.
Half-and-Half  .2 to 1 net carb per tablespoon.
Almost Zero Cheese
Most natural, unprocessed cheeses (no added flavors or ingredients) are 0 to 1 net carb per serving. Hard cheeses will be the lowest; softer, creamy cheeses will be the highest.
The following cheeses and net carb amounts are from FatSecret, Popular Cheeses. When in doubt, check each label.
Serving size: 1 oz = 1″ cube = 1/4 cup grated (approx.)
Asiago .9
Blue .6
Brie .1
Camembert .1
Cheddar .3
Colby .7
Edam .4
Fontina .4
Goats .6
Gouda .6
Gruyère .1
Havarti .7
Mexican Blend Cheese .5
Monterey .1
Mozzarella .6
Muenster .3
Neufchatel .1 to .8
Parmesan .9
Provolone .6
Ricotta .8
* This list goes on and on… Be adventurous and try something new!
Tips for Going Zero Carb
You've decided to go low – really low. These three easy tips simplify starting your zero carb diet.
Give yourself a few days to prepare.
Check your fridge and cabinets, move any higher carb foods to the side, and fill the space with your favorite no carb foods.
Plan a zero carb grocery trip and stock up!
Focus on what you ARE allowed to eat.

Zero carb foods are savory and delicious. You won't feel like you're depriving yourself.
Have fun. Try new things.
If you are eating foods with no carbs, you are cooking more often. Having some fun with your food is a good way to build positive associations.
Real Life Zero Carb Food Log
What's it really like to go zero carb? Rebecca Latham of Low Carb Better Health went zero carb, keeping food logs for six weeks:
    "I am eating meat, a small amount of dairy, some healthy fats and I am drinking water only.

I have also been eating Fat Bombs, which contain almond butter, cocoa power and Stevia.

I am carefully tracking what I am eating. Here is what I have learned so far about how my blood sugar reacts to food."
Almost Zero Carb Meal Plan
Enter deep ketosis, break your stall, recover from your cheat day, or reset your diet in three days using this aggressive technique, first made famous by Dr. Robert Atkins over 40 years ago.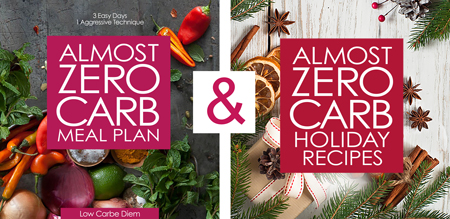 Science-Backed and Powerful
The Almost Zero Carb Meal Plan is a powerful tool, allowing metabolically-resistant dieters to reach deep nutritional ketosis quickly.
What happens when you follow the plan? Incredibly rapid fat loss.
Ditch the Nervous Carb Counting
Choose from 150+ easy recipes and food combos (with special macros and almost no carbs), plus a special Holiday Recipe section!
Break your toughest diet stall.
Lose fat quickly for a special event.
Recover from an accidental cheat.
Avoid plateau completely: Use once a month.
Reach a deeper state of ketosis over the weekend.
Finally access and burn stubborn, stored fat.
Restart or reset your low carb or keto diet.
Add healthy fats effortlessly.
Decrease hunger naturally.
Sharpen your sense of portion control.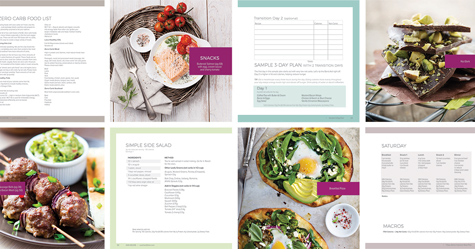 If You're Doing Everything (but Nothing's Working)…
Take three days off. Create a personalized plan that works, with a decadent variety of workhorse recipes you'll keep eating long after reaching your goal.
Go Almost Zero and start burning fat with your next meal. Fit in those jeans again. In three days.
Category: Food Lists