Sugar-free chocolate bark with keto macros is only ten minutes away.
It's hard to beat the savory, nutty aroma of freshly roasted pistachios (or almonds, macadamias, walnuts, pecans…)
Velvety chocolate and crunchy nuts (and only 2 net carbs) make a sugar-free keto bark hearty enough to quell even the most aggressive salty-sweet cravings.
Recipe featured in the Almost Zero Carb Meal Plan.

Dark Chocolate Keto Bark
Per Serving: 151 calories, 2 net carbs.
Servings: 12
Ingredients
1 oz pistachio nuts (about 25 in‐shell nuts), toasted and chopped (Sub almonds, macadamias, walnuts, pecans.)
1/3 c unsweetened coconut flakes
3 1/2 oz dark chocolate, 85% (Sub gluten-free Lily's stevia-sweetened chips.)
1/2 c coconut butter
1/2 tsp vanilla extract
1/4 tsp almond extract, optional
10 drops liquid stevia (or equiv), to taste (Try chocolate stevia.)
1/4 tsp sea salt, coarsely ground
Directions
Preheat the oven to 350 F. Toast shelled pistachios and coconut flakes on a lined baking sheet.
Important:
Coconut flakes brown quickly, so pile these on one side of the baking sheet and remove from oven early.
Toast 5 to 8 minutes, tossing once or twice to prevent burning if necessary. Remove from oven and set aside to cool.
In a double boiler, melt cocoa butter and chocolate over low heat. Add in cocoa powder, stevia and salt, stirring gently until well mixed.
Remove from heat, stir in vanilla and almond extracts.
Pour onto a parchment paper lined baking sheet. (You may also use a piece of plastic wrap on a baking sheet, a flexible cutting mat, or silicone chocolate bar molds.)
While chocolate is still warm, sprinkle with toasted coconut flakes and roasted nuts. Let cool, break apart your sugar-free chocolate bark, and eat.
Nutrition
Per Serving: 151 Calories; 15g Fat (86.0% calories from fat); 1g Protein; 4g Carbohydrate; 2g Dietary Fiber.
Click to print or save this recipe:
Special Ingredients
De-Bittered Stevia has no unpleasant aftertaste. This blend has none of the characteristic bitterness of typical stevia sweeteners.
Zero carb and zero glycemic impact.
Chocolate stevia adds a special punch of flavor – without adding more cocoa, actual chocolate or net carbs.
This version of stevia is a great way to add rich flavor to your sugar-free chocolate bark – without adding more chocolate (and more net carbs.)
Unsweetened shredded coconut toasts quickly to a golden-brown, adding incredible flavor and crunch in an instant.
Coconut shreds increase your healthy, medium chain triglyceride fats. Coconut fats aren't stored. Instead, they're used immediately for energy.
Organic coconut butter replaces spreads, cream, cream cheese and butter. Naturally cholesterol-free. Add to smoothies, sauces, dressings and desserts.
Lily's premium dark chocolate baking chips are your low carb solution for recipes, and perfect for this sugar-free chocolate keto bark recipe.
Lily's stevia-sweetened chips melt and blend easily – with no bitter aftertaste like many stevia infused products.
All-natural, non-GMO ingredients. Fair trade and gluten-free.
Easy-release chocolate bar molds make any bark feel like a read candy bar. This set of two is made of BPA-free, non-toxic food grade silicone.
Each chocolate bar mold holds 3 oz for 24 squares – the ultimate in portion control.
Prep, Portion and Cash Control
Save Prep
Roasted whole nuts are much easier to chop than raw whole nuts.
Roast nuts on a parchment paper or foil lined baking sheet. Let cool, carefully fold the foil or paper over in half, and use the bottom of a glass or rolling pin to crush the nuts.
Save Cash
Better yet, buy your nuts already chopped. Chopped nuts are cheaper per pound than whole or halved.
Save Calories and Carbs
Drop small spoonfuls of your melted mix onto parchment paper, creating one-inch chocolate dots.
Make smaller (half-size or mini), single servings in paper or foil liners, then store in a sealed container in the fridge or freezer.
Cold chocolate and nuts take a little longer to eat. Slow down, take a few extra minutes and fully enjoy your treat.
Almost Zero Carb Meal Plan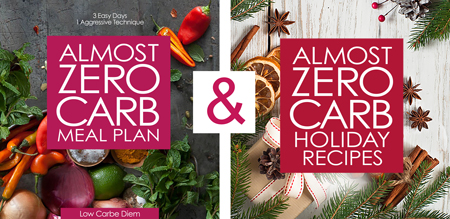 Enter deep ketosis, break your stall, recover from your cheat day, or reset your diet in three days using this aggressive technique, first made famous by Dr. Robert Atkins over 40 years ago.
Science-Backed and Powerful
The Almost Zero Carb Meal Plan is a powerful tool, allowing metabolically-resistant dieters to reach deep nutritional ketosis quickly.
What happens when you follow the plan? Incredibly rapid fat loss.
Ditch the Nervous Carb Counting
Choose from 150+ easy recipes and food combos (with special macros and almost no carbs), plus a special Holiday Recipe section!
Break your toughest diet stall.
Lose fat quickly for a special event.
Recover from an accidental cheat.
Avoid plateau completely: Use once a month.
Reach a deeper state of ketosis over the weekend.
Finally access and burn stubborn, stored fat.
Restart or reset your low carb or keto diet.
Add healthy fats effortlessly.
Decrease hunger naturally.
Sharpen your sense of portion control.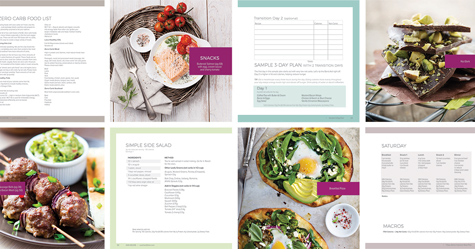 If You're Doing Everything (but Nothing's Working)…
Take three days off. Create a personalized plan that works, with a decadent variety of workhorse recipes you'll keep eating long after reaching your goal.
Go Almost Zero and start burning fat with your next meal. Fit in those jeans again. In three days.
Category: Desserts