Eating low carb bread on your diet is easier than you think. Ready-made low carb bread, baking mixes and the Best Low Carb Bread Recipe make it possible.
Three plans for eating bread: Yes, No, Maybe?
Best low carb bread recipe
Bread alternatives, breads to avoid
Printable low carb bread list
Low carb diets are generally easy to follow, but bread cravings happen. Crispy, fluffy, buttery bread – Should you give in?
Bread is easy and adds variety to your diet. Sometimes it's necessary in recipes or when eating low carb outside the home.
There are three basic options for eating bread on a low carb diet. Thankfully, each plan of attack is filled with low carb possibilities.
3 Plans for Eating Bread
Plan 1: Say yes and eat bread.
Plan 2: Give it up completely.
Plan 3: Lessen the blow with compromise.
1. Say Yes to Bread
Do you have strong willpower?
Are you militant about counting carbohydrate grams?
Are you willing to limit the type or amount of bread in your diet?
If so, eating bread is an option for you.
Yes Isn't Puppy Dogs and Rainbows
Bread is made from carbs, either wheat, grain based flours or other all-carb flours. There may be added fat or sugars, but bread is mostly made of carbs.
The best way to get "low carb bread" without doing anything special is to eat less of it.
Measure each portion carefully, and relish the treat.
Eat bread sparingly or only on special occasions, and don't keep it in the house.
Put plenty of meat, cheese, low carb veggies or protein in your sandwich and only eat half.
Grilled open-faced sandwiches are a good compromise at cookouts and BBQs.
Bread Warnings

Adds extra carbs. Is it worth it?
Eating bread might revive old carb cravings.
Bread is easy to over eat.
Give your decision some thought. You can change your plan later as you become more comfortable with your low carb diet.
2. Bread? Sort Of
Would you like to enjoy bread on a regular basis?
Would you like to try recipes you couldn't enjoy before without worrying about carbs?
There are several solutions for you:
Low glycemic breads, low carb breads: ready-made or from a recipe, low carb bread from mixes, and a variety of low carb bread alternatives.
Low GI Bread
Low glycemic index, or low GI bread can be bought ready-made in stores, or baked at home from a low carb bread recipe.
Low GI breads are not necessarily low carb bread, but they will release glucose into your blood stream at a slower rate and are often healthier than white bread.
Select bread that is as natural as possible.
Do not select refined, white flour breads.
Whole meal, whole grain bread is lower on the glycemic index.
Ready-Made Low Carb Bread
Thankfully, there are now many delicious, affordable low carb breads on the market. These low carb breads use soy flour, rye flour and sugar substitutes (such as Splenda) for sweetness.
Easily Available Low Carb Bread
Wonder Light Wheat: 6 net carbs, 40 cal /slice
Arnold Bakery Light 7-Grain: 12 net carbs, 40 cal /slice
Trader Joe's Sprouted Bread: 4 net carbs, 50 cal /slice
Sara Lee Multigrain Bread: 10 net carbs, 45 cal /slice
Schmidt Old Tyme Double Fiber Bread: 2 net carbs /slice
Low Carb Bread Recipes
The basis of any good bread is flour. Replace this flour with a low carb alternative to make your own low carb bread from a recipe.
Soy, almond and coconut flours are easy to find, and excellent alternatives for low carb bread baking.
This low carb bread recipe was voted "Best Low Carb Bread" by low carb dieters on Food.com:
Ingredients
1/2 cup water
1 egg
1 tbsp butter
2 tbsp Splenda
1/3 c ground flax seeds
1/4 c soy flour
3/4 c wheat gluten flour
1 tsp dried yeast
Directions
Using a 1 pound capacity bread machine, combine ingredients according to the order given in your bread machine manual.
Select the "light" browning setting.
Don't remove the bread until it has cooled.
Cut into slices, and store, covered, in the refrigerator.
The entire loaf has about 20 carbs. When you slice it, divide the total carbs by the number of slices. 10 slices equals 2 carbs per slice.
Low Carb Bread from Mixes
It's easy to make your own low carb bread from a mix. Almost any bread-type food can be made low carb.
Recommended

Low carb bread mixes (such as Atkins Diet Bake Mix
Cornbread mix
Low carb pizza crust mix
Baking mix for muffins, pancakes, cakes and cookies
Low Carb Bread Alternatives
There are many low carb 'bread-like' alternatives. Tortillas, wraps, crispbreads and pita pockets are available online and in grocery stores.
Tortillas
Choose corn tortillas over flour. Use tortillas as a pizza crust.
La Tortilla Factory Low Carb Wraps: Most are 80 calories, but the smaller one is 50 calories.
Mission Low Carb Tortillas: 5 or 7 Net carbs per 8″ tortilla
Pita Pockets
Pita pockets are an excellent sandwich alternative. Pita replaces flat breads, and may also be used as a pizza crust.
Joseph's Pita Bread: Available at Walmart in the bakery section. Low carb and only 60 calories for each whole pita. Joseph's pita bread is made with flax and omega 3. (Thin but good.)
Bagels
Most bagels are not low carb bread alternatives, but more low carbohydrate options are becoming available every day.
The Western Bagel Perfect 10 Bagel: 10 net carbs, low-calorie and hearty.
Wraps
Low carb wraps hold anything but soup, and are the perfect travel or lunch box substitute for bread.
Flat Out Wraps: 100 calories per wrap, and very high protein: 9 gm/wrap.
Rice, Rice Crackers, Rice Chips, Crispbreads
Choose brown or multigrain rice over white rice. Perfect alternative for chips, crackers, pasta and breading.
Wasa Crispbreads: 20 calories per slice.
Wasa Light Crisps: 60 calories per 3 pieces.
3. No Bread, No Way
Don't want to risk it? Go bread-less and use low carbohydrate foods instead of bread.
Low carb veggies, proteins, meats, cheeses and skewers provides all the flexibility and crunch you're looking for:
Use Low Carb Vegetables
Try stuffing tomatoes, green peppers or potato skins with meats, cheese or low carb veggies. Bake, grill, or chill and eat raw.
Use firm vegetables for stuffing- they store and travel easily.
Low Carb Lettuce Boats
Lettuce boats are always a good low carb bread alternative. Fill with savory sandwich fare, chicken salad and feta, burrito filling, or spicy Asian flavors. (above left)
Mix together fresh shrimp cooked in lime juice and tossed with tomato, avocado and chilies. Serve in endive leaves for a delicious, healthy and light low carb appetizer. (above right)
Low Carb Lettuce Wraps
Spinach, steamed cabbage, kale, or Swiss chard leaves are perfect to wrap around or hold low carb veggies, meats and herb cream cheese spreads.
To make lettuce wraps brown bag-friendly, use the largest lettuce leaves you can find. Romaine lettuce wraps up tightly, preventing spills.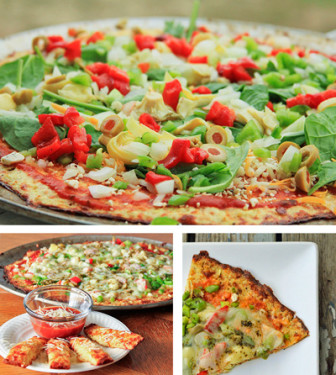 Low Carb Cauliflower Crust
Cauliflower can be grated or shredded and used as a crust for "Caulipizza" and "Caulisticks."
Low Carb Portobello Buns
Use grilled eggplant slices or Portobello mushrooms to serve as buns to low carb veggies, a hamburger or smoked cheese.
Use Skewers
Skewers are a common way to hold foods together without using bread.
Simple Low Carb Skewers
Try this tangy Italian Skewers recipe from Southern Living. (above left)
Ingredients
1 (8-oz.) block mozzarella cheese
16 (4-inch) Genoa salami slices
1 (14-oz.) can small artichoke hearts, drained and halved
1 pint grape tomatoes
1 (6-oz.) jar large pitted Spanish olives, drained
16 (6-inch) wooden skewers
1 (16-oz.) bottle balsamic-basil vinaigrette
1 tablespoon fresh lemon juice
Cherry tomatoes and lettuce are a classic topping for mini burgers or meatballs on skewers. (above right)
Use Cheese
Cheese is naturally low carb and can be shredded, baked and formed into almost any shape.
Bake shredded mixed cheeses and low carb veggies on a cookie sheet to make low carb cheddar jalapeno crackers. (above left) Recipe from All Day I Dream About Food.
Craving something crispy? Parmesan and Romano cheese bowls (above right) pack a powerful crunch. Bake cheese until bubbly, form into desired shape using a mug or bowl, and cool until firm.
Low Carb  Parmesan Chips
Combine cauliflower and grated Parmesan cheese with chopped veggies or herbs. Bake on a cookie sheet until lightly browned for crispy chips.
Use Low Carb Protein
Pack low carb vegetables, cheese or deli meat between the two slices of toasted tempeh (above left). The thick nutty texture works well as a low carb bread substitute.
Deli meat works great for wraps. Tip: Use creamy fillings and chill overnight for firmness. (above right)
Make a "bun" with egg whites and lots of seasonings. Great for low carb breakfast sandwiches.
Use Bacon!
Mini Bacon Quiche
Wrap bacon around the edges of muffin cups or muffin tins. Add low carb veggies, your favorite quiche mixture, and bake.
Mini Bacon Guacamole Cups
Low Carb and Gluten-Free Recipe from All Day I Dream About Food. Each serving (3 bacon cups) has 5.3 carbs, 3.8 fiber, 1.5 net carbs.
Printable Low Carb Bread List
Grab the printable list of 33 whole grain, high fiber low carb breads, buns, tortillas and wraps with 10 net carbs or less.
Almost Zero Carb Meal Plan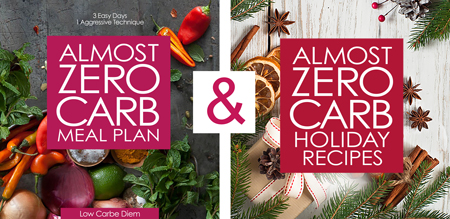 Enter deep ketosis, break your stall, recover from your cheat day, or reset your diet in three days using this aggressive technique, first made famous by Dr. Robert Atkins over 40 years ago.
Science-Backed and Powerful
The Almost Zero Carb Meal Plan is a powerful tool, allowing metabolically-resistant dieters to reach deep nutritional ketosis quickly.
What happens when you follow the plan? Incredibly rapid fat loss.
Ditch the Nervous Carb Counting
Choose from 150+ easy recipes and food combos (with special macros and almost no carbs), plus a special Holiday Recipe section!
Break your toughest diet stall.
Lose fat quickly for a special event.
Recover from an accidental cheat.
Avoid plateau completely: Use once a month.
Reach a deeper state of ketosis over the weekend.
Finally access and burn stubborn, stored fat.
Restart or reset your low carb or keto diet.
Add healthy fats effortlessly.
Decrease hunger naturally.
Sharpen your sense of portion control.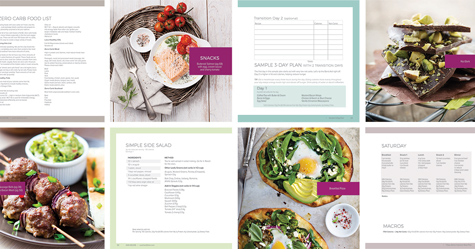 If You're Doing Everything (but Nothing's Working)…
Take three days off. Create a personalized plan that works, with a decadent variety of workhorse recipes you'll keep eating long after reaching your goal.
Go Almost Zero and start burning fat with your next meal. Fit in those jeans again. In three days.
Category: Strategy