It's possible to find low carb Indian food, but low carb diets generally aren't designed for eating Indian cuisine – without a few adjustments.
Modified plan for eating Indian on Atkins
Indian recipes for keto – from easy to expert
100+ Low Carb Indian Foods eBook
Keto recipes from real-life blogger, Priya Aurora
Low Carb Indian on Atkins? Yes. Follow the tips for each Atkins Phase, adding Indian foods as allowed.
Start with three, super easy low carb Indian recipes. If your cooking skills are more advanced, try one a classic Indian low carb recipe.
How to Eat Indian on Atkins
Eating Indian foods on low carb is challenging. Cauliflower and meats are good choices, but what's in that sauce? Is it Induction friendly?
This Indian variation of Atkins is broken down into the traditional Atkins Phases, with Indian food suggestions for each phase.
Indian for Atkins Phases
Atkins Induction Phase 1
In the first two weeks you can fit most low carb Atkins Induction foods into an Indian menu.
Focus on cooking with eggs, chicken breasts, fish, olive oil, cheese, yogurt, ricotta cheese and veggies.
Low carb Indian dishes such as Moong Dal Dosa (recipe below) and paneer fit perfectly into the Atkins Induction phase.
Marinate chicken breasts in tandoori masala spices and sautee, bake or grill.
Atkins Phase 2
Foods Reintroduced, Atkins OWL Phase Begins
Try phulka (dry roti) or a slice of brown bread topped with peanut butter for breakfast.
Make thin dosas out of besan (chickpea flour) and use them as a low carbohydrate substitute for roti.
Keep a jar of peanuts, almonds, walnuts and cashew nuts handy if hunger hits.
Atkins Phase 3
Atkins Pre-Maintenance Phase
Slowly add some higher carbohydrate veggies to your Indian dishes: Green peas, black eyed peas, rajma, chole, sprouts.
Add single carb-contolled servings of fruit: Mangoes, strawberries, apples, oranges, grapes, grapefruit, dried and fresh apricots, cantaloupe, cherries, peaches and plums.
Check the net carb counts in 43 low carb fruits.
Atkins Phase 4
Atkins Maintenance Phase, Life-Long
To increase your carb intake, eat a small amount of roti with every meal or have a single serving of brown, par boiled rice.
Continue to enjoy your favorite lower carbohydrate Indian foods, but sensibly.
Carbs in 100 Indian Foods – eBook

Great online resource for carb counts in Indian foods plus traditional (low carb) Indian ingredients: Carbohydrate Counting for Traditional Indian & Pakistani Foods.
This eight-page low carb eBook was developed by the Department of Nutrition and Food Science at San Jose State University.
Carb Counts for Indian Foods outlines the phases of the low carb diet and lists the carb counts of over 100 Indian foods, in serving sizes with 15 gm of carbs.
Source
Ashwini Wagle, M.S., R.D., Sajida Arsiwala, M.S., Bhavna Subhedar, and M.S., Kathy Sucher, Sc.D, R.D.
Keto for India Blog
Priya Aurora's blog, Keto for India features authentic low carb Indian recipes with great keto ratios.
Priya shares her success story, getting fit and losing weight by switching to a ketogenic lifestyle.
"My personal blog includes details about the keto diet, keto recipes, advice on food, living well, and exercise.

The journey has inspired me to share my story with all those looking for inspiration to lose weight and get healthy again." –Priya Aurora
Indian Recipes with Keto Macros
Short on Time?
Experiment with three, quick and easy low carb Indian recipes.
Feeling Adventurous?
Jump right in! Make a mad dash to your kitchen and "Indianize" dinner with something more sophisticated.
Hungry for More?
Explore 37 more low carb Indian recipes at Kitchen Daily.
Easy Keto Indian Recipes
Moong Dal Dosa
Soak moong overnight. Grind into a fine paste, along with cumin, coriander leaves and salt. Make thin dosas and relish it during lunchtime with a curry sauce or paste.
Tomato Omelet
Mix besan with chopped onions, tomatoes, green chilies, salt, turmeric and water. Spread mixture on a hot pan, creating a thin omelet. Flip eggs over after the cooking side is lightly browned.
Mocha Ricotta Crème
Mix together one half cup of ricotta cheese or crème, two packs Splenda, walnut or pecan bits and mocha (coffee). Top with mint or cinnamon for a delicious dessert.
Classic Keto Indian Recipes
Curry Roasted Shrimp with Oranges
25 min total, 0 min prep, 253 calories/serving, serves 4

Shrimp, oranges and curry make a great flavor trio. Serve over cauliflower, low carb vegetables or a small amount of rice.
Ingredients
2 large seedless oranges
1/2 teaspoon kosher salt, divided
1 1/2 pounds peeled shrimp
1 tablespoon extra virgin olive oil
1 tablespoon curry powder
1/2 teaspoon freshly ground pepper
Directions
Preheat oven to 400 F. Line a baking sheet with parchment paper. Finely grate the zest of 1 orange and set aside.
Using a sharp knife, peel both oranges, removing the bitter, white pith. Thinly slice the oranges crosswise, then cut the slices into quarters.
Spread the orange slices on the prepared baking sheet and sprinkle with 1/4 teaspoon salt. Roast until the oranges are slightly dry, about 12 minutes.
Meanwhile, toss shrimp with oil, curry powder, pepper, orange zest and remaining 1/4 teaspoon of salt in a large bowl.
Transfer the shrimp to the baking sheet with the oranges and roast until pink and curled, about 6 minutes.
Nutrition
Per Serving: Cal: 253, Total Carbs: 13 gm, Fiber: 4 gm, Fat: 7 gm, Pro: 35 gm
Roasted Curry Cauliflower
20 min total, 10 min prep, 103 calories/serving, serves 4
Coat a head of cauliflower with mayonnaise and curry paste, cover and microwave. The cauliflower becomes tender and tastes amazing with any type of curry paste.
Ingredients
1 large head cauliflower
1/2 cup full-fat mayonnaise
2 tablespoons curry paste
Directions
Remove leaves from cauliflower and trim the woody core. Place the entire head in a large, glass microwave-safe bowl.
Combine the mayonnaise and curry paste in a small bowl. Spread the mixture evenly over the cauliflower.
Cover the bowl with a microwave-safe plate. Cook on high until tender, 6 to 9 minutes. Let stand, covered, for 2 minutes more. Cut into 4 portions or break into bite-size pieces.
Nutrition
Per Serving: Cal: 103, Total Carbs: 12 gm, Fiber: 2 gm, Fat: 6 gm, Pro: 2 gm
Seared Chicken & Veggies (Kadhai Murghi)
35 min total, 35 min prep, 271 calories/serving, serves 4
Green bell peppers, orange carrots and red onion brightly color this spice-coated chicken.
A smoky aroma and mix of crunchy texture creates a delicious, low carb Indian meal.
Ingredients
2 teaspoons coriander seeds
1 teaspoon cumin seeds
1 teaspoon fennel seeds
1 tablespoon cornstarch
3/4 teaspoon salt
1/2 teaspoon ground turmeric
1 pound boneless, skinless chicken breasts, cut into 1-inch cubes
3 tablespoons canola oil, divided
2 large carrots, cut into 1/4-inch-thick slices
1 large green bell pepper, cut into 1-inch cubes
1 small red onion, cut into 1/2-inch cubes
4 large cloves garlic, thinly sliced
3 dried red chilies (Thai, cayenne or chile de arbol), stemmed
1 tablespoon lime juice
1/2 cup firmly packed fresh mint leaves, finely chopped
Directions
Grind coriander, cumin and fennel seeds in a spice grinder (such as a clean coffee grinder) or a mortar and pestle until the mixture resembles coarsely ground pepper.
Transfer to a medium bowl and add cornstarch, salt and turmeric; stir to combine. Add chicken and stir until coated with the spice mixture.
Preheat a wok or a well-seasoned cast-iron skillet over high heat. Add 2 tablespoons of oil. When the oil is shimmering, add carrots, bell pepper, onion, garlic and chilies.
Cook and stir until the vegetables begin to brown, 4 to 6 minutes. Transfer to a plate.
Reduce heat to medium-high and add the remaining 1 tablespoon of oil to the pan. Add the chicken and seasonings from the bowl.
Cook and stir until the chicken is no longer pink in the middle, 5 to 7 minutes. Add vegetables, lime juice and mint. Cook until heated through, about 30 seconds.
Nutrition Facts
Per Serving: Cal: 271, Total Carbs: 13 gm, Fiber: 4 gm, Fat: 14 gm, Pro: 25 gm
Sources
Kitchen Daily 37 Low Carb Indian Recipes
Nutrition Facts provided by EatingWell
Atkins The Program: Overview
Wagle, Arsiwala, Subhedar & Sucher Carbohydrate Counting for Traditional Indian & Pakistani Foods, Dept. of Nutrition and Food Science, San Jose State University
Almost Zero Carb Meal Plan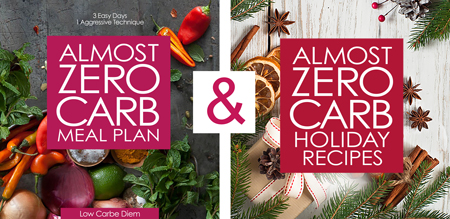 Enter deep ketosis, break your stall, recover from your cheat day, or reset your diet in three days using this aggressive technique, first made famous by Dr. Robert Atkins over 40 years ago.
Science-Backed and Powerful
The Almost Zero Carb Meal Plan is a powerful tool, allowing metabolically-resistant dieters to reach deep nutritional ketosis quickly.
What happens when you follow the plan? Incredibly rapid fat loss.
Ditch the Nervous Carb Counting
Choose from 150+ easy recipes and food combos (with special macros and almost no carbs), plus a special Holiday Recipe section!
Break your toughest diet stall.
Lose fat quickly for a special event.
Recover from an accidental cheat.
Avoid plateau completely: Use once a month.
Reach a deeper state of ketosis over the weekend.
Finally access and burn stubborn, stored fat.
Restart or reset your low carb or keto diet.
Add healthy fats effortlessly.
Decrease hunger naturally.
Sharpen your sense of portion control.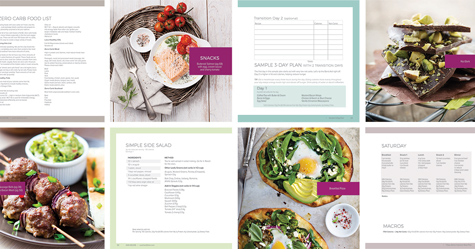 If You're Doing Everything (but Nothing's Working)…
Take three days off. Create a personalized plan that works, with a decadent variety of workhorse recipes you'll keep eating long after reaching your goal.
Go Almost Zero and start burning fat with your next meal. Fit in those jeans again. In three days.
Category: Recipes