Finding low carb meals in restaurants is tough. There are so many unhealthy choices and hidden carbs in every sauce. Need help?
How to cut the carbs and ask for what you want
Dangerous buffets
25 Restaurants, 354 menu items, 14 carbs or less
Printable guide with calories, fat, protein, net carbs
High carb foods are everywhere. Stick to your low carb diet, choose high fat proteins, and don't tempt yourself or rationalize choosing carbs "because you're out doing something special."
Planning and Choices
Look at your food choices on this printable restaurant list before you leave the house. Give yourself several options, in case a menu item isn't available. Always have a back-up second choice.
Use our low carb dining out plan to build a solid strategy for eating low carb away from home in any restaurant.
How to Cut the Carbs
Hold the bun. Order any sandwich without the bun.
Skip the ketchup. You'll save three grams of carbs per packet.
Avoid sugar. Drink diet soft drinks or water instead of regular sodas. Use an artificial or natural sweetener in your coffee or tea.
Go green. Order a side salad instead of french fries.
Ask for What You Want
Don't let your choices be swayed by other people. Decide what YOU want and order it. Most restaurants are more than willing to accommodate you.
If carby foods on the table are tempting you, ask to remove them.
Buffets are Dangerous
Buffets are carnivals of carbs. Avoid them if possible. When it's the only option, choose unprocessed meats, plain veggies without a sauce and cheese.
If you do overeat carbs, continue with your eating plan as usual. Don't use setbacks as an excuse to give up on your goals.
Learn your unique carb weakness and try to avoid it in the future.
Restaurant Choices Guide
The guide features 25 restaurants with low carb food choices. A few low carb restaurant tips uncover delicious options in your favorite places.
Restaurants Included
Arby's
Blimpie's
Boston Market
Burger King
Carl's Jr
Chick-Fil-A
Chili's
Denny's
Domino's Pizza
El Pollo Loco
Hardee's
IHOP
In-N-Out Burger
Jack In The Box
Kenny Roger's Roasters
KFC
Little Caesar's
Long John Silver's
McDonald's
Pizza Hut
Ruby Tuesday
Subway
Taco Bell
TGI Fridays
Wendy's
Almost Zero Carb Meal Plan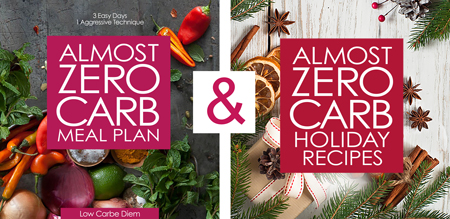 Enter deep ketosis, break your stall, recover from your cheat day, or reset your diet in three days using this aggressive technique, first made famous by Dr. Robert Atkins over 40 years ago.
Science-Backed and Powerful
The Almost Zero Carb Meal Plan is a powerful tool, allowing metabolically-resistant dieters to reach deep nutritional ketosis quickly.
What happens when you follow the plan? Incredibly rapid fat loss.
Ditch the Nervous Carb Counting
Choose from 150+ easy recipes and food combos (with special macros and almost no carbs), plus a special Holiday Recipe section!
Break your toughest diet stall.
Lose fat quickly for a special event.
Recover from an accidental cheat.
Avoid plateau completely: Use once a month.
Reach a deeper state of ketosis over the weekend.
Finally access and burn stubborn, stored fat.
Restart or reset your low carb or keto diet.
Add healthy fats effortlessly.
Decrease hunger naturally.
Sharpen your sense of portion control.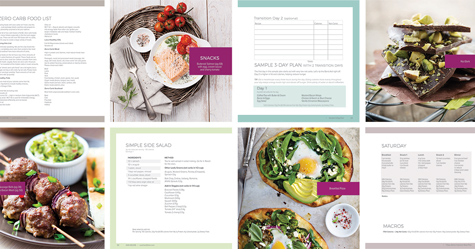 If You're Doing Everything (but Nothing's Working)…
Take three days off. Create a personalized plan that works, with a decadent variety of workhorse recipes you'll keep eating long after reaching your goal.
Go Almost Zero and start burning fat with your next meal. Fit in those jeans again. In three days.
Category: Food Lists