Make smarter low carb choices right away. Here are some quick tips for eating low carb foods at Asian, Italian, Mexican, Indian and fast food restaurants.
Quick, easy keto menu choices
The pros and cons of restaurant food
Printable guide: 25 restaurants, 354 items, 14 carbs or less
Learn the best (and easiest) low carb choices at popular restaurants, and how to order when you get there. The pros and cons are more flexible than you think.
But what if you're going to dinner in a more formal setting? Our low carb restaurant and dining out plan helps you think outside the box.
Low Carb Asian
The Pros
Menu is abundant with vegetables and fresh ingredients.
The Cons
Rice and noodles make most Asian dishes high in carbs.
Hidden carbs in sauces, which often contain cornstarch.
How To Order
Skip the rice, noodles, fried noodles, wonton, breading and most of the sauces.
Soups: Order hot and sour, egg drop or chicken broth with scallions.
Egg Rolls, Spring Rolls, Mu Shu: Eat only the inside – no wrappers.
Steamed foods without sauces: Use a side order of chicken broth or egg drop soup as a sauce.
Stir-fried dishes: Order without sugar or starch.
Asian Barbecue: Choose your own meats/veggies, but order without sauce.
Low Carb Italian
The Pros
Wide choice of meats, vegetables and seafood.
Variety of meal preparations: grilled, sautéed, broiled.
The Cons
Menu is heavy with pasta and side starches.
Heavy cream sauces (although low in carbs) are high fat and high calorie.
How To Order
Salads: Choose dark field greens, olive oil, Parmesan cheese and crushed garlic.
Antipasti: Try a variety of meats, cheeses, marinated veggies and olives.
Soups: Order chicken broth with spinach, simple vegetable soup, Italian wedding soup without pasta and Italian egg drop soup.
Seafood, Chicken, Veal, Steaks: Order with sauce on the side, adding just a touch for flavor.
Pizza: You may enjoy most toppings— cheese, peppers, onions, tomatoes, mushrooms, spinach or broccoli. Avoid the crust.
Low Carb Mexican
The Pros
Menu is abundant with chicken, beans (slow carbs), vegetables and fresh ingredients.
The Cons
Most dishes are high in carbs, containing rice, beans, corn, tortillas or breads.
Hidden carbs are in rich tomato-based sauces.
How To Order
Salad: Order any salad without the tortilla shell.
Guacamole and Cucumber Slices: Avocado is heart-healthy.
Grilled Seafood, Chicken, Steak and Vegetables: Enjoy with any light salsa.
Machaca: A low carb traditional breakfast of beef, eggs and fresh vegetables.
Fajitas: Order shrimp, chicken or steak with guacamole, cheese, salsa, sour cream, tomato, lettuce and onion. Order without the soft tortilla shells.
Low Carb Indian
Really love Indian? See our complete guide to Low Carb Indian Food for all phases of Atkins, recipes, and a free eBook of over 100 low carb Indian foods.
The Pros
Indian cuisines are healthy, complex and contain multiple ingredients.
The Cons
Many Indian meals and sauces contain high carb ingredients such as flour and sugar.
How To Order
Choose healthy kebabs, meat based curries and tandoori.
Ask about the ingredients in any dish you're not familiar with.
Try Raita (yogurt and minced cucumbers) to soften the heat of curries.
Low Carb Indian Substitutions
(From Dr. Atkins' Dining Out, Indian Style.)
Instead of vegetable samosas, which are pastries, try Shahi Paneer, a homemade cheese in a creamy curried tomato sauce.
Substitute roasted eggplant with onions and spices for any of the fritters, called pakora.
Instead of the typical lentil or Mulligatawny soup, order a bowl of chicken Shorba, made with chicken, garlic, ginger, cinnamon, cumin and other spices.
A vindaloo almost always contains potatoes. Get a tandoori dish instead.
Enjoy a korma, which is meat in a cream sauce, as a replacement for any biryani, which is a rice dish.
Substitute any curried meat dish for any of the dals.
Order meat or shrimp kebabs rather than a saag dish, which is prepared with spinach and spices, but heavily thickened with flour or another starch.
Low Carb Fast Food
The Pros:
The Cons:
Limited (and often boring) options.
How To Order:
Grilled Chicken or Burger without the bun: Top with bacon, mushrooms, onion, cheese, pickles, lettuce and tomato.
Salads: Add chicken or a small amount of nuts, steak, cheese and/or eggs, low-fat Ranch, Blue Cheese or Vinaigrette dressing.
Egg McMuffin without the muffin: Order breakfast egg sandwiches without the bread.
Hoagie, Sub, Sandwiches: Eat only the inside – chicken, ham, cheese, turkey, roast beef, lunch meats, lettuce, tomato, oil and vinegar, etc. Be creative: add a bowl and turn it into a salad.
Best Low Carb Restaurant Choices
25 Restaurants, 354 Menu Items with 14 Carbs or Less
Almost Zero Carb Meal Plan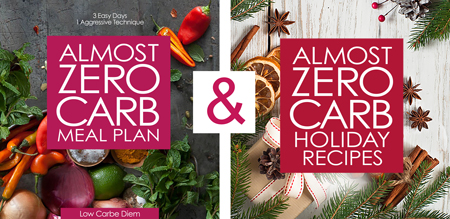 Enter deep ketosis, break your stall, recover from your cheat day, or reset your diet in three days using this aggressive technique, first made famous by Dr. Robert Atkins over 40 years ago.
Science-Backed and Powerful
The Almost Zero Carb Meal Plan is a powerful tool, allowing metabolically-resistant dieters to reach deep nutritional ketosis quickly.
What happens when you follow the plan? Incredibly rapid fat loss.
Ditch the Nervous Carb Counting
Choose from 150+ easy recipes and food combos (with special macros and almost no carbs), plus a special Holiday Recipe section!
Break your toughest diet stall.
Lose fat quickly for a special event.
Recover from an accidental cheat.
Avoid plateau completely: Use once a month.
Reach a deeper state of ketosis over the weekend.
Finally access and burn stubborn, stored fat.
Restart or reset your low carb or keto diet.
Add healthy fats effortlessly.
Decrease hunger naturally.
Sharpen your sense of portion control.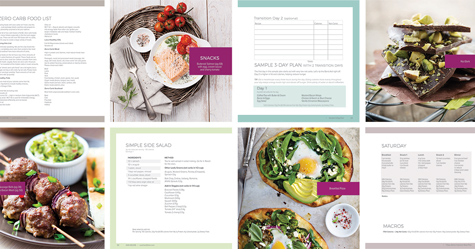 If You're Doing Everything (but Nothing's Working)…
Take three days off. Create a personalized plan that works, with a decadent variety of workhorse recipes you'll keep eating long after reaching your goal.
Go Almost Zero and start burning fat with your next meal. Fit in those jeans again. In three days.
Category: Strategy