Mouth-bursting fruity flavor soothed by vanilla in a fat-burning low carb ice cream. Plus, a quick way to make keto cream pops at the same time.
(There's even a go-fast breakfast version.)
This ice cream recipe also has perfect macros for an Atkins Fat Fast.
Black vs Red: What's the Difference?
Black raspberries are incredibly healthy, containing three times the antioxidants as red raspberries (and blackberries).
Black raspberries are much smaller, hairier and less glossy than their red cousins. Black raspberries don't have hard, fibrous cores – they're hollow in the center.
Advantages for Cooking and Baking
Black raspberries have a uniquely bright and fruity flavor. They aren't as tart as red raspberries or blackberries, and require much less sweetener in recipes.
The nutrient boost and natural sweetness makes black raspberries a smart choice for making low carb ice cream and desserts. The less sweetener used, the better.
Full Color
Black raspberries transform your everyday recipes into sophisticated desserts. These berries add deeper, more interesting tones of color to your ice cream – making garnishes pop!
Black Raspberry Ice Cream
Per Serving: 421 calories, 4 net carbs.
Servings: 8
Ingredients
1 c raspberries, pureed
2 tbsp lemon juice
8 drops liquid stevia (or equiv), to taste
4 c heavy whipping cream
1 tsp vanilla extract
Directions
In a 3-quart saucepan combine raspberries, stevia and lemon juice.
Mash berries slightly and cook over medium heat, stirring occasionally, until the mixture comes to a boil. Simmer 5 minutes.
Remove from heat and puree in a blender. Cool the mixture. Add cream and vanilla.
Place in an ice cream maker and churn according to instructions. Freeze churned ice cream for an hour before serving. This makes ice cream with a perfect consistency.
– OR –
Place mixture into a container in the freezer, churning by hand with a fork / spoon / whisk every 30 minutes. This makes ice cream with a chunky-firm, icy consistency.
Nutrition
Per Serving: 421 Calories; 44g Fat (92.6% calories from fat); 3g Protein; 5g Carbohydrate; 1g Dietary Fiber.
Click to print or save this recipe:
Special Ingredients
De-Bittered Stevia has no unpleasant aftertaste. This blend has none of the characteristic bitterness of typical stevia sweeteners.
Zero carb and zero glycemic impact.
Low Carb Ice Cream Pops
Black Raspberry Pops to Go

Extra ice cream? Re-purpose food containers by turning them into instant pop molds. Serving-size glasses, Tupperware and jars work well.
The method is fairly obvious: fill, place the sticks (or straws), garnish (try mint leaves, citrus zest or slices, low carb dark chocolate chips, crumbled peppermint, berries) and freeze.
Warm the outside of the frozen container in your hands, then push the pop upwards, releasing it from the mold.
Breakfast Pop Variation
Spoon one serving of your favorite low carb protein powder into each compartment, then top with extra high-fiber berries.
Pick up your pace! Go one step further and add a few shots of espresso to your ice cream before pouring into containers.
Almost Zero Carb Meal Plan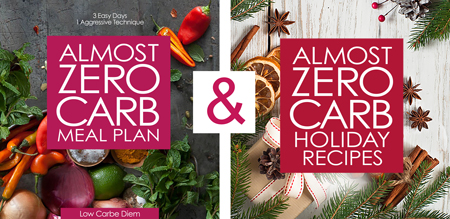 Enter deep ketosis, break your stall, recover from your cheat day, or reset your diet in three days using this aggressive technique, first made famous by Dr. Robert Atkins over 40 years ago.
Science-Backed and Powerful
The Almost Zero Carb Meal Plan is a powerful tool, allowing metabolically-resistant dieters to reach deep nutritional ketosis quickly.
What happens when you follow the plan? Incredibly rapid fat loss.
Ditch the Nervous Carb Counting
Choose from 150+ easy recipes and food combos (with special macros and almost no carbs), plus a special Holiday Recipe section!
Break your toughest diet stall.
Lose fat quickly for a special event.
Recover from an accidental cheat.
Avoid plateau completely: Use once a month.
Reach a deeper state of ketosis over the weekend.
Finally access and burn stubborn, stored fat.
Restart or reset your low carb or keto diet.
Add healthy fats effortlessly.
Decrease hunger naturally.
Sharpen your sense of portion control.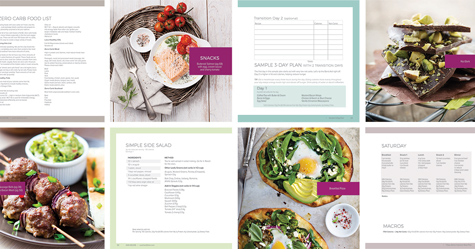 If You're Doing Everything (but Nothing's Working)…
Take three days off. Create a personalized plan that works, with a decadent variety of workhorse recipes you'll keep eating long after reaching your goal.
Go Almost Zero and start burning fat with your next meal. Fit in those jeans again. In three days.
Category: Desserts