Add healthy coconut fats to your diet with low carb ice cream, then berry-it-up in a creamy (versatile) keto popsicle.
Coconut provides filling fiber, that coveted crunch and a golden toasted nut flavor – all bathed in a rich icy cream.
This low carb ice cream recipe uses MCT fats: healthy medium-chain fats that are used immediately for energy – not stored.
Toasted Coconut Ice Cream
Per Serving: 341 calories, 3 net carbs.
Servings: 6
Ingredients
1/2 c unsweetened shredded coconut
4 egg yolks
1/4 to 1/2 tsp (20-30 drops) liquid stevia (or equiv), to taste
1 c heavy whipping cream
2 tbsp vanilla extract
1 c coconut cream
Directions
Toast shredded coconut in a skillet over medium heat, stirring constantly. Remove and set aside.
In a double boiler (off heat), combine egg yolks and sweetener. Beat until thick. Add heavy cream and set the pot over simmering water. Beat continuously until thick.
Remove from heat, add vanilla extract and coconut cream. Beat for a minute or two longer.
Cover and refrigerate for several hours until chilled. Stir every hour (or occasionally) to prevent a skin from forming.
Place in an ice cream maker and churn according to instructions. Freeze churned ice cream for an hour before serving. This makes ice cream with a perfect consistency.
– OR –
Place mixture into a container in the freezer, churning by hand with a fork / spoon / whisk every 30 minutes. This makes ice cream with a chunky-firm, icy consistency.
Nutrition
Per Serving: 341 Calories; 33g Fat (89.2% calories from fat); 4g Protein; 5g Carbohydrate; 2g Dietary Fiber.
Click to print or save this recipe:
Special Ingredients
De-Bittered Stevia has no unpleasant aftertaste. This blend has none of the characteristic bitterness of typical stevia sweeteners.
Zero carb and zero glycemic impact.
Coconut Fats
Coconut shreds and coconut cream increase your healthy, medium-chain triglyceride fats. Coconut fats aren't stored. Instead, they're used immediately for energy.
Unsweetened shredded coconut toasts quickly to a golden-brown, adding incredible flavor and crunch in an instant.
Coconut cream is a perfect non-dairy sub for heavy cream in recipes. Coconut cream is very low carb, rich and satiating, and whips up fluffy and light.
Make Coconut Blueberry Pops
Mix-and-match fruit or berries pair effortlessly with coconut ice cream for easy-serve pops. Pops are a great way to control portion size.
Coconut Ice Cream Pops
This casual recipe makes 6 pops with about 3.6 net carbs per pop.
Fill pop molds or small containers half way with low carb coconut ice cream (about 1/4 cup ice cream per pop mold; equals about 9 net carbs for six pops).
Puree 1/4 cup blueberries (adds 4.6 net carbs) with 1/2 cup half-and-half (adds 8 net carbs) and pour into molds, filling to the top.
Place the sticks, freeze and eat!
Mixed Berry Variation
Add 1/4 cup of chopped raspberries to the pureed blueberry mix. Raspberries add more flavor and a fresh pop of color.
Brighten Up Your Pops
Add a splash of lemon juice or lime juice.
Customize Your Colors
Use fruit zests like lemon, lime or orange for custom color and an unexpected twist of citrus.
Almost Zero Carb Meal Plan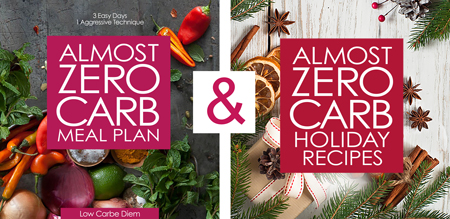 Enter deep ketosis, break your stall, recover from your cheat day, or reset your diet in three days using this aggressive technique, first made famous by Dr. Robert Atkins over 40 years ago.
Science-Backed and Powerful
The Almost Zero Carb Meal Plan is a powerful tool, allowing metabolically-resistant dieters to reach deep nutritional ketosis quickly.
What happens when you follow the plan? Incredibly rapid fat loss.
Ditch the Nervous Carb Counting
Choose from 150+ easy recipes and food combos (with special macros and almost no carbs), plus a special Holiday Recipe section!
Break your toughest diet stall.
Lose fat quickly for a special event.
Recover from an accidental cheat.
Avoid plateau completely: Use once a month.
Reach a deeper state of ketosis over the weekend.
Finally access and burn stubborn, stored fat.
Restart or reset your low carb or keto diet.
Add healthy fats effortlessly.
Decrease hunger naturally.
Sharpen your sense of portion control.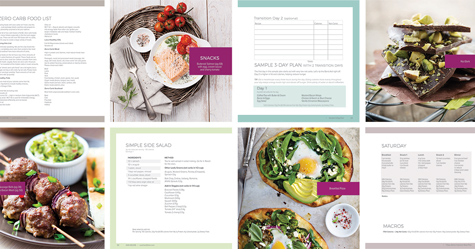 If You're Doing Everything (but Nothing's Working)…
Take three days off. Create a personalized plan that works, with a decadent variety of workhorse recipes you'll keep eating long after reaching your goal.
Go Almost Zero and start burning fat with your next meal. Fit in those jeans again. In three days.
Category: Desserts